Michael Kors Access Smartwatch Runway MKT5053
Nasza cena:
1 274,00 zł
-15%
Cena w sklepie stacjonarnym: 1 499,00 zł

Bezpłatna dostawa i zwrot


NOWA GENERACJA - NOWE FUNKCJE
ODMIENIONE SMARTWATCHE MICHAEL KORS ACCESS WKRACZAJĄ DO GRY!
Poznaj całkowicie nowe rozwiązania, które sprawią, że Twoje życie będzie dużo łatwiejsze,
a Ty zabłyśniesz w towarzystwie doskonałym stylem.
Pomiar tętna - kontroluj swój organizm podczas wysiłku jak również wtedy, gdy wypoczywasz.
Google Pay - wprowadź do zegarka dane swojej karty i zapłać za zakupy przy użyciu smartwatcha. Zapomnij o noszeniu portfela! 
Wbudowany GPS - sprawdź przebyty dystans i Twoje tempo na danym odcinku i to bez użycia telefonu.
Pływaj z zegarkiem - kontroluj swoją aktywność również w wodzie. Ćwicz i sprawdzaj własne osiągi w morzu czy na basenie.
---
POBIERAJ APLIKACJE I W PEŁNI KORZYSTAJ Z TWOJEGO SMARTWATCHA
Dzięki oprogramowaniu Wear OS by Google możesz pobierać na Twój zegarek liczne aplikacje, 
które pozwolą Ci w pełni korzystać z funkcjonalności zegarka.
Dzięki nim nie tylko skontrolujesz własną aktywność i sprawdzisz czas i jakość snu,  
ale również będziesz zarządzać zapisaną w telefonie muzyką, aparatem, a nawet zamówisz taksówkę!

---
Personalizuj swój smartwatch zmieniając  wizualizacje tarczy.
   Wymieniaj paski i twórz zupełnie nowy design na miarę Twoich potrzeb.
Ciesz się zegarkiem, który sprawia, że moda i technologia tworzą wspólną przygodę.
---
---
Michael Kors Access Smartwatch Runway damski MKT5053
Już jest! Niezwykły Michael Kors Access Runway MKT5053 wkracza na salony. Już dziś poznaj jego doskonały design i bogatą funkcjonalność, a następnie ciesz się gadżetem, który zachwyca nie tylko wzornictwem, ale i opcjami.
Michael Kors Access Runway MKT5053 to inteligentny zegarek nowej generacji. Jego liczne funkcje pozwalają śledzić aktywność, pokazują powiadomienia dotyczące przychodzącym połączeń czy wiadomości, a także pomagają szybko znaleźć w sieci odpowiedzi na nurtujące nas pytania. Jak? Już wyjaśniam!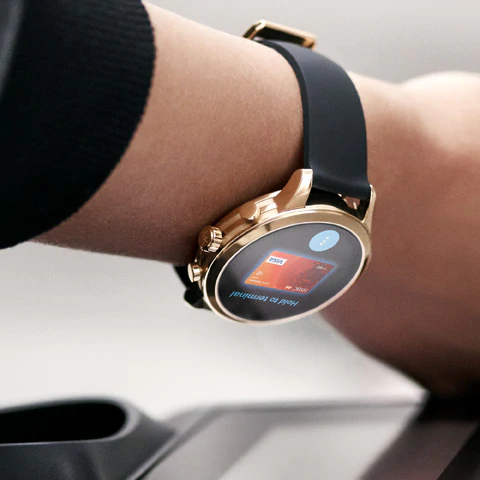 Niezliczone możliwość Michael Kors Access Runway MKT5053
Michael Kors Access Runway MKT5053 bazuje na systemie Wear OS by Google, który współgra z telefonami opartymi na oprogramowaniu Android oraz iOS. Jest to niezwykle wygodne rozwiązanie, które sprawia, że praktycznie każdy użytkownik smartfona może sparować go z niniejszym smartwatchem. Ogromną zaletą jest tu również możliwość instalowania licznych aplikacji, które pozwalają na korzystania z niemal wszystkich opcji telefonu z panelu zegarka.
Nie daj się uwiązać smartfonowi - MKT5053 da Ci komfort i wygodę
Nowoczesna technologia zainstalowana na smartwatchu Michael Kors Access Runway MKT5053 pozwala na bieżąco śledzić własną aktywność bez konieczności posiadania przy sobie telefonu. System GPS sprawia, że z łatwością zmierzysz przebyty dystans, zliczysz kroki czy nawet ilość przepłyniętych basenów i wcale nie musisz mieć przy sobie smartfona. 
Zarządzaj powiadomieniami jednym ruchem palca
Jeśli potrzebujesz być w kontakcie z bliskimi, a nie zawsze możesz pozwolić sobie na to, aby mieć przy sobie telefon, to z pomocą smartwatcha jest to wykonalne. Dzięki inteligentnemu systemowi powiadomień z łatwością możesz zarządzać informacjami o przychodzących wiadomościach i połączeniach, zaplanowanych spotkaniach czy innych ważnych dla Ciebie kwestiach. A kiedy odczytasz dany komunikat, jednym ruchem palca możesz go wykasować, tak aby nie przyciągał niepotrzebnie Twojej uwagi. Proste czyż nie?
 

Koperta - stal koloru złotego.
Tarcza - cyfrowa, dotykowa.
Pasek - skóra koloru czarnego.

Atrybuty:

Rodzaj zegarka: Damski
Pasek/Bransoleta: Pasek skórzany
Materiał wykonania: stal szlachetna antyalergiczna (316l) - nie wywołuje reakcji alergicznych i podrażnień skóry
Kształt koperty: Okrągła
Mechanizm: Kwarcowy (zasilany baterią) - najpopularniejszy rodzaj mechanizmu, jego siłę napędową stanowi bateria
Tarcza: Ciemna
Szkło: Mineralne - cechuje wysoka odporność na zarysowania i stłuczenia
Wodoodporność: 50m (pływanie powierzchniowe)
Styl zegarka: Fashion
Średnica koperty: 41mm
Pozłacany: w kolorze żółtego złota
Gwarancja: 2 lata

Kolor naniesiony metodą PVD/IP - próżniowe nakładanie koloru, charakteryzuje się bardzo wysoką trwałością. Nie uczula i nie wywołuje podrażnień skóry oraz alergii. Trwałość warstwy to ok 10 lat.

Aby móc w pełni korzystać z funkcji zegarka należy zainstalować aplikację Michael Kors Access dostępną w Google Play oraz App Store.

Dodatkowe funkcje - wymienne paski, alarm, krokomierz, licznik kalorii, identyfikacja połączeń przychodzących, wyświetlenie wiadomości, zmienne tarcze, pobieranie aplikacji, inteligentny system powiadomień, monitorowanie czasu i jakości snu, monitorowanie aktywności.


Ładowanie: bezprzewodowe, magnetyczne, kabel znajduje się w zestawie.

Kontrola multimediów w smartphonie: zarządzanie muzyką, zlecanie wykonania zdjęcia.


Monitorowanie tętna:
Automatyczne śledzenie pracy serca podczas różnych treningów za pomocą Google Fit lub innych aplikacji
zewnętrznych.

Płatności zbliżeniowe NFC
Dzięki technologii NFC z pomocą smartwatcha dokonasz transakcji w szybki i prosty sposób. Płać korzystając
z funkcji Google Pay.

Wbudowany GPS
Monitoruj trasę spacerów, wędrówek, biegów i wycieczek rowerowych na Twoim smartwatchu z wbudowanym
GPS. Teraz masz możliwość robić to bez konieczności jednoczesnego używania telefonu, bo przebyta odległość
zostanie zarejestrowana bezpośrednio na tarczy zegarka.

Asystent Google
Poproś asystenta Google o pomoc w codziennym zarządzaniu zadaniami, uzyskiwaniu odpowiedzi na nurtujące
Cię pytania. Teraz za pomocą smartwatcha możesz mieć dostęp do wszystkich informacji w dowolnym miejscu
i czasie.

Wbudowana pamięć zegarka: 4GB.

Pamięć RAM: 512MB.

System: AndroidWear.

 


Zobacz wszystkie produkty z kategorii: Michael Kors Access

Dane techniczne: