Diesel On Full Guard 2.5 Smartwatch DZT2008
| | |
| --- | --- |
| Dostępność: | Dostępny |
| Wysyłka | do 12 godzin |
Nasza cena:
1 199,00 zł
-25%
Cena w sklepie stacjonarnym: 1 599,00 zł

Bezpłatna dostawa i zwrot


NOWA GENERACJA - NOWE FUNKCJE
ODMIENIONE SMARTWATCHE DIESEL ON WKRACZAJĄ DO GRY!
Poznaj całkowicie nowe rozwiązania, które sprawią, że Twoje życie będzie dużo łatwiejsze,
a Twój styl - nie do podrobienia!
Pomiar tętna - kontroluj swój organizm podczas wysiłku jak również wtedy, gdy wypoczywasz.
Google Pay - wprowadź do zegarka dane swojej karty i zapłać za zakupy przy użyciu smartwatcha. Zapomnij o noszeniu portfela! 
Wbudowany GPS - sprawdź przebyty dystans i Twoje tempo na danym odcinku i to bez użycia telefonu.
Pływaj z zegarkiem - kontroluj swoją aktywność również w wodzie. Ćwicz i sprawdzaj własne osiągi w morzu czy na basenie.
---
POBIERAJ APLIKACJE I W PEŁNI KORZYSTAJ Z TWOJEGO SMARTWATCHA
Dzięki oprogramowaniu Wear OS by Google możesz pobierać na Twój zegarek liczne aplikacje, 
które pozwolą Ci w pełni korzystać z funkcjonalności zegarka.
Dzięki nim nie tylko skontrolujesz własną aktywność i sprawdzisz czas i jakość snu,  
ale również będziesz zarządzać zapisaną w telefonie muzyką, aparatem, a nawet zamówisz taksówkę!

---
Personalizuj swój smartwatch zmieniając  wizualizacje tarczy.
   Wymieniaj paski i twórz zupełnie nowy design na miarę Twoich potrzeb.
Ciesz się zegarkiem, który sprawia, że moda i technologia tworzą wspólną przygodę.
---
---
Diesel On Full Guard 2.5 męski DZT2008
Z wielką przyjemnością ogłaszamy, że zupełnie nowy model Diesel On Full Guard 2.5 DZT2008 jest już dostępny! Ten model to zupełnie nowa odsłona uwielbianego przez Was smartwatcha marki Diesel. Jakie funkcje posiada i dlaczego warto go mieć? Sprawdźmy!
Personalizuj smartzegarek DZT2008 zgodnie z Twoim stylem
Diesel jako marka od zawsze promuje ciekawy, niekonwencjonalny wręcz design umożliwiający wyrażenie własnego "ja". Nie inaczej jest w przypadku smartwatchy, których wzornictwo wzbudza ogromne zainteresowanie. Bazując na topowych modelach tego producenta udało się stworzyć inteligentne zegarki, które doskonale prezentują się na nadgarstku i które można niemal całkowicie dostosować do własnych potrzeb. Możliwość taka wynika z opcji dostosowywania i szybkiej zmiany wizualizacji tarczy, jak również wiąże się z wymiennymi paskami, których montaż jest łatwy i nie wymaga ingerencji zegarmistrza. W ten sposób, wymieniając pasek czy zmieniając design tarczy w kilka chwil tworzysz całkowicie nowy model zegarka odpowiadający Twoim potrzebom.
Korzystaj w pełni z wyjątkowych opcji
Chcesz w pełni korzystać z dobrodziejstwa nowoczesnej technologii? Nie ograniczaj się! Diesel On Full Guard 2.5 DZT2008 pozwala Ci na praktycznie tak samo dużo, na ile możesz pozwolić sobie używając telefonu. To właśnie ze smartwatchem Diesla z łatwością skontrolujesz swoją aktywność, zmonitorujesz sen, wyszukasz informacje w sieci, zapłacisz za zakupy, a nawet zamówisz sobie pizze. Cudownie, czyż nie? Dzięki Diesel On Full Guard 2.5 DZT2008 wszystko staje się bardzo łatwe, a Ty wreszcie masz poczucie wolności, które pozwala Ci być w kontakcie ze światem nawet wtedy, gdy Twój telefon pozostanie w ukryciu.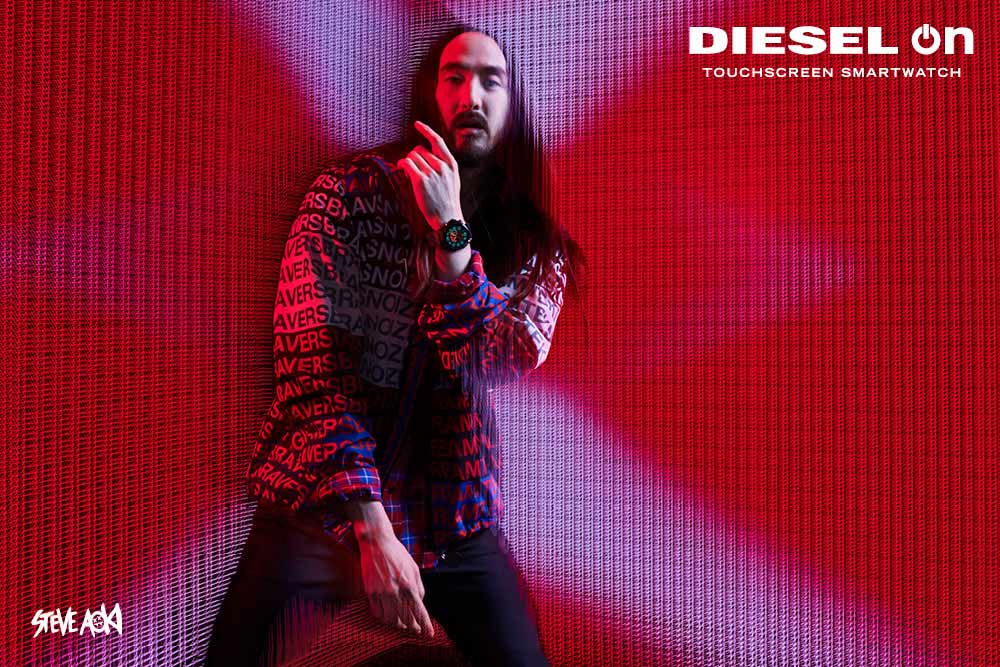 Jeśli spodobał Ci się ten model i chcesz dowiedzieć się więcej na jego temat, przeczytaj specyfikę DZT2008 podaną poniżej lub skontaktuj się z naszymi konsultantami, a otrzymasz interesujące Cię informacje i dowiesz się, co może ten wyjątkowy smartwatch.

 

Koperta - stal koloru srebrnego.
Tarcza - cyfrowa, dotykowa.
Pasek - tworzywo koloru czarnego.

Dotykowy ekran - pozwala na sprawdzanie e-maili, rozmów czy wiadomości
Powiadomienia ze smartphona - wszystkie najważniejsze powiadomienia wyświetlają się na ekranie zegarka
Automatyczna aktualizacja czasu i daty - Automatyczna aktualizacja do Twojej aktualnej strefy czasowej podczas podróżowania 
Ładowanie indukcyjne
Bezprzewodowa synchronizacja z telefonem
Podświetlenie LED
Strefy czasowe - wskazuje czas odmierzany równocześnie w różnych strefach
Alarm - dźwiękowy, może służyć jako budzik oraz przypomnienie
Sterowanie muzyką - za pośrednictwem zegarka jesteśmy w stanie zmieniać oraz zatrzymywać utwory muzyczne
Głośnik - modele wyposażone są w głośnik do przekazywania powiadomień dźwiękowych
Mikrofon - umożliwia korzystanie z funkcji aktywowanych głosowo , wyszukiwanie w sieci
Wymienne paski - szeroki wybór pasków pozwala na dowolną personalizację zegarka
Tarcza zegarka - szeroki wybór stylów zapewnia możliwość personalizacji do własnych upodobań

Asystent na nadgarstku, który oszczędza Twój czas, bo możesz zadawać pytania
i wydawać polecenia przekazując je bezpośrednio do zegarka via Google Assistant

Czujnik tętna, który automatycznie, przy użyciu Google Fit i aplikacji zewnętrznych, dokona
pomiaru Twojego tętna podczas ćwiczeń.

Śledzenie dystansu - wbudowany GPS zarejestruje pokonany przez Ciebie dystans bezpośrednio
w zegarku, możesz więc zostawić telefon w domu, gdy idziesz na spacer, wycieczkę, jedziesz na
rowerze czy uprawiasz jogging

Technologia płatności - umożliwi Ci dokonywanie opłat przy pomocy zegarka, technologii
NFC i aplikacji Google Pay.

Atrybuty:

Rodzaj zegarka: Męski
Pasek/Bransoleta: Pasek gumowy/kauczukowy
Materiał wykonania: stal szlachetna antyalergiczna (316l) - nie wywołuje reakcji alergicznych i podrażnień skóry
Kształt koperty: Okrągła
Mechanizm: Kwarcowy (zasilany baterią) - najpopularniejszy rodzaj mechanizmu, jego siłę napędową stanowi bateria
Tarcza: Ciemna
Szkło: Mineralne - cechuje wysoka odporność na zarysowania i stłuczenia
Wodoodporność: 30m (odporność na zachlapania)
Styl zegarka: Fashion
Średnica koperty: 47mm
Gwarancja: 2 lata


Zobacz wszystkie produkty z kategorii: Diesel On

Dane techniczne:

| | |
| --- | --- |
| Tarcza | Ciemna |
| Płeć | Męski |
| Kształt koperty | Okrągła |
| Gwarancja | 2 lata |
| Pasek/Bransoleta | Pasek gumowy/kauczukowy |
| Średnica koperty | 47mm |
| Materiał wykonania | Stal szlachetna |
| Mechanizm | Kwarcowy (zasilany baterią) |
| Szkło | Mineralne |
| Wodoodporność | 30m (odporność na zachlapania) |
| Styl zegarka | Fashion |
U nas nie płacisz za dostawę i zwrot na terenie Polski!
Niezależnie od formy płatności jaką wybierzesz, nie musisz martwić się o dodatkowe koszta związane z wysyłką. Ty decydujesz, jaką formę dostawy wybierasz - DHL czy paczkomaty InPost, a koszty pokrywamy my.
Wiemy, jak bardzo irytujące potrafi być oczekiwanie na zamówiony towar, dlatego staramy się, aby wysyłki realizowane były możliwie jak najszybciej.

Codziennie w naszej ofercie znaleźć możesz blisko 10 tysięcy produktów, które mogą być do Ciebie dostarczone już następnego dnia. Zegarki te opisane są jako wysyłka w 12 godzin, a wyodrębnić je spośród pełnej oferty pomoże Ci nasza zaawansowana wyszukiwarka. Pozostałe produkty posiadają status: na zamówienie oraz informację, jaki jest przewidywany czas realizacji.
---
Jeśli chcesz mieć gwarancję, że wybrany przez Ciebie zegarek dotrze do Ciebie następnego dnia roboczego, musisz spełnić kilka warunków:
przedmiotem zamówienia musi być zegarek/biżuteria oznaczone terminem "wysyłka w 12 godzin"
zamówienie musi zostać złożone do godziny 11:00
zamówienie powinno być złożone "za pobraniem" lub z góry "opłacone przelewem" na konto naszego sklepu poprzez system przelewy24
zamówienie dotyczyć musi produktu, który nie ma zostać opatrzony grawerunkiem (szczegóły realizacji zamówień z grawerowaniem znajdziesz tutaj)
miejsce doręczenia towaru musi znajdować się na terenie Rzeczypospolitej Polskiej
---
Co jeszcze musisz wiedzieć na temat paczki, która do Ciebie dotrze?
Paczki wysyłamy tylko w dni robocze i w takie też dni kurierzy doręczają przesyłki (usługa dostawy w sobotę dostępna jest tylko dla wybranych lokalizacji i jest dodatkowo płatna)
Każdy zegarek znajduje się w oryginalnym opakowaniu producenta, które jest odpowiednio zabezpieczone i umieszczone w foliopaku DHL. Jeśli w momencie odebrania paczki z rąk kuriera czy z paczkomaty zauważysz jakiekolwiek uszkodzenie mogące wskazywać ingerencję osób trzecich lub uszkodzenie towaru, niezwłocznie zgłoś tę sprawę do nas lub firmy kurierskiej.
W momencie wysyłki jak i przed dostawą otrzymujesz informację mailowo i/lub telefoniczną o planowanym doręczeniu paczki. Termin doręczenia zmienić możesz kontaktując się bezpośrednio z DHL. Jeśli wybrałeś wysyłkę do paczkomatu inPost pamiętaj o określonym czasie jaki masz na odbiór paczki oraz o tym, iż zdarza się, że w przypadku przepełnienia paczkomatu docelowego, Twoje zamówienie zostanie przeniesione do innej lokalizacji.

---
Jeżeli chcesz zwrócic zakupiony zegarek kliknij i zapoznaj sie z procedurą zwrotu.