G-shock - 5 ciekawostek o marce
Wiemy, że są wspaniałe – modne, praktyczne i wygodne. Mają liczne funkcje, a przede wszystkim są wstrząsoodporne. To wszystko to jednak duże uproszczenie, bo ciekawych informacji na temat G-shocka jest znacznie więcej… poznajmy je!
Zegarki G-shock – 5 ciekawostek o marce
Kiedy w 1983 roku na rynku pojawił się pierwszy zegarek G-shock, wiele osób nie wróżyło mu sukcesu nie widząc sensu w jego nietypowych, a jednocześnie zaawansowanych opcjach. Dziś nie potrafimy wyobrazić sobie świata zegarków, bez tych absolutnie i bezwzględnie interesujących modeli pochodzących z Japonii. Dlaczego? Cóż. Są one można by rzec idealne, a na pewno arcyciekawe i praktyczne. Mnogość ich funkcji, które dotykają każdej niemal sfery życia ich użytkownika sprawia, że można przypisać je i podarować praktycznie każdemu. Dodając do tego ogromny wachlarz możliwości jakie daje nam zróżnicowane wzornictwo, otrzymujemy paletę czasomierzy na każdą okazję. 
Tak, zalet zegarków G-shock jest mnóstwo. Nie da się ukryć, ale zadajmy sobie jedno zasadnicze pytanie – jak zrodził się pomysł i skąd fenomen zegarków Casio G-shock? Aby na nie odpowiedzieć, przytoczmy kilka faktów, które pozwolą nam poukładać tę układankę.
Ciekawostka 1. – Jak powstał G-shock i dlaczego?
Aby cokolwiek mogło powstać potrzebne są teoretycznie 3 rzeczy – pomysł, materiał i wykonanie. W praktyce jednak okazuje się, że niezbędny jest jeszcze jeden czynnik – "tajemniczny skladnik X", którym jest nic innego jak tylko przypadek, zrządzenie losu, które na dany pomysł nas naprowadziło. Nie inaczej było w przypadku zegarków G-shock, które również są tzw. dzieckiem przypadku. Wszystko zaczęło się od Kikuo Ibe – członka departamentu rozwoju Casio, który pewnego dnia upuścił swój zegarek i… zniszczył go. Zdegustowany tym faktem, postanowił stworzyć coś, co nie będzie narażone na zniszczenie przy upadku z bądź co bądź nie dużej wysokości. Opracowano plan wyprodukowania zegarka, który byłby w stanie przejść 3 kluczowe zdaniem Kikuo Ibe testy – wysokości, wodoodporności i żywotności baterii. Warunki te nazwano określeniem "triple-ten test" czyli testem potrójnej 10, gdyż liczba ta pojawia się w każdym z nich. Upadek miał być dla czasomierza niegroźny nawet z wysokości 10 metrów, bateria miała wytrzymać 10 lat, a wodoodporność musiała wynosić minimum 10 ATM. Wysoko postawiono poprzeczkę, czyż nie? A jednak udało się! A system ten działa do dziś.
Ciekawostka 2. – Zegarki G-shock stworzono z myślą o robotnikach i … nurkach.
Kiedy Kikuo Ibe wpadł na pomysł stworzenia wstrząsoodpornego zegarka, sama idea była efektem impulsu na skutek upadku i uszkodzenia jego własnego czasomierza. Bardziej precyzyjna koncepcja zrodziła się jednak w oparciu o obserwacje otoczenia, a mianowicie pracowników fizycznych, którzy wykonywali pracę na pobliskiej względem budynku Casio budowie. Mężczyźni Ci pracowali w trudnych warunkach dzierżąc w swych rękach młoty pneumatyczne. Narzędzia te, tak trudne w obsłudze i wymagające ogromnej siły, nieustannie drżały, a wręcz podskakiwały w rękach facetów ubranych w odblaskowe kamizelki i kaski. Wydawały przeraźliwie głośny dźwięk i rozkuwały elementy kruszywa. Specyfika pracy tych mężczyzn, miała jeszcze jeden aspekt, który zwrócił uwagę Kikuo – żaden z nich nie miał na ręku zegarka. Panu Ibe nie trzeba było wiele mówić. Od razu zorientował się, że przyczyną w ogromnej mierze są wstrząsy, które generują używane przez nich młoty pneumatyczne. "A gdyby tak stworzyć zegarek odporny na wibracje i wstrząsy?". Mówisz i masz. Casio G-shock taką właśnie opcję posiadał. W końcu był Gravitational Shock Resistant. 
Kolejnym elementem, który zwrócił uwagę konstruktora była obecność kurzu, który niemiłosiernie unosił się wokół pracujących mężczyzn, a potem opadał obklejając ich ubranie, twarze, ręce. zwykły zegarek z pewnością by tego nie przetrzymał, ale G-shock? Oczywiście! I tak powstała nowa linia Mudmaster.
Choć branża budowlana i reprezentujący ją ludzie zdawali się być głównym czynnikiem motywującym do produkcji Casio G, z pewnością nie mogą zostać uznani za jedyny "bodziec". Japończycy mieli bowiem dużo większe aspiracje i od samego początku planowali dotrzeć do jak najszerszego grona klientów. Z tej właśnie przyczyny ustanowiono bardzo wysoką wodoodporność na poziomie minimum 10 ATM, która miała sprostać wymogom osób lubujących się w nurkowaniu i innych sportach wodnych. Obecnie w ofercie znaleźć możemy szereg modeli określanych mianem diverów, których WR to nawet 200m czym producent spełnia oczekiwania najbardziej wymagających nurków.
Ciekawostka 3. – Zegarki G-shock pozostają niezmienione od przeszło 35 lat
Koncepcja stworzenia zegarka niemalże niezniszczalnego to bez wątpienia najlepsze, na co mogła wpaść firma Casio. Nie dość, że pomogła zbudować wizerunek firmy jako marki niezwykle pomysłowej, wszechstronnej i otwartej na potrzeby klientów, to jeszcze przekonała ludzi na całym świecie, że warto zaufać japońskiemu producentowi i postawić właśnie na jego towar. Jak się okazuje, plan stworzenia G-shocka był w sumie doskonały, a jego podstawy pozostały niezmienione aż do dziś. Taki stan rzeczy nie utrzymał się w przypadku zbyt wielu czasomierzy. Zaobserwować można raczej wyścig technologiczny niż wierność początkowym metodom i wytycznym. G-shocki są więc pozytywnym wyjątkiem, który potwierdza, że można stworzyć od razu coś na tyle dobrego, aby warto było to kontynuować. Podstawą stworzenia modeli z tej wyjątkowej kolekcji, która dziś nie jako staje się samodzielnym brandem, był wspomniany już triple-ten test, który wymaga, aby każdy czasomierz miał min. 10 ATM wodoszczelności, był odporny na upadek z co najmniej 10 metrów, a jego bateria powinna pracować nie krócej niż przez 10 lat. Każda z tych cech jest odpowiednio sprawdzana i weryfikowana tak, aby na rynku pojawiały się jedynie modele kompletne o nieposzlakowanej opinii. Tym, co możemy uznać za zmianę w kwestii tworzenia G-shocków jest większe zaawansowanie technologiczne, które pozwala na wprowadzenie kolejnych, co raz bardziej zaawansowanych opcji. Przejawia się ono także w kategorii przeprowadzanych testów. Dawniej, aby skontrolować pierwszego G-shocka DW-5000 zrzucono go z okna toalety z wysokości 3m czy zanurzono go na odpowiedniej głębokości. Dziś odpowiednie maszyny potrafią dokonać dużo szybszej i łatwiejszej weryfikacji, jednakże wytyczne pozostają takie same jak 35 lat temu.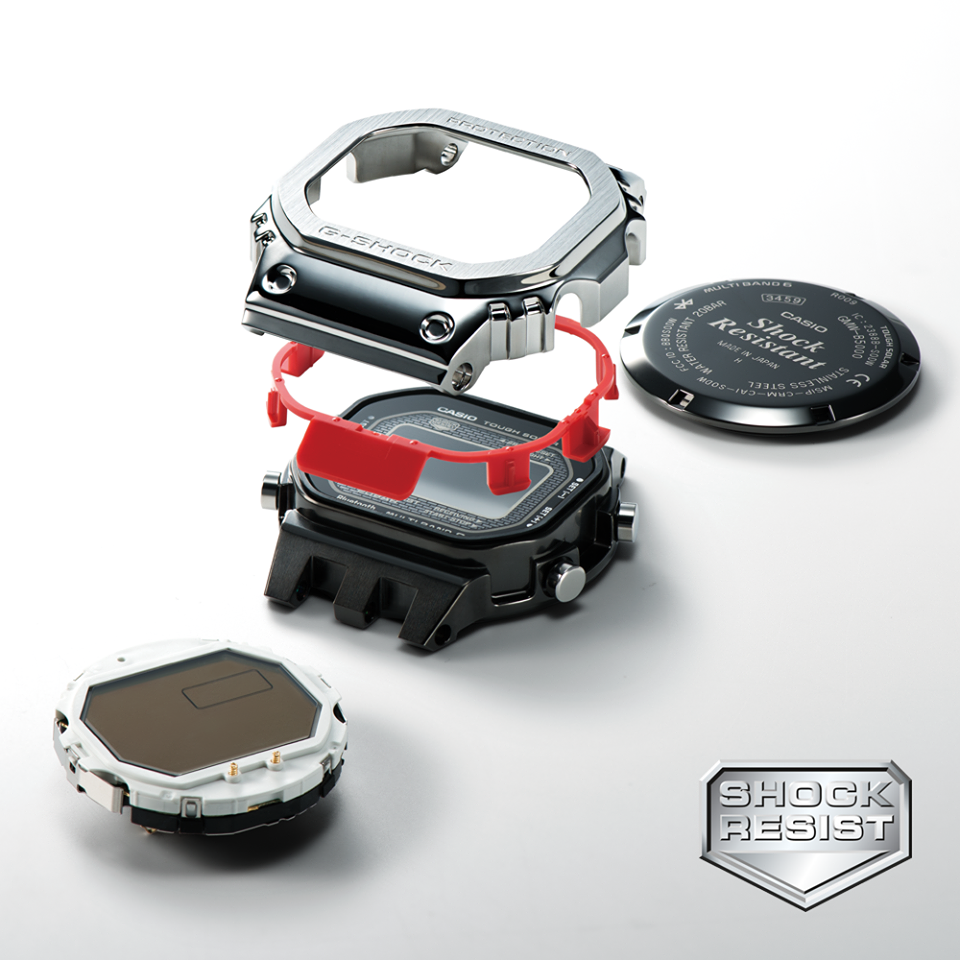 Ciekawostka 4. – Dlaczego zegarki G-shock tworzone są głównie (choć nie tylko) z tworzywa sztucznego?
Jak wiadomo i co zdążyłem już wielokrotnie podkreślić w tym tekście, zegarki G-shock to przede wszystkim modele, które wyróżniają się na rynku cechą jaką jest wstrząsoodporność. Opcja ta jest ich ogromną zaletą, która ciągnie za sobą cały wachlarz korzyści wynikających z jej wprowadzenia do tak potrzebnego i popularnego towaru jakim jest czasomierz. Aby jednak funkcja ta mogła być zastosowana, potrzeba specjalnego systemu, ale również odpowiednich materiałów wykonania, które zapewnią prawidłowe funkcjonowanie zegarka w warunkach wstrząsów czy wibracji. Głównym, najczęściej używanym materiałem jest tworzywo sztuczne, zazwyczaj określane jako kauczuk, z którego wykonuje się nie koperty, jak i paski czasomierzy.
Dlaczego do produkcji G-shocków najczęściej wykorzystuje się właśnie kauczuk?
Ponieważ kauczuk posiada właściwości, które pozytywnie wpływają na zachowanie produktu podczas uderzenia albo wibracji. Tworzywo to amortyzuje wstrząsy i sprawia, że środek czasomierza, jego mechanizm i systemu są dodatkowo chronione. Ponadto, kupując czasomierz sportowy, a takim bez wątpienia są Casio G-shock, spodziewamy się tego, że nasz produkt będzie wygodny w użytkowaniu. Ma zapewniać komfort noszenia, a przy tym świetnie wyglądać. Patrząc na pokaźne gabaryty, widać potrzebę zastosowania lekkich komponentów, które sprawią, że "maszyna" nie obciąży zbytnio naszego nadgarstka i nie uniemożliwi nam normalnego funkcjonowania. Lekki, wygodny w użyciu i plastyczny kauczuk wydaje się więc być najodpowiedniejszym dla zegarków G-shock tworzywem.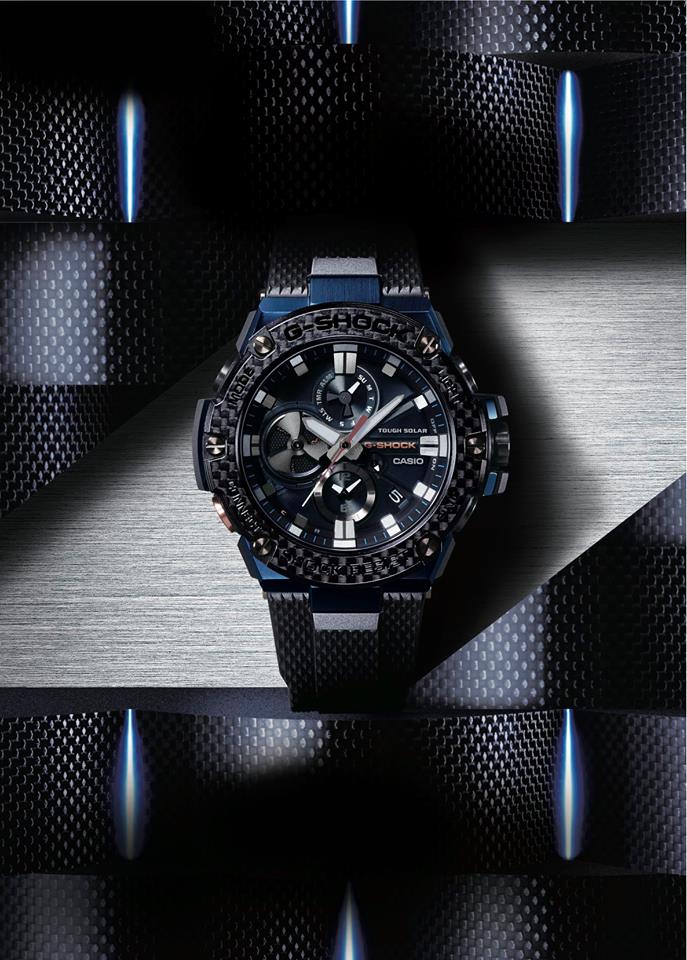 Stalowe zegarki G-shock – czy są tak samo wstrząsoodporne jak gumowe?
Tak, inaczej nie mogłyby nazywać się G-shock. Choć stal szlachetna sama w sobie nie posiada właściwości, które ma kauczuk. Nie jest tak plastyczna i zdecydowanie nie amortyzuje wstrząsów, to producent zadbał o to, aby wykonane z niej czy z tytanu modele, spełniały wysokie oczekiwania. Rola w tym systemu i zabezpieczeń, które wprowadzono "do środka" tychże zegarków. Dzięki nim G-shock G-steel funkcjonują identycznie jak ich kauczukowe odpowiedniki czym cieszą oko fanów bardziej casualowego designu.
Ciekawostka 5. – Kiedy pojawi się mechaniczny G-shock?
Prawdopodobnie nigdy. Zaskoczeni? Rozczarowani? Tylko dlaczego? Przecież obecna forma jest jak najbardziej ok. Ba! Jest świetna, a świadczą o tym miliony pozytywnych recenzji na portalach branżowych, forach czy stronach sklepów internetowych. Nie ma więc sensu zmieniać sprawdzonego, doskonale funkcjonującego rozwiązania tylko po to, aby wprowadzić coś innego. Kwarcowy mechanizm i elektroniczny wyświetlacz dają dużo większe pole manewru przy wprowadzaniu kolejnych sensorów, opcji czy rozwiązań. Mechanizmy o ręcznym czy automatycznym naciągu mają znacznie więcej ograń i pewne rozwiązania są w ich przypadku po prostu niewykonalne. Poza tym, stworzenie mechanizmu kwarcowego jest znacznie tańsze niż skomplikowanego automatu. Jeśli G-shock chciałby zmienić całą linię produkcyjną pod inny typ mechanizmu, musiałby ponieść gigantyczne koszta, które z pewnością choć po części musiałby zostać przeniesione na klientów w postaci wyższej ceny, co zniechęcałoby do zakupu (pamiętajmy, że topowe G-shocki kosztują już teraz nawet 4-5 tys zł). Nie dziwi nas więc fakt, że Kikuo Ibe wprost mówi o tym, że mechanicznego G-shocka się nie doczekamy.
I jak? wiecie już teraz skąd wziął się pomysł i moda na G-shocki? Przekonuje Was ta technologia i design? A może dopiero teraz, po przeczytaniu tego tekstu postanowiliście przyjrzeć im się dokładniej? No cóż, jak by nie było, cieszę się, że dobrnęliście do końca artykułu i mam nadzieję, że mimo blisko 10 tysięcy znaków, jakie przejrzały Wasze oczy, wciąż macie pewien niedosyt. Dlaczego? Bo już wkrótce przedstawię Wam kolejne ciekawe informacje na temat tej topowej linii Casio, która obecnie w świadomości klientów zaczyna już funkcjonować jako oddzielny brand. Samodzielność G-shocka będzie jednym z tematów kolejnego tekstu dotyczącego tej marki. 
Jeśli czekacie na następne teksty, a i ten wydał się Wam ciekawy, udostępnijcie go i dajcie kciuka w górę. A jeśli chcecie dodać do niego coś od siebie – piszcie! Razem budujmy bazę informacji o najlepszych zegarkach!