Zegarki na jesień 2018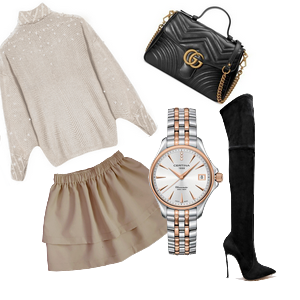 Trendy na jesień 2018!
Zanim się obejrzałyśmy, a październik praktycznie dobiega końca. Liści na drzewach coraz mniej, a i pogoda jakby podupadła. Chociaż nie da się ukryć, że na dworze coraz zimniej, warto nie rezygnować z ubrań, które wniosą w jesienne dni nieco ciepła i energii. Takie stylizacje z pewnością dodadzą Ci animuszu i sprawią, że nawet chłodniejsze ranki powitasz z uśmiechem! Zerknij poniżej – Mamy dla Ciebie kilka propozycji, jak to zrobić, żeby stworzyć idealny, jesienny look! I co ważne, jaki dobrać do tego zegarek, aby wszystko wyglądało fantastycznie!
Mini zawsze w modzie!
Całe lato pracowałaś nad dobrą sylwetką i nadal jesteś z niej dumna? A może brzuszek już lekko "opadł" i choć nogi nadal w świetnej formie, to jednak czujesz, ze powinnaś schować się w obszernych swetrach? Spokojnie! można to połączyć i to w taki sposób, że patrzący na Ciebie ludzie wręcz oszaleją z wrażenia. Jak? Już wyjaśniam!
Wystarczy, że połączysz pozornie odległe style, dopełnisz je świetnym zegarkiem, a uzyskasz stylizację, które w tym sezonie jest niezwykle modna i praktyczna. Potrzebować będziesz:
swetra oversize, najlepiej w kolorze pastelowym lub kojarzącym się z jesienią odcieniu khaki czy rudym
spódniczkę mini, rozszerzaną – najlepiej z falbanami
długich kozaków na obcasie
efektownego zegarka
torebki crossbody
W naszej wizualizacji wygląda to tak: 
Zdecydowaliśmy się połączyć produkty luksusowe z ogólnodostępnymi ubraniami znalezionymi w polskich sklepach internetowych czy na Allegro.
  spódniczka – 39zł, sweterek – 40zł, torebka – 1980$, kozaki – 1285$, zegarek – 1927zł
Dlaczego akurat zegarek Certina? Ponieważ uważamy, że ta bikolorowa nowość idealnie wpisuje się w jesienne stylizacje. Połączenie różowego złota z odcieniem stali tworzy świetny efekt wizualny, który pozwala dopasować ją do ubrań w różnych kolorach. Trzy diamenty osadzone na wysokości godziny 12 dodają kobiecości i podkreślają prestiż tego czasomierza. Ponadto, ten model Certina DS Action Lady C032.051.22.036.00 cechuje się doskonałą jakością, której potwierdzeniem jest nadanie mu miana "chronometr" przypisywanego jedynie takim czasomierzom, jakie pomyślnie przechodzą szereg wymagających testów jakościowych i wytrzymałościowych. Jest to więc, wg nas, model idealny na zmienną, jesienną pogodę!
*Uwaga! Jeśli spodobał Ci się produkt z niniejszej stylizacji, ale nie jest on już dostępny lub jego cena jest dla Ciebie za wysoka, skontaktuj się z nami! Pomożemy znaleźć Ci odpowiednik, który z powodzeniem zastąpi ten, pierwotnie przez nas sugerowany (np. szpilki Casadei możesz zastąpić kozakami z Varlesca Butik –> sprawdź model)
---
Brytyjska sielanka
Istnieją motywy, które kojarzą nam się tylko z jedną destynacją i choć taki stan rzeczy na pierwszy rzut oka może wydawać się nudny, czy oklepany, w rzeczywistości okazuje się, że jest niekończącą się historią, która wciąż doczekuje się nowych odsłon. Tak właśnie wygląda sprawa "brytyjskiej kratki", która jesienią 2018 wkracza na światowe salony z przytupem. 
Jeśli chociaż raz dałaś się skusić na ubrania w brytyjskim stylu i posiadasz w swojej szafie odzież lub akcesoria z motywem charakterystycznej kratki, albo jeśli tego typu rzeczy trafiają w Twój gust, koniecznie zerknij na stylizacje poniżej. 
Tym razem zdecydowaliśmy się pokazać Ci dwie opcje, bo choć pochodzą "z tego samego podwórka", to w rzeczywistości różnią się od siebie znacznie. 
Pierwsza propozycja to stonowana pod względem stylu jak i koloru kompozycja zawsze modnego trenczu Burberry i klasycznych dodatków w postaci szala, torebki i zegarka. Przeplatające się odcienie beżu jak i brązu czy oberżyny dają ciekawy efekt umiarkowanej elegancji. Dodatek różowego złota w połączeniu z mieniącymi się kryształkami widoczny w zegarku Fossil Carlie ES4428 zadaje szyku, a jednocześnie wprowadza nutę nowoczesności. Całość dopełniają szalik – również Burberry oraz torebka "listonoszka" z nowej kolekcji Zara. 
trencz – 1450£, botki – 483$, szalik – 350£, torebka – 299zł, zegarek – 484zł
Dlaczego Fossil Carlie ES4428? Przecież Fossil nie jest brytyjską firmą… Owszem, nie jest, ale ze względu na swój doskonały design, idealnie wpisuje się w niniejszą stylizację. Rudo-brązowy pasek współgra z kopertą w kolorze różowego złota oraz pozostałymi elementami stroju. Nawiązuje do koloru butów oraz elementów kratki widocznych na szaliku oraz pod kołnierzem paska. Delikatne kryształki osadzone na ringu koperty sprawiają, że zegarek ten z powodzeniem zastępuje klasyczną biżuterię i w subtelnym sposób dodaje szyku pozornie prostej kompozycji.
—- * —-
W drugiej wersji British Countryside panuje zupełnie inny klimat, w którym odchodzimy od ulic Londynu i przenosimy się na tereny Szkocji, gdzie rozbrzmiewają dźwięki kobzy. Stawiamy tu na elementy, które silnie przyciągają wzrok i wzbudzają zainteresowanie. Buty i torebkę z motywem szkockiej kraty łączymy z długa bluzą i leginsami w kolorze czerni. Wykończenie stanowi zegarek damski na czerwonym pasku!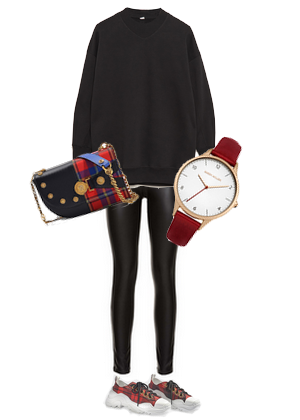 bluza – 89zł, leginsy – 54,99, torebka – 1712$, sneakersy – 448$, zegarek – 440zł
Dlaczego zegarek Karen Millen KM147RRG? Bo to kwintesencja brytyjskiego stylu. Okrągła koperta w modnym odcieniu złota łączy się tu z jasną tarczą o ciekawej konfiguracji cyfr arabskich i indeksów godzinowych. Na teleskopach zegarka zamocowano pasek skórzany w kolorze głębokiej, wyrazistej czerwieni, która idealnie wpasowuje się w klimat szkockiej kraty. Dzięki tym właśnie cechom, czasomierz Karen Millen idealnie dopełnia powyższą stylizację i pokazuje, że świetnie sprawdzi się nawet w nieco ekstrawaganckich zestawieniach.