Zegarmistrz Gdańsk
ul. Derdowskiego 8A/1  Gdańsk (Oliwa) tel 58 340 85 62
ZegarkiCentrum.pl to nie tylko sklep internetowy z zegarkami. To miejsce, które tworzą ludzie, którzy o czasomierzach wiedzą niemal wszystko. Z tej właśnie przyczyny, kierowani pasją, zaangażowaniem, ale i wiedzą oraz doświadczeniem, postanowiliśmy wprowadzić do naszej oferty szereg usług które sprawią, że Twój zegarek przez długie lata pozostanie w dobrej kondycji.
Nasza lokalizacja:
Zegarmistrz Gdańsk Oliwa
W naszej siedzibie w Gdańsku Oliwie przy ul. Derdowskiego 8a/1 świadczymy specjalistyczne usługi z zakresu zegarmistrzostwa. W ręce naszych wykwalifikowanych pracowników możecie powierzyć swoje zegarki, które wymagają naprawy czy renowacji. Z pełną starannością zajmiemy się usterką i sprawimy, że Wasz produkt będzie w jak najlepszej kondycji.
Naprawa zegarków Gdańsk
Naprawa zegarków odbywa się w naszej siedzibie w Gdańsku Oliwie, gdzie mamy doskonałe warunki do tego, aby zadbać o Państwa czasomierze. Nasze biuro i zakład są nowoczesne, wyposażone w niezbędne narzędzia, które zapewniają odpowiednią renowację zegarków. Ponadto nasi pracownicy słyną ze skrupulatności i precyzyjności, dlatego możecie mieć Państwo pewność, że oddany do naprawy zegarek będzie poddanym właściwym zabiegom.
Wymiana baterii w zegarku Gdańsk
Ponieważ od lat zajmujemy się sprzedażą oryginalnych zegarków, zdajemy sobie sprawę z tego, z jakimi problemami borykają się posiadacze czasomierzy. Wśród naszych podstawowych usług należy wymienić wymianę baterii w zegarkach kwarcowych. Dotyczy to zarówno mechanizmów japońskich jak i szwajcarskich. Usługę tę przeprowadzamy w krótkim czasie z zachowaniem pełnej staranności i ostrożności tak, aby nie dopuścić do rozszczelnienia zegarka czy innych uszkodzeń, dlatego jeśli zachodzi taka potrzeba, wykonujemy również dodatkowe czynności jak chociażby wymiana baterii. Profesjonalizm naszych pracowników sprawia, że wymiana baterii w zegarku przebiega bezproblemowo.
Gdzie wymienić mechanizm w zegarku w Gdańsku?
Oczywiście w ZegarkiCentrum.pl. Oferujemy wymianę mechanizmów japońskich i szwajcarskich typów Miyota, TMI i ETA. Mechanizmy sprowadzamy jedynie od autoryzowanych dostawców, dlatego mając do wyboru dowolny zakład zegarmistrzowski, warto wybrać nasz. W ten sposób zyskacie pewność, że oddaliście swój zegarek w ręce profesjonalistów.
Pozostałe usługi zegarmistrzowskie w ZegarkiCentrum.pl
Poza wymienionymi już usługami typu wymiana baterii czy mechanizmu w zegarku, oferujemy szereg pozostałych działań, które pozwolą Ci utrzymać zegarek w dobrej kondycji. Do najważniejszych usług zaliczyć należy: wymianę koperty, wymianę szkła w zegarku czy odnowę warstwy fluorescencyjnej. Oprócz tego oferujemy odnowę wodoszczelności w zegarkach parujących jak również nałożenie i kalibrację wskazówek.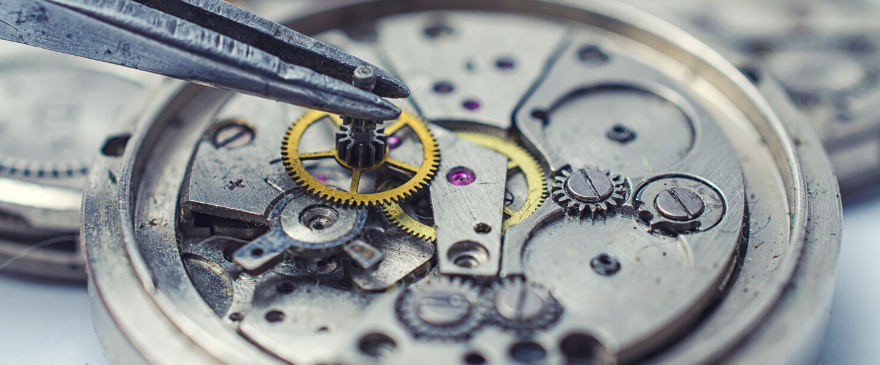 Skracanie bransolety w zegarku Gdańsk Oliwa
Nie jest tajemnicą, że bransolety w zegarkach nierzadko wymagają skrócenia. Zazwyczaj obwód w zegarkach damskich wynosi ok 19cm natomiast w zegarkach męskich waha się między 21 a 22cm. Taka długość sprawia, że nie pasują one na większość nadgarstków i konieczne jest ich skrócenie. Zwykle odbywa się to poprzez wyjęcie zbędnych ogniw, jednakże bywają bransolety, gdzie dokonuje się przesuwu zapięcia. W naszym zakładzie zegarmistrzowskim skrócimy każdą bransoletę niezależnie od jej typu, nie uszkadzając przy tym jej elementów, jak dzieje się to w niektórych mniej profesjonalnych firmach.
Skracanie paska kauczukowego w zegarku
Wiele zegarków posiadających zapięcie motylkowe posiada jednocześnie kauczukowy pasek. Zazwyczaj taki zabieg stosuje się w zegarkach typu diver czy innych sportowych modelach. Skrócenie tego typu paska nie jest łatwe i co ważne, jest nieodwracalne, dlatego trzeba wykonać je w pełni profesjonalnie. My nie bomy się takich wyzwań. Paski kauczukowe skracamy precyzyjnie, a klienci zawsze są zadowoleni z naszych usług.
Zegarmistrz Gdańsk Wrzeszcz
Ponieważ wachlarz naszych usług jest naprawdę szeroki, a nasza wiedza i doświadczenie bardzo duże, warto skorzystać właśnie z naszej oferty Dojazd do naszej siedziby jest bardzo prosty, a dostać się do nas można niemal każdym środkiem lokomocji, dlatego zachęcamy do odwiedzenia nas także tych z Państwa, którzy szukają naprawy zegarków nie tyko w Oliwie, ale również poszukują zegarmistrza we Wrzeszczu, na Przymorzu czy w innych dzielnicach Gdańska.