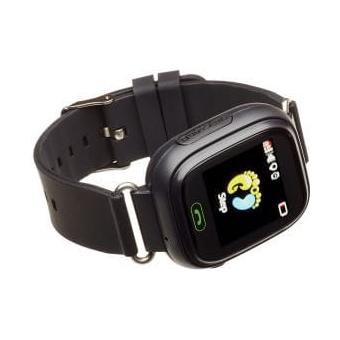 Garett Kids 2 5903246280517
| | |
| --- | --- |
| Dostępność: | Dostępny |
| Wysyłka | do 12 godzin |
Nasza cena:
269,00 zł
-10%
Cena w sklepie stacjonarnym: 299,00 zł

Bezpłatna dostawa
Kod produktu: 5903246280517
Zegarek Garett Kids 2 dziecięce smartwatch 5903246280517
Dziecięcy zegarek Garett 5903246280517 to połączenie funkcji, materiałów i atrybutów, które wpisują się w upodobania każdego młodego klienta. Model ten to sportowy smartwatch, którego budowa opiera się o kwadratową kopertę wykonaną z tworzywa sztucznego, pasek gumowy z dużą ilością "dziurek", a także cyfrowy, dotykowy wyświetlacz. Jako ochronę tarczy marka Garett postanowiła wykorzystać szkło hesalitowe i okazało się to strzałem w dziesiątkę, ponieważ jest to jedyne "zabezpieczenie", które możemy polerować usuwając zarysowania powstałe zarówno podczas użytkowania zegarka w szkole, jak i w trakcie przyjacielskich spotkań. Cechą charakterystyczną zegarka Garett 5903246280517 jest mnogość funkcji, wśród których znalazł się GPS pokazujący miejsce obecności dziecka, chronograf, a także możliwość zmiany muzyki włączonej na telefonie komórkowym czy odbieranie i wykonywanie połączenia. Tak, czasomierz ten łączy się z pomocą funkcji Bluetooth z smartfonem, pozwalając mieć stały dostęp do danych na temat naszej aktywności fizycznej i wielu innych funkcji. Mimo wysokiej klasy dziecięcego zegarka Garett 5903246280517 jest przystępna cena sprawia, iż wybierany jest często jako prezent na specjalne okazje, między innymi Boże Narodzenie czy urodziny.

Koperta - tworzywo koloru czarnego.
Tarcza - cyfrowa dotykowa LCD, negatywna.
Pasek - guma koloru czarnego.

Bluetooth - zegarek posiada moduł pozwalający na łączność ze smartfonami pracujących na systemach Android oraz iOS dzięki czemu możemy za pomocą smartphona sterować funkcjami zegarka.
Funkcje dodatkowe - smartwatch, bluetooth, WiFi, slot na kartę SIM - Micro SIM, IP54, GPS (aplikacja), powiadomienia wibracyjne (połączenia przychodzące oraz SMS), wykonywanie zdjęć telefonem, kontrola muzyki na telefonie, odnajdywanie telefonu, krokomierz, monitoring snu, pogoda, latarka, wymienne paski. 
Bateria - 400 mAh (ładowanie około 1 godzina - do 100 godzin czuwania)


Najważniejsze cechy i funkcje zegarka

Gwarancja: 2 lata - Okres ochrony udzielanej przez producenta przypisany oryginalnym produktom. Oznacza, że w przypadku pojawienia się usterki nie wynikającej z winy użytkownika, w ciągu 2 lat klient ma prawo do złożenia reklamacji w autoryzowanym serwisie producenta.
Kształt koperty: Prostokątna / kwadratowa - Co raz bardziej popularny kształt, który spotykamy głównie w modelach eleganckich i casualowych.
Materiał wykonania: Tworzywo sztuczne - Stosowane głównie modelach sportowych i dziecięcych, trwałe tworzywo sztuczne z powodzeniem stanowi alternatywę dla innych, bardziej popularnych materiałów wykonania. Lekkie i wygodne w użytkowaniu sprawia, że wykonany z niego czasomierz nie obciąża nadgarstka przez co sprawdza się doskonale w różnych sytuacjach.
Mechanizm: Kwarcowy (zasilany baterią) - Najpopularniejszy rodzaj mechanizmu, jego siłę napędową stanowi bateria. Margines błędu waha się między -15/+21 sekund w skali miesiąca.
Pasek/Bransoleta: Pasek gumowy/kauczukowy - Wykonany z miękkiego, plastycznego tworzywa sztucznego, doskonale układa się na ręku. Dzięki walorom estetycznym stanowi element modeli damskich i męskich.
Płeć: Dziecięcy - Zegarek stworzony z myślą o najmłodszych. Łatwy w obsłudze. Przyjemny w użytkowaniu, atrakcyjny wizualnie.
Styl zegarka: Fashion - Inaczej nazywany modowym. Pochodzi z oferty producenta doskonale znanego w świecie mody. Jego podstawową zaletą jest oparty na obowiązujących trendach design, który sprawia, że obok tego czasomierza nie można przejść obojętnie.
Szkło: Hesalitowe - Przez wielu określane mianem "plastikowego", wykonane jest z polipropylenu, który poddano zabiegom oczyszczenia i utwardzenia. Miękkie i podatne na zarysowania, jednakże możliwe do wypolerowania przy użyciu specjalnej pasty.
Wodoodporność: 30m (odporność na zachlapania) - Wg tej klasy wodoodporności zegarek jest odporny na zachlapania. Należy jednak unikać większego kontaktu z wodą, aby nie uszkodzić czasomierza.


Stoper
GPS
Timer - odmierza czas wstecz
Chronograf - popularnie zwany stoperem, pozwala na precyzyjny pomiar czasu
Alarm - nastawiony na konkretną godzinę wskazuje ją poprzez sygnał dźwiękowy
Multifunction - wskazywanie dokładnej daty (dzień, miesiąc) i godziny
Podświetlana tarcza - umożliwia odczyt godziny w ciemności


Zobacz wszystkie produkty z kategorii: Garett

Dane techniczne:

| | |
| --- | --- |
| Gwarancja | 2 lata |
| Kształt koperty | Prostokątna / kwadratowa |
| Materiał wykonania | Tworzywo sztuczne |
| Mechanizm | Kwarcowy (zasilany baterią) |
| Pasek/Bransoleta | Pasek gumowy/kauczukowy |
| Płeć | Dziecięcy |
| Średnica koperty | 33mm |
| Styl zegarka | Fashion, Sportowe |
| Szkło | Hesalitowe |
| Tarcza | Ciemna |
| Wodoodporność | 30m (odporność na zachlapania) |
U nas nie płacisz za dostawę na terenie Polski!
Niezależnie od formy płatności jaką wybierzesz, nie musisz martwić się o dodatkowe koszta związane z wysyłką. Ty decydujesz, jaką formę dostawy wybierasz - DHL czy paczkomaty InPost, a koszty pokrywamy my.
Wiemy, jak bardzo irytujące potrafi być oczekiwanie na zamówiony towar, dlatego staramy się, aby wysyłki realizowane były możliwie jak najszybciej.

Codziennie w naszej ofercie znaleźć możesz blisko 10 tysięcy produktów, które mogą być do Ciebie dostarczone już następnego dnia. Zegarki te opisane są jako wysyłka w 12 godzin, a wyodrębnić je spośród pełnej oferty pomoże Ci nasza zaawansowana wyszukiwarka. Pozostałe produkty posiadają status: na zamówienie oraz informa