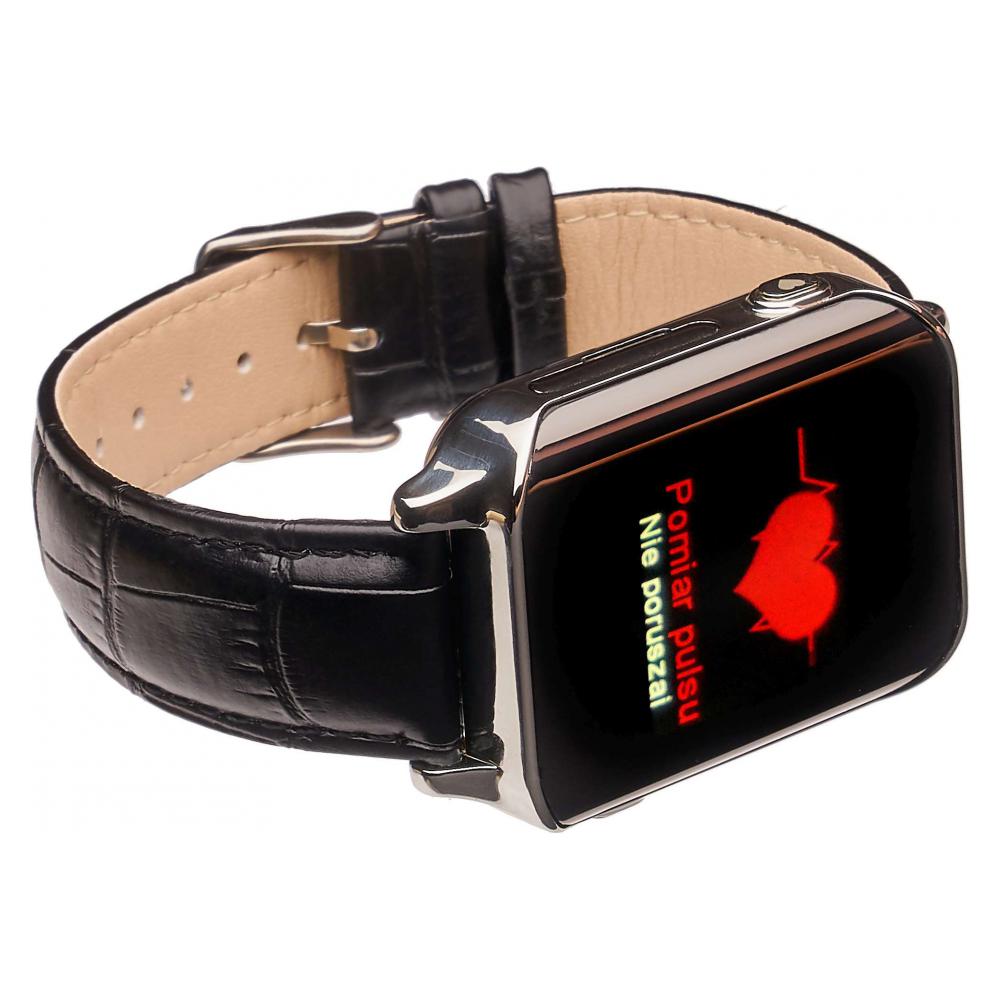 Zegarek Garett GPS Classic smartwatch męski 5903246281965
Męski zegarek Garett 5903246281965 to smartwatch o klasycznym designie, który tworzy czarny, skórzany pasek zakończony zapięciem na sprzączkę, prostokątna koperta z tworzywa sztucznego oraz cyfrowy, dotykowy wyświetlacz. Z uwagi na fakt, iż czasomierz ten stworzony został z myślą o starszych mężczyznach warto zauważyć, iż odczytanie jakichkolwiek danych z tarczy jest bardzo proste również dla osób o słabszym wzroku. Smartwatch męski wyposażony został w wiele funkcji przydatnych dla opiekunów seniorów oraz ich samych, między innymi pulsometr, przypomnienie o potrzebie wzięcia leków, przycisk SOS, GPS, zdalny podsłuch przy odtwarzanie przebytej trasy. Wszystkie wymienione zadania zapewniają pełne bezpieczeństwo użytkownikowi zegarka, dlatego model ten cieszy się zainteresowaniem jako prezent od bliskim osób.

Warto pamiętać, iż zegarek Garett 5903246281965 to model, który zachęca mężczyzn do aktywności fizycznych. Wyposażenie go w monitor aktywności, stoper, alarm i chronograf pozwalają na łatwe kontrolowanie osiągnięć fizycznych bez potrzeby używania wielu, często niekomfortowych narzędzi. Garett 5903246281965 to męski smartwatch, który przynosi "drugą młodość" starszym osobom i pozwala im na stały kontakt z bliskimi.

Koperta - tworzywo koloru srebrnego.
Tarcza - cyfrowa dotykowa LCD, negatywna.
Pasek - skóra koloru czarnego.

Bluetooth 4.0 - zegarek posiada moduł pozwalający na łączność ze smartfonami pracujących na systemach Android oraz iOS dzięki czemu możemy za pomocą smartphona sterować funkcjami zegarka.
Funkcje dodatkowe - WiFi, bluetooth, smartwatch, pulsometr, slot na kartę SIM - Micro SIM, GPS, dyktafon, kalkulator, powiadomienia wibracyjne, powiadomienia SMS oraz połączenia przychodzącego, kontrola muzyki oraz aparatu w smartphonie, IP54, datownik, funkcje treningowe, krokomierz, monitor akcji serca, prognoza pogody śledzenie snu, wskaźnik naładowania baterii, menu w języku angielskim.
Bateria - ładowanie około 2 godzin, czas czuwania do 3 dni


Najważniejsze cechy i funkcje zegarka

Gwarancja: 2 lata - Okres ochrony udzielanej przez producenta przypisany oryginalnym produktom. Oznacza, że w przypadku pojawienia się usterki nie wynikającej z winy użytkownika, w ciągu 2 lat klient ma prawo do złożenia reklamacji w autoryzowanym serwisie producenta.
Kształt koperty: Prostokątna / kwadratowa - Co raz bardziej popularny kształt, który spotykamy głównie w modelach eleganckich i casualowych.
Materiał wykonania: Tworzywo sztuczne - Stosowane głównie modelach sportowych i dziecięcych, trwałe tworzywo sztuczne z powodzeniem stanowi alternatywę dla innych, bardziej popularnych materiałów wykonania. Lekkie i wygodne w użytkowaniu sprawia, że wykonany z niego czasomierz nie obciąża nadgarstka przez co sprawdza się doskonale w różnych sytuacjach.
Mechanizm: Kwarcowy (zasilany baterią) - Najpopularniejszy rodzaj mechanizmu, jego siłę napędową stanowi bateria. Margines błędu waha się między -15/+21 sekund w skali miesiąca.
Pasek/Bransoleta: Pasek skórzany - Wykonany z naturalnej, miękkiej skóry, która idealnie układa się na nadgarstku. Dzięki odpowiedniemu wyprofilowaniu przylega do ręki jednocześnie utrzymując kopertę w stabilnej pozycji. Standardowa żywotność paska wynosi 6-9 miesięcy, jednak dla zapewnienia długowieczności można stosować specjalne kosmetyki poprawiające jego wygląd.
Płeć: Męski - Przeznaczony dla mężczyzn czasomierz przedstawiający szereg walorów wizualnych jak i jakościowych. Dzięki zastosowaniu najwyższej klasy materiałów spełni oczekiwanie każdego Pana, który lubi cieszyć się nietuzinkowym, a jednocześnie niezawodnym dodatkiem.
Styl zegarka: Fashion - Inaczej nazywany modowym. Pochodzi z oferty producenta doskonale znanego w świecie mody. Jego podstawową zaletą jest oparty na obowiązujących trendach design, który sprawia, że obok tego czasomierza nie można przejść obojętnie.
Szkło: Mineralne - Rodzaj szkła, który jest najczęściej spotykany przy produkcji czasomierzy. Posiada 4/10 punktów w skali Mohsa. Znacznie mniej odporny na zarysowania niż odpowiednik wykonany z szafiru, jednakże jeśli chodzi o podatność na stłuczenia, oceniany lepiej niż szkło z korundu.
Wodoodporność: 30m (odporność na zachlapania) - Wg tej klasy wodoodporności zegarek jest odporny na zachlapania. Należy jednak unikać większego kontaktu z wodą, aby nie uszkodzić czasomierza.


Stoper
GPS
Timer - odmierza czas wstecz
Chronograf - popularnie zwany stoperem, pozwala na precyzyjny pomiar czasu
Alarm - nastawiony na konkretną godzinę wskazuje ją poprzez sygnał dźwiękowy
Monitor pracy serca - pozwala na sprawdzenie stanu pracy serca podczas wysiłku
Licznik kalorii - odlicza ilość kalorii zmierzonych podczas wysiłku z założonym zegarkiem
Multifunction - wskazywanie dokładnej daty (dzień, miesiąc) i godziny
Podświetlana tarcza - umożliwia odczyt godziny w ciemności


Dane techniczne:

| | |
| --- | --- |
| Gwarancja | 2 lata |
| Kształt koperty | Prostokątna / kwadratowa |
| Materiał wykonania | Tworzywo sztuczne |
| Mechanizm | Kwarcowy (zasilany baterią) |
| Pasek/Bransoleta | Pasek skórzany |
| Płeć | Męski |
| Średnica koperty | 36mm |
| Styl zegarka | Fashion, Sportowe |
| Szkło | Mineralne |
| Tarcza | Ciemna |
| Wodoodporność | 30m (odporność na zachlapania) |
U nas nie płacisz za dostawę i zwrot na terenie Polski!
Niezależnie od formy płatności jaką wybierzesz, nie musisz martwić się o dodatkowe koszta związane z wysyłką. Ty decydujesz, jaką formę dostawy wybierasz - DHL czy paczkomaty InPost, a koszty pokrywamy my.
Wiemy, jak bardzo irytujące potrafi być oczekiwanie na zamówiony towar, dlatego staramy się, aby wysyłki realizowane były możliwie jak najszybciej.

Codziennie w naszej ofercie znaleźć możesz blisko 10 tysięcy produktów, które mogą być do Ciebie dostarczone już następnego dnia. Zegarki te opisane są jako wysyłka w 12 godzin, a wyodrębnić je spośród pełnej oferty pomoże Ci nasza zaawansowana wyszukiwarka. Pozostałe produkty posiadają status: na zamówienie oraz informację, jaki jest przewidywany czas realizacji.
---
Jeśli chcesz mieć gwarancję, że wybrany przez Ciebie zegarek dotrze do Ciebie następnego dnia roboczego, musisz spełnić kilka warunków:
przedmiotem zamówienia musi być zegarek/biżuteria oznaczone terminem "wysyłka w 12 godzin"
zamówienie musi zostać złożone do godziny 11:00
zamówienie powinno być złożone "za pobraniem" lub z góry "opłacone przelewem" na konto naszego sklepu poprzez system przelewy24
zamówienie dotyczyć musi produktu, który nie ma zostać opatrzony grawerunkiem (szczegóły realizacji zamówień z grawerowaniem znajdziesz tutaj)
miejsce doręczenia towaru musi znajdować się na terenie Rzeczypospolitej Polskiej
---
Co jeszcze musisz wiedzieć na temat paczki, która do Ciebie dotrze?
Paczki wysyłamy tylko w dni robocze i w takie też dni kurierzy doręczają przesyłki (usługa dostawy w sobotę dostępna jest tylko dla wybranych lokalizacji i jest dodatkowo płatna)
Każdy zegarek znajduje się w oryginalnym opakowaniu producenta, które jest odpowiednio zabezpieczon