Zdobywca Red Dot Design-Aikon Automatic Skeleton
Maurice Lacroix to najwyższa jakość. Maurice Lacroix to szwajcarska precyzja. Maurice Lacroix to doskonały design. Maurice Lacroix to więcej niż marka. Maurice Lacroix – Your Time is now.
Maurice Lacroix – marka wyjątkowych zegarków
Maurice Lacroix to wspaniałe, szwajcarskie zegarki, które od lat szczycą się nieposzlakowaną opinią. Przedstawiają doskonałą jakość i precyzję, która jest owocem pracy utalentowanych zegarmistrzów. Łączą w sobie nowoczesność, nawiązując jednocześnie do korzeni szwajcarskiego rzemiosła. Swoją klasą przyćmiewają innych producentów, którzy nie mogą poszczycić się mianem manufaktury. Za swoje osiągnięcia zbierają oklaski i pozytywne recenzje zadowolonych klientów. Czasomierze sygnowane logo ML zobaczyć można na nadgarstkach ludzi zamieszkujących wszystkie kontynenty. Noszą je mężczyźni kochający nowoczesną klasykę i kobiety ceniące sobie elegancję w najlepszym tego słowa znaczeniu. Wszyscy oni wkładając zegarek Maurice Lacroix mają pewność, że posiadają produkt, który służyć im będzie przez długie lata, jednocześnie nieustannie ciesząc ich oko. Nie dziwi więc fakt, że czasomierze te zgarniają nagrody i wyróżnienia przyznawane przez kapituły najbardziej prestiżowych konkursów.
Red Dot Design Awards 
Red Dot Design to prestiżowa nagroda przyznawana od przeszło 60 lat przez Design Zentrum położone w Essen w Niemczech. Trofeum to przyznawane jest w trzech kategoriach i dotyczy wzornictwa przemysłowego. W każdej kategorii liczba zgłoszeń wynosi kilka tysięcy, a ranga tejże nagrody jest tak wielka, że nazywana jest "Oscarem designu". Kategorie Red Dot Design to Projektowanie Produktu, Projekt Koncepcyjny Projektowanie Komunikacji, a każda z nich dotyczy innego obszaru działalności. Kapituła przyznająca wyróżnienia każdego roku zmaga się z nie lada wyzwaniem, którym jest wybór najbardziej innowacyjnego, interesującego i obiecującego rozwiązania, które wybija się na tle pozostałych. Nic więc dziwnego, że przyznane w 2019 roku wyróżnienie tak bardzo cieszy Maurice Lacroix.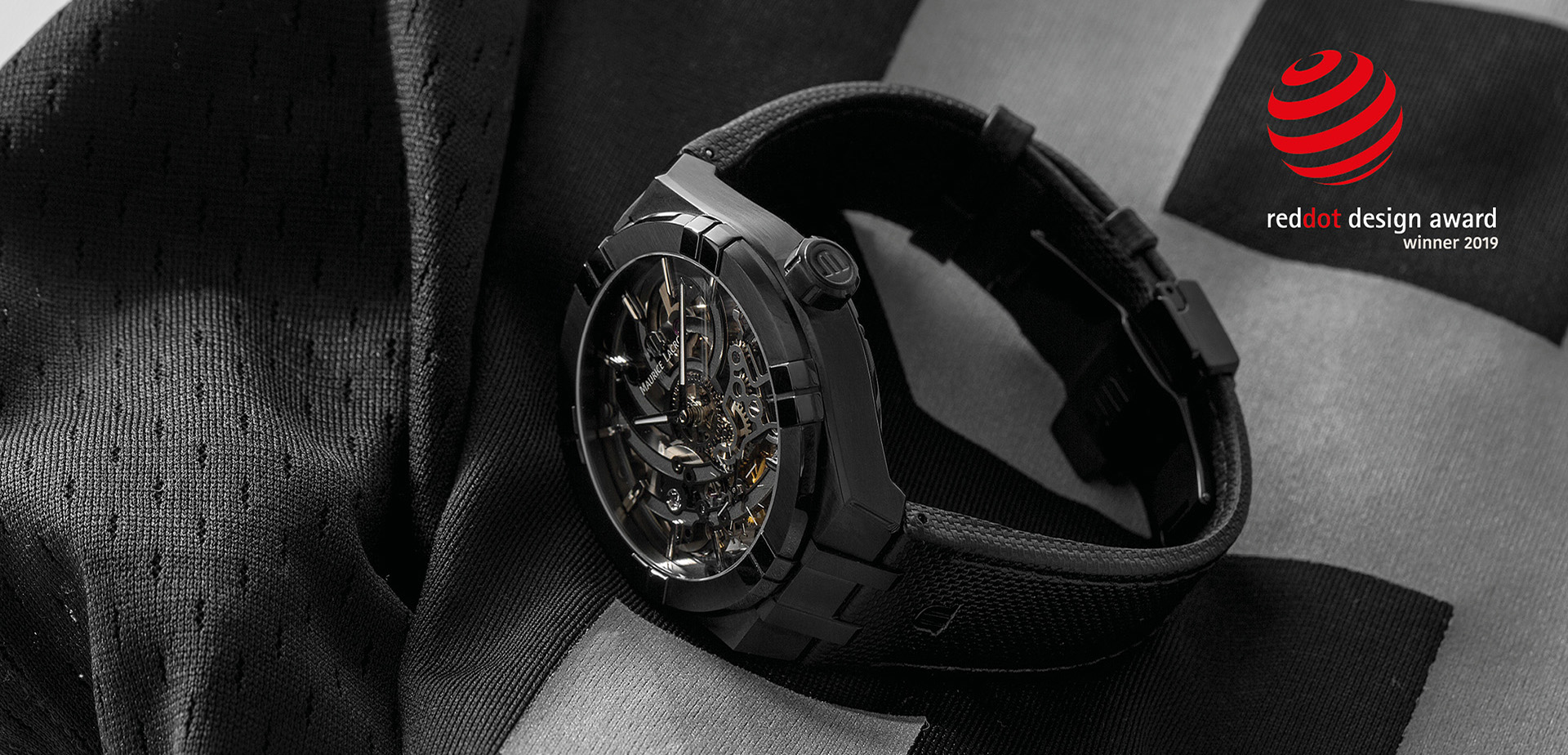 Red Dot Design Awards dla Aikon Automatic Skeleton
Maurice Lacroix za swoje projekty, a szerzej rzecz ujmując całą koncepcję tworzenia zegarków, ich styl jak i jakość nie pierwszy raz został nagrodzony przez jury prestiżowego konkursu jakim jest Red Dot Design. Nagroda przyznana za  model Aikon Automatic Skeleton cieszy jednak tym bardziej, że dotyczy ona produktu, który napawa manufakturę ML dumą wynikającą z naprawdę ciężkiej pracy projektantów i inżynierów, którzy włożyli ogrom sił po to by stworzyć prawdziwe dzieło. Udało się, Aikon Automatic Skeleton to bez wątpienia dzieło sztuki.
Inspiracją do stworzenia tego prestiżowego czasomierza były kultowe modele Calypso Skeleton z 1993 roku oraz Masterpiece Skeleton z 2007, których budowa, jak sama nazwa wskazuje, opiera się na formie szkieletu, który ukazuje perfekcyjną budowę czasomierza. Ażurowa forma antracytowego szkieletu mieści się w 45mm kopercie wykonanej ze stali o satynowym wykończeniu. Czy to jednak wystarczyło, aby otrzymać tak wyjątkową nagrodę? Nie… zalet, które zostały docenione przez kapitułę było i jest znacznie więcej.
Aikon Automatic Skeleton – zegarek idealny
Wspomniana już szkieletowa forma zegarka Aikon Automatic Skeleton to bez wątpienia jego ogromny walor, ciężko jednak powiedzieć czy największy. Model ten jest bowiem swoistą układanką, której poszczególne elementy zazębiając się ze sobą tworząc swoisty system, którego sercem jest mechanizm ML234. To on pełni funkcje wizualne jak i napędza zegarek do działania, a każdy jego fragment, choćby mikroskopijny odgrywa istotne zadanie. Ustawienie poszczególnych zapadek i mostków współgra ze stylistyką tarczy dając niezwykły efekt promieniowania wywodzącego się ze środka cyferblatu. Pięć okręgów, ukazujących się na tarczy, gdy zegar wybija godzinę 1, pokryte jest czarną powłoką DLC, która wzmaga wyjątkowe wrażenia wizualne. Tak wspaniały styl jest dowodem na to, ile doskonałości kryje się w czasomierzu Aikon Automatic Skeleton.
Aikon Automatic Skeleton – limitowana edycja a cena
Producenci szwajcarskich zegarków na poziomie "top", przyzwyczaili nas do tego, że za produkty z najwyższej półki trzeba słono zapłacić. Nie dziwią nas kwoty kilkudziesięciu tysięcy złotych, gdyż wiele modeli przekracza wartość kilkuset, a nawet … miliona złotych. Kwoty podbijają użyte materiały jak np kamienie szlachetne, ale również sama nazwa producenta, która niesie za sobą renomę. Choć dla zwykłego zjadacza chleba, cena 26900zł jest wartością, jaką ciężko wysupłać, zwłaszcza, gdy wielu z nas, ma samochód o wartości mniejszej niż ta, to jednak  kwota ta ma uzasadnienie i w świecie zegarmistrzowskim uważana jest za przystępną. Wpływa na to prestiż produktu, jego jakość, design jak również to, że jest to produkt limitowany. Na całym świecie do sprzedaży przeznaczonych zostało zaledwie 250 szt, co jest naprawdę bardzo, ale to bardzo małą ilością. Maurice Lacroix Aikon Automatic Skeleton jest więc swoistą perełką, za którą warto zapłacić.