David Daper? Witamy!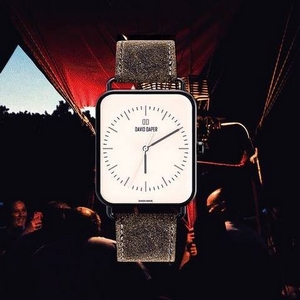 David Daper? Witamy!
Czy marki swiss made muszą kosztować krocie? A może są skazane na klasyczny design? Nic z tych rzeczy! David Daper wkracza na salony i pokazuje nowe oblicze pojęcia "zegarek szwajcarski"…
Wyjątkowy design zegarków David Daper
Choć wydawać by się mogło, że pula marek zajmujących się produkcją czasomierzy o prostym, nie zmąconym zbędnymi zdobieniami designie, została wyczerpana wraz z pojawieniem się producentów takich jak Cluse, Daniel Wellington, Rosefield czy Thom Olson, nowi gracze nie dają za wygraną. Ogromne zainteresowanie jakim klienci i klientki darzą modele casualowe o analogowych tarczach urozmaicanych jedynie wskazówkami, indeksami i logotypem marki, działa jak koło napędowe do tworzenia kolejnych kolekcji, a nawet całych marek. Szczególnie widoczne jest to w świecie tzw zegarków typu fashion, jednak czy tylko? David Daper pokazuje, że zdecydowanie nie, a trend ten staje się kluczowy również podczas produkcji czasomierzy szwajcarskich.
Nowy wymiar zegarków swiss made
Producenci szwajcarskich zegarków przyzwyczaili nas do stylu opartego na klasyce i tradycji zegarmistrzowskiej. Stalowe i tytanowe, ogrągłe koperty o wysokości minimum 8 mm kryją w sobie mechanizmy kwarcowe i automatyczne cieszące się doskonałą opinią. Na tarczach widzimy cyfry arabskie, ale i rzymskie będące odzwierciedleniem praktyczności a z drugiej strony nawiązaniem do ukochanego przez szwajcarskich twórców chronometrów motywu retro, który przywołuje wspomnienia o początkach działalności w Valley de Joux. Dziś okazuje się, że można tworzyć modele swiss made w zupełnie innym stylu. Zegarki David Daper posiadają szafirowe szkło, wodoszczelność na poziomie 3 ATM i są wykonane z wysokiej jakości materiałów jak stainless steel 316l ( w wielu przypadkach pokryta warstwą PVD ) oraz wysokogatunkowa skóra czy trwały materiał. Elementy z jakich tworzone są czasomierze DD łączą się w układankę, którą są niezwykle modne modele casualowe o prostym designie. Na podłużnych cyferblatach o zaokrąglonych rogach figurują zaledwie wskazówki godzinowa i minutowa oraz indeksy i logo marki. Paski i bransolety, są nieco węższe niż szerokość kopert przez co układają się doskonale na nadgarstkach. Szeroka gama kolorystyczna sprawia, że trafiają w oczekiwania praktycznie każdego niezależnie od płci, wieku czy zainteresowań.
David Daper – czasomierze rodem z Time Square
Wyjątkowość modeli David Daper wynika z inspiracji stylem życia do jakiego przyzwyczaili nas mieszkańcy Nowego Yorku. To modny minimalizm, a więc to co potrzebne przy wysokim tempie życia, gdzie praktyczność, ale i wyjątkowość, unikatowość splatają się ze sobą z nierozerwalną całość. Inspiracja ta widoczna jest w każdym elemencie zegarków damskich i męskich David Daper przez co producent dociera do naprawdę szerokiego grona odbiorców, bo czyż każdy z nas nie ma w sobie choć odrobiny Nowego Yorku? Tak bardzo skomplikowanego, pełnego sprzeczności, a jednocześnie ułożonego i wiernego własnym przekonaniom?
Zapraszamy do zapoznania się z ofertą David Daper. Usiądź i poświęć im trochę czasu, a może właśnie to w nich odnajdziesz swój własny styl? Jak sądzisz? A może wbrew modzie wolisz klasyczne, szwajcarskie zegarmistrzostwo? 
Opowiedz nam o tym w komentarzach!