Przy zakupie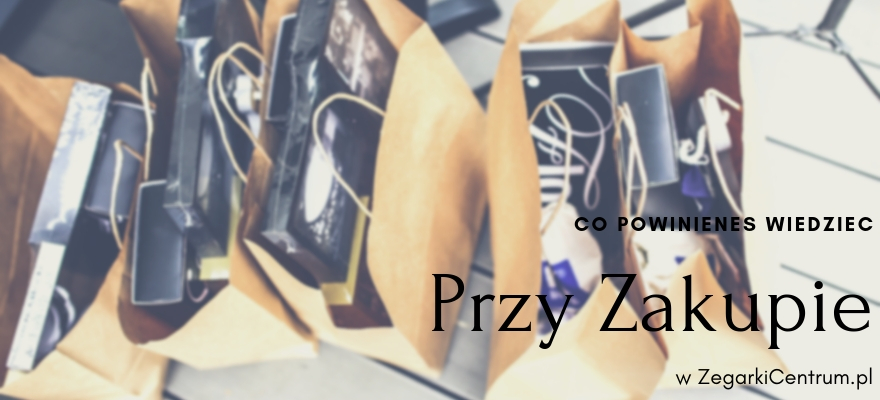 Właśnie złożyłeś zamówienie i chcesz wiedzieć co teraz? Spokojnie, dzięki systemowi powiadomień mailowych będziesz na bieżąco informowany o kolejnych krokach realizacji Twojego zamówienia.
Poszczególne statusy pomogą Ci zorientować się, ile czasu minie, zanim otrzymasz swój zegarek z rąk kuriera lub odbierzesz go z paczkomatu.
1. Zamówienie złożone 
Oznacza to, że Twoje zamówienie wpłynęło do naszego systemu i podejmiemy wszelkie kroki, aby przystąpić do jego realizacji. Do czasu, kiedy taki status widnieje przy Twoim zamówieniu, nie jest ono przez nas przyjęte do realizacji. 
2. Zamówienie przyjęte do realizacji
Od tego momentu Twoje zamówienie jest przez nas realizowane. W zależności od tego, czy wybrałeś produkt dostępny "od ręki" czy też na zamówienie, możesz spodziewać się, kolejnej zmiany statusu w ciągu kilku godzin lub dni. 
Uwaga! Jeśli wybrałeś jako formę płatności przelew tradycyjny, koniecznie zwróć uwagę na dane do przelewu jakie znajdują się w tej wiadomości. Dopiero, kiedy pieniądze zostaną zaksięgowane na naszym koncie, realizacja zamówienia zostanie kontynuowana.
3. Przelew zaksięgowany
Ten status dotyczy Cię jeśli wybrałeś przelew tradycyjny lub opłaciłeś zamówienie poprzez Przelewy24. Oznacza to, że Twoje środki są już zaksięgowane na naszym koncie i możemy działać dalej.
4. Przesyłka wysłana
To status, na który na pewno najbardziej czekasz. Oznacza on, że paczuszka z Twoim zamówieniem opuściła nasze biuro i wyruszyła w drogę do Ciebie. Teraz już pozostało Ci tylko oczekiwać na telefon od kuriera lub sms z InPost, że przesyłka dotarła.
5. Towar na specjalne zamówienie
Ten status jest inny niż wszystkie, gdyż informuje Cię, że realizacja Twojego zamówienia jest zależna od dostępności wybranego towaru w magazynie oficjalnego dystrybutora danej marki. Jeśli pojawią się jakiekolwiek problemy i dystrybutor nie będzie mógł zrealizować Twojego zamówienia, poinformujemy Cię o tym niezwłocznie.
---
Formy dostawy
Składając zamówienie w ZegarkiCentrum.pl dokonujesz wyboru preferowanej formy płatności i dostawy. Możesz wybrać pomiędzy opcjami takimi jak:
1. Dostawa firmą kurierską DHL
2. Dostawa do paczkomatu InPost
3. Odbiór osobisty w showroom ZegarkiCentrum.pl
Pamiętaj, że każda z tych opcji jest możliwa w przypadku zamówień opłaconych przelewem, jednakże jeśli wolisz zapłacić przy odbiorze, musisz wybrać spośród dostawy DHL z płatnością za pobraniem lub skorzystać  z możliwości odbioru zegarka w naszym showroom, gdzie zapłacisz gotówką lub kartą.
---
Vouchery
Jeśli nie jesteś zdecydowany na konkretny model lub planujesz zrobić prezent osobie, która noszone dodatki woli dobierać sama, voucher jest idealną opcją dla Ciebie. Wykonany w formie eleganckiego bonu może zostać wysłany do Ciebie kurierem lub drogą elektroniczną. Dzięki ciekawej formie sprawdzi się również jako prezent dla Klientów korporacyjnych.
Co ważne, okres ważności bonu to minimum 6 miesięcy, dlatego nie musisz spieszyć się z ich realizacją. 
---
Usługi dodatkowe
Po dodaniu produktu do koszyka wyświetli Ci się lista usług dodatkowych, które możesz dobrać do Twojego zamówienia. To opcje takie jak Grawerowanie, Ubezpieczenie Szkła czy Pakowanie na prezent. Każda z tych usług to dodatkowe urozmaicenie lub zabezpieczenie Twojego zamówienia w przystępnej cenie, dlatego warto z nich skorzystać.
Paragon, Faktura, Tax Free
Wychodząc na przeciw klientom korporacyjnym i indywidualnym z kraju oraz spoza Unii Europejskiej, umożliwiamy kupno zegarków i biżuterii z dowodem zakupu w formie paragonu, faktury VAT a także na zasadach Tax Free. Dzięki temu macie Państwo pełną swobodę i możecie wybrać dokument adekwatny do Waszych potrzeb.