Skandynawski styl
Skandynawski styl w wersji smart
Innowacja na rynku zegarmistrzowskim! Doskonałe połączenie skandynawskiego designu  zaawansowanej technologii i najwyższego komfortu użytkowania. Ooo tak, to właśnie Skagen Connected!

Rynek zegarków stopniowo zapełnia się smartwatchami, które w dużej mierze są do siebie podobne, a z drugiej strony wyróżniają się cechami charakterystycznymi, którymi nie mogą poszczycić się inne modele. Skagen Connected również ma w sobie coś, co stawia go ponad konkurencją, nawet tak silną jak Apple Watch, a jest to zasilanie przy użyciu łatwo wymienialnej baterii pastylkowej. To właśnie dzięki niej smartwatche tego producenta uznawane są za hybrydy. Nie wiążą Cię koniecznością ładowania, więc spokojnie możesz użytkować swój zegarek przez 4-6 miesięcy bez wymiany baterii.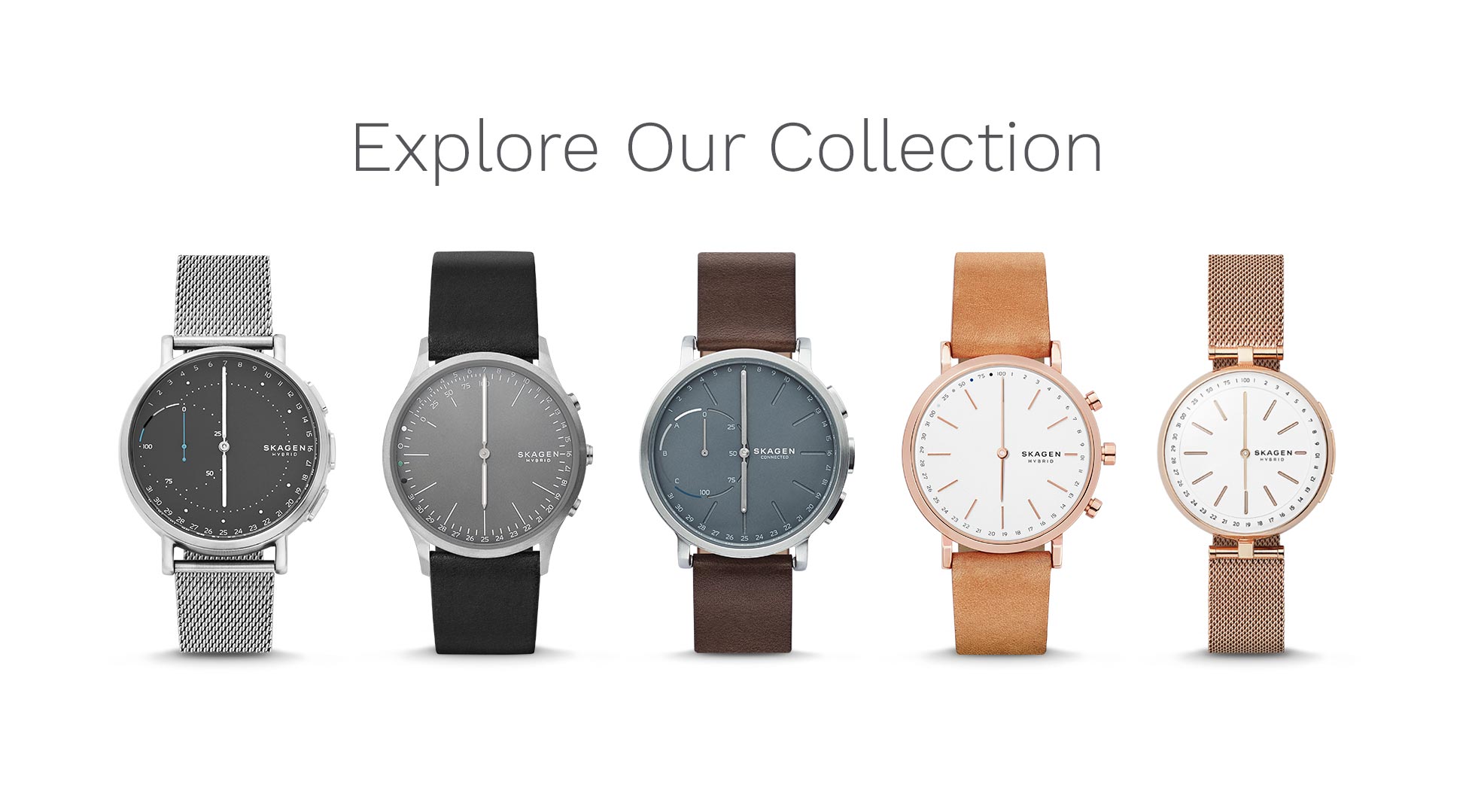 Ciii… nie teraz.
Skagen Connected, podobnie jak Apple Watch daje Ci możliwość dostosowania opcji telefonu do sytuacji, w której się znajdujesz. Jeśli akurat jesteś na spotkaniu, w kinie czy usypiasz dziecko i nie chcesz słyszeć dźwięków powiadomień, możesz po prostu je wyłączyć. Niestety w przypadku duńskiego producenta nie odczytasz treści wiadomości na swoim zegarku czy nie odbierzesz połączenia tak jak mógłbyś to przy użyciu MK Access czy Apple Watch. Alarmy dźwiękowe czy wibracyjne powiadomią Cię jednak o konieczności sprawdzenia telefonu, gdzie czeka na Ciebie wiadomość czy połączenie.
Dobranoc
Kolejna funkcją Skagen Connected, która działa podobnie jak w Apple Watch jest monitoring nie tylko aktywności, ale i snu. Dzięki niemu bardzo dokładnie nakreślisz swój profil i w końcu odpowiesz sobie na pytanie: Dlaczego jestem taki śpiący?
Kochamy gadżety
Jeśli ktoś zdecyduje się nazwać Twój inteligentny zegarek nie besztaj go, tylko przytaknij. Ma rację, bo czyż nie jest gadżetem przedmiot, który umożliwia nam zarządzanie własną muzyką czy robienie zdjęć przy użyciu zegarka? Jest. I to jest gadżet bardzo wysokiej jakości i klasy, którego nie sposób nie docenić. Chcesz przywołać swój telefon, ale nie wiesz jak? Użyj Skagen Connected! Przy użyciu opcji Phone Finder, Twój zegarek wywoła wibracje telefonu, dzięki czemu z łatwością go odszukasz bez konieczności proszenia bliskich, aby puścili Ci strzałkę. Tą opcją nie mogą się poszczycić inne, nawet bardziej popularne modele, które bazują na innych rozwiązaniach.
Liczy się jakość i precyzja
Zdecydowanie! I właśnie dlatego Skagen Connected może poszczycić się najwyższą dokładnością. Ponadto może wskazywać czas w innych strefach czasowych, co jest przydatne zwłaszcza osobom podróżującym po świecie. Uzmysławiając jak prestiżowe są to opcje, apple Watch, choć również wskazuje czas w różnych time zones, nie może poszczycić się tak wysoką dokładnością.
Skandynawski umiar, komfort i prostota
To dwie cechy, które były kluczowe przy projektowaniu skandynawskiego produktu i odnoszą się zarówno do ilości funkcji jak i wzornictwa. W przypadku duńskiego zegarka inteligentnego nie uświadczymy tak wysokiej funkcjonalności jak przy Apple Watch, jednakże na pewno odnajdziemy opcje, które nas zadowolą. Delikatny design, do którego przyzwyczaił nas producent w przypadku zegarków klasycznych, został zastosowany również w przypadku smartwatchy. To właśnie w dużej mierze dzięki niemu, ludzie decydują się na zakup Skagen Connected zamiast Apple Watch, choć ten drugi jest dużo bardziej zaawansowany technologicznie. Poza tym, możliwość wymiany pasków na modele wykonane z różnych materiałów i zachowane w różnej kolorystyce, sprzyja chęci zakupu i buduje pozytywne nastawienie względem marki. Kompatybilność z systemami Android Devices 4.4+, iOS 8+/ iPhone 5+ oraz łączność przy użyciu Bluetooth Smart sprawiają, że z łatwością łączy się niemal z każdym telefonem, gwarantując Ci komfortowe użytkowanie modnego produktu.
Jak widać Skagen Connected odstaje funkcjonalnością od konkurencji. Nie ma opcji takich jak wallet, odczytywanie wiadomości, emaili cz odbieranie połączeń. Nie ma też możliwości ściągnięcia na niego aplikacji, jednak… jest dużo tańszy niż konkurencja i urzeka swoim nienachalnym designem. Ponadto gwarantuje najwyższy komfort użytkowania bez konieczności ładowania. Daje możliwość kontroli własnych osiągnięć i snu oraz pomaga Ci znaleźć telefon, gdy po raz kolejny "diabeł ogonem go nakrył". W mojej ocenie jest on wart zakupu i nie bez przyczyny można uznać go za perełkę w świecie smartwatchy, ale jeśli chcesz się przekonać – sprawdź sam!