Technologia na czasie-Inteligentne zegarki
Jeśli kochasz zegarki i używasz ich jako podstawowego elementu, który tworzy Twój codzienny outfit, a jednocześnie nieustannie poszukujesz nowych gadżetów i technologii, które ułatwią Ci życie, to musisz poznać modele, które w ostatnim czasie wręcz "skradły rynek" – smartwatche.
Inteligentne zegarki nie są absolutną nowością, ponieważ Apple czy Samsung już od paru lat promują je jako jedne z najciekawszych produktów oferowanych pod ich brandem. Klienci zdążyli już poznać kilka wersji Apple Watch jak i Samsung Gear i w większości oddali im swoje serca. Nie wszyscy jednak dali się porwać magii tych inteligentnych zegarków, które poza bardzo wysoką funkcjonalnością nie oferują zbyt wieku walorów wizualnych i można je śmiało określić jako raczej nieatrakcyjne designersko. Stąd pojawiła się potrzeba wprowadzenia modeli, które łączyłyby zaawansowane technologiczne opcje z ciekawym stylem, a rękawicę podjęły firmy… znane ze świata mody!
Technologia, która zadziwiła designem
Jako pierwszy producent ze świata mody, który postanowił klientom ofertę modeli inteligentnych, Fossil nie miał łatwego zadania. Musiał przekonać ludzi, że jego produkty są nie tylko ładne, interesujące, ale i spełniają wymogi największych fanów nowoczesnych technologii. Dużo starań, dopracowane projekty, odpowiednia kampania i … Udało się! Fossil Q zyskały aprobatę, a wręcz osiągnęły sukces na rynku zegarmistrzowskim oraz technologii smart.
Smartwatche Fossil Q na rynek weszły z przytupem. Dostępne były od razu w wersjach dla niej i dla niego, różniących się od siebie posiadanymi funkcjami, ale i prezentowanym stylem. Linie męskie Marshal i Founder skradły serca panów szukających casualowego zegarka z licznymi funkcjami, zaś damski Wander spotkał się z zachwytem kobiet, które oczekiwały od mody czegoś więcej niż tylko dobrego stylu. Bardzo wysoka funkcjonalność, zawstydziła innych producentów, którzy mówili, że tego "nie da się zrobić" w modelach typu fashion. Fossil Q dały możliwość odbierania i wykonywania połączeń, wyszukiwania treści w Internecie przy użyciu komendy głosowej OK Google!, a także odbierania powiadomień i wiadomości wyświetlanych na cyfrowej tarczy smartwatcha. Oprócz tego umożliwiły kontrolowanie poziomu własnej aktywności fizycznej, jakości i czasu snu, a nawet zarządzanie muzyką zapisaną w smartfonie. Swoimi funkcjami trafiły więc w oczekiwania wszystkich pokoleń i najróżniejszych grup społecznych charakteryzujących się zdywersyfikowanymi zainteresowaniami. Nic dziwnego, że w krótkim czasie oferta producenta wzbogaciła się o kolejne linie dedykowane kobietom i mężczyznom. Wśród nich znalazły się nie tylko typowe, ładowane indukcyjnie smartwatche, ale i wyposażone w klasyczną baterię modele hybrydowe oparte o system wizualnych i wibracyjnych alertów.
Connected with style and technology
Pierwszym zegarkiem inteligentnym stworzonym pod szyldem MK Access, który skradł serca kobiet na całym świecie, był MKT5001 i jego bliźniacze modele w wersji stalowej (MKT5012) i różowym złocie (MKT5004). Zachowany w uwielbianym przez płeć piękną stylu linii Bradshow dał się poznac jako doskonały dodatek dla pań, które cenią sobie modny, uniwersalny design, a jednocześnie praktyczne zastosowanie posiadanych dodatków. Został wyposażony w opcje takie jak głośnik i mikrofon, które umożliwiają odbieranie i wykonywanie połączeń głosowych za pośrednictwem zegarka, a także wyszukiwanie interesujących nas treści w Internecie. Stanowił to prawdziwe ułatwienie dla kobiet, które dużo czasu spędzają w samochodzie i niejednokrotnie musiały łamać przepisy, aby odebrać telefon. Oprócz tego wspomniane smartwatche MKT umożliwiły odczytywanie i wysyłanie wiadomości sms oraz odbieranie powiadomień z kalendarza. Dzięki dotykowemu ekranowi realne stało się kontrolowanie własnej aktywności i snu, a nawet zarządzanie muzyką zapisaną na telefonie z poziomu zegarka. Wszystkie te opcje, dostępne dzięki specjalnej aplikacji Android Wear kompatybilnej z systemami iOS oraz Android okazały się być niezwykle przydatne i doskonale dopasowane do potrzeb dzisiejszych kobiet. Poza tym, pomijając funkcjonalność, smartwatche MK Access wyróżniły się wspomnianym wyjątkowym designem do złudzenia przypominającym bestsellerowe kolekcje analogowych zegarków MK. Ich ogromną zaletę stanowiły spersonalizowane tarcze i wymienne paski, które umożliwiły skomponowanie dokładnie takiego modelu, o jakim marzymy.
Sukces pierwszych inteligentnych czasomierzy sygnowanych logo Korsa przełożył się na stworzenie kolejnych modeli dedykowanych nie tylko kobietom, ale i mężczyznom. Pojawiły się linię Grayson oraz Sofie, które od razu zyskały sobie szerokie grono fanów i fanek z całego świata. Strzałem w dziesiątkę okazała się opcja MySocial, którą wprowadzono jako udoskonalenie dla pierwotnie stworzonego oprogramowania, a która umożliwiła ustawienie pobranego z serwisu Instagram zdjęcia, jako tarczy wyświetlacza. Zabieg ten pozwolił posiadaczom smartwatchy MK Access jeszcze bardziej się do nich przywiązać, gdyż nabrały one również wartości sentymentalnej
W standardowej wersji, inteligentne zegarki Korsa są ładowane indukcyjnie, a bateria, przy pełnym użytkowaniu wytrzymuje ok 2 dni. Ponieważ nie każdy jest fanem tego typu rozwiązań i jednak czujemy się niejako uwiązani, gdy słyszymy odgłos powiadomienia mówiącego o wyczerpującej się baterii, producent postanowił poszerzyć ofertę i zaproponował tzw modele hybrydowe. Posiadają one standardową baterię, której nie ładujemy. Sam wygląd zegarka niemal nie różni się od tradycyjnych czasomierzy analogowych, jednak dzięki alarmom wibracyjnym i wizualnym przekazują one informacje o przychodzącym połączeniu/wiadomości/powiadomieniu z kalendarza, a także dają możliwość korzystania z pozostałych opcji smart jak monitoring snu/aktywności, zarządzanie muzyką czy nawet robienie zdjęć telefonem z poziomu zegarka.
Duński minimalizm w wersji smart
Ogromna popularność skandynawskich czasomierzy jest czymś, co w perspektywie powszechnego blichtru i przepychu może wydać się na pierwszy rzut czymś dziwnym, jednak po głębszej analizie jest zupełnie oczywista i naturalna. Wielu z nas jest już zmęczonych obowiązującymi trendami i szuka ukojenie w wiecznie modnej prostocie i minimalizmie. Tę właśnie potrzebę wykorzystała firma Skagen, która postanowiła wypuścić na rynek serię modeli hybrydowych zachowanych w charakterystycznym dla niej designie. Delikatne stalowe koperty współgrają z bransoletami oraz skórzanymi paskami. Analogowe tarcze stały się panelem informującym przy pomocy wizualnych i wibracyjnych alarmów o nadchodzącym połączeniu czy wiadomości od osoby zapisanej na liście ulubionych kontaktów. Koronka smartwatcha stała się narzędziem umożliwiającym komunikację z telefonem na zasadzie monitorowania snu, aktywności czy zarządzania plikami muzycznymi. To połączenie funkcjonalności i delikatnego designu musiało okazać się strzałem w dziesiątkę. Tak też było! A ogromna popularność jaką Skagen Connected zyskały w krótkim czasie zaowocowała poszerzeniem oferty o nowe, modele ładowane indukcyjnie wyposażone w cyfrowe wyświetlacze i szereg dodatkowych funkcji.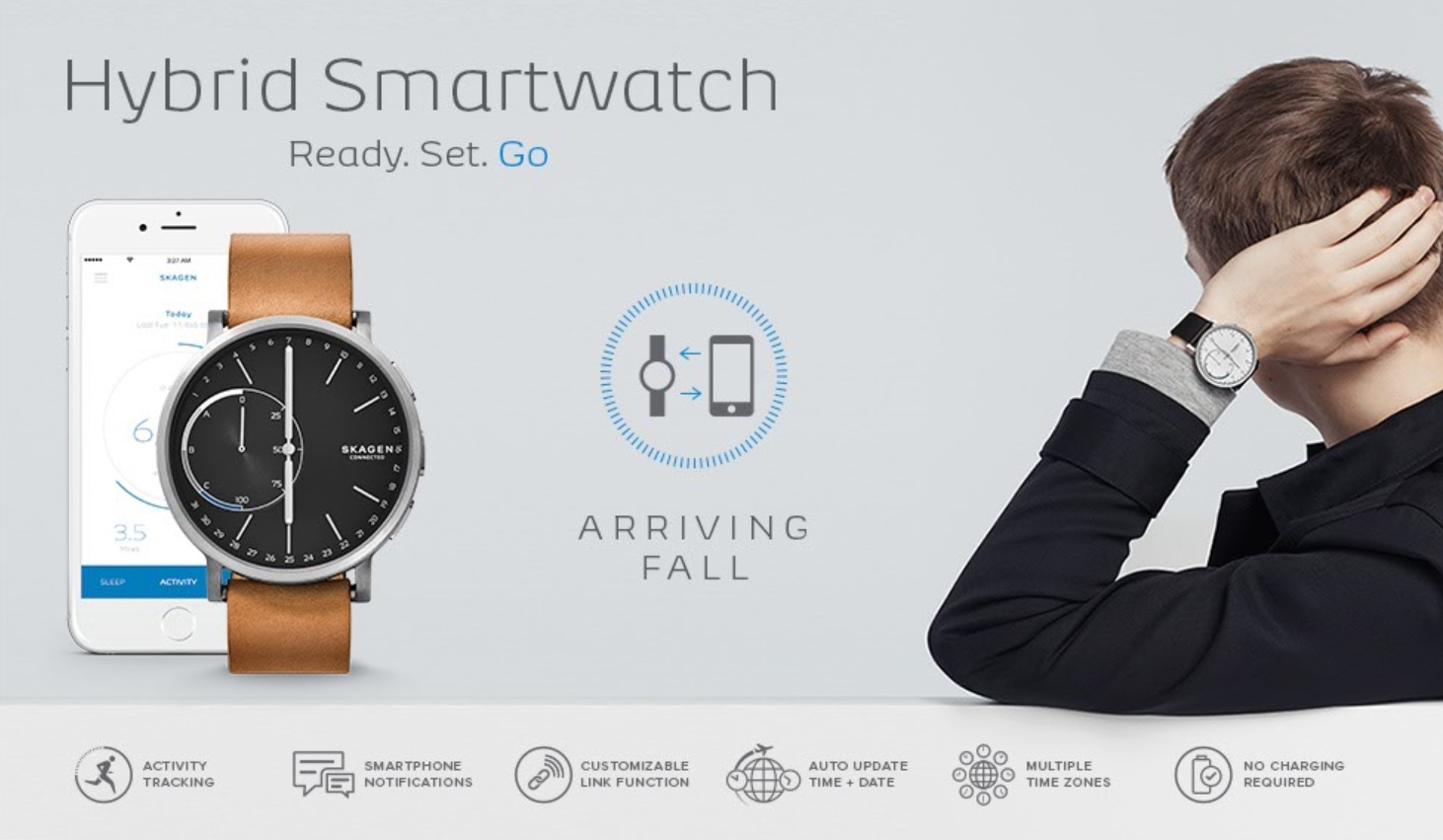 Go with the Flow!
Kolejnym producentem, który dołączył do grona producentów smartwatchy był Diesel i jak można się spodziewać zrobił to z charakterystycznym dla marki przytupem. Inteligentne zegarki Diesel On bazują na uwielbianym przez mężczyzn designie linii Mr Daddy i Mega Chief. Posiadają wymienne paski i spersonalizowane wyświetlacze z m.in. wizualizacją zjawisk atmosferycznych Posiadają pokaźne koperty stalowe, które stały się już niejako symbolem producenta. Na cyfrowych wyświetlaczach wskazywane są powiadomienia przychodzące na nasz smartfon, a także pomiary dokonywane przez system monitorowania snu i pomiaru aktywności fizycznej. Dzięki temu, że smartwatche Diesel On są kompatybilne z systemami Android i iOS pozwalają zarządzać muzyką z poziomu zegarka czy wykonać zdjęcie telefonem poprzez wciśnięcie koronki czasomierza. Jeśli szukać najbardziej charakterystycznych modeli inteligentnych dostępnych na rynku to zdecydowanie byłyby to właśnie Diesel On!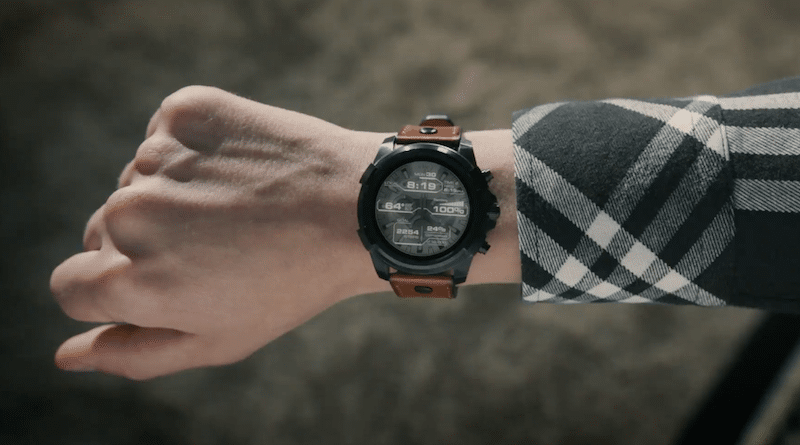 Sportowa elegancja w wersji smart
Ogromnym zainteresowaniem cieszą się także sportowo-eleganckie modele Armani Connected. Ich design oparty na połączeniu charakterystycznej dla Włoch elegancji i amerykańskiego stylu sprawia, że idealnie wpisują się w obowiązujące trendy. Wysokiej klasy materiały wykonania gwarantują komfortowe użytkowanie, a w połączeniu z dużą funkcjonalnością są argumentem, który bezsprzecznie zachęca do zakupu. Duża gama kolorystyczna smartwatchy Emporio Armani Connected, które występują w wersji dla niej i dla niego sprawia, że z łatwością można znaleźć idealną opcję dla siebie. Oprócz gamy kolorystycznej można dokonać wyboru spośród modeli hybrydowych wyposażonych w standardową baterię oraz tych o cyfrowym wyświetlaczu, które są ładowane indukcyjnie. Te drugie posiadają więcej opcji, a wśród nich głośnik i mikrofon, które pozwalają korzystać z opcji aktywowanych głosowo. Modele hybrydowe opierają się natomiast na systemach alarmów wibracyjnych i wizualnych, które informują o przychodzących połączeniach i wiadomościach od "ulubionych" kontaktów. Pozwala to zweryfikować listę osób, które mogę nam "przeszkadzać" podczas spotkania czy sytuacji, w których wolelibyśmy nie używać telefonu.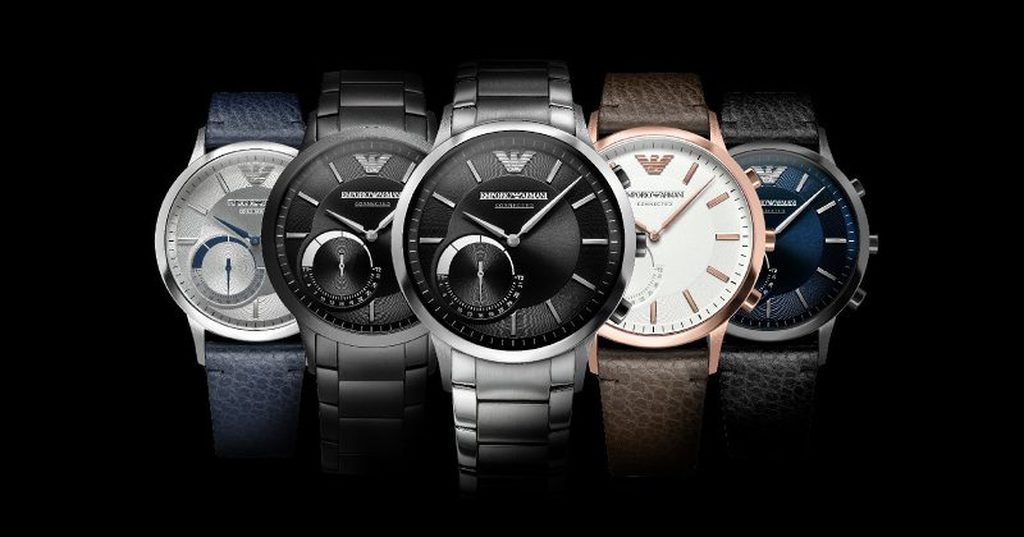 Nie tylko Fossil Group
Powyższe marki to grupa popularnych producentów zebranych w konsorcjum Fossil Group, które po szwajcarskim Swatch Group zajmuje czołowe miejsce wśród największych firm zajmujących się tworzeniem zegarków. Choć siła przedsiębiorstwa jest ogromna nie sprawia, że ma ona wyłączność na pewne projekty. Dowodem na to jest wysoka aktywność innych producentów także w nowej dziedzinie jaką jest tworzenie smartwatchy!
Jedną z firm, która podjęła się produkcji zegarków inteligentnych jest amerykański producent Guess. Wyjątkowa linia Connect to seria męskich i damskich modeli wyposażonych w liczne funkcje. Opierają się o technologię Bluetooth 4.0 i współgrają ze smartfonami pracującymi na systemach iOS oraz Android. Aplikacja Guess Connect posiada listę 6 języków do wyboru, z których można korzystać podczas używania smartwatcha. Ogromną zaletą jest wbudowany mikrofon i głośnik, dzięki którym możliwe jest odbieranie i wykonywanie połączeń i tworzenie wiadomości sms i email przy pomocy poleceń głosowych. Oprócz tego modele z tej serii dają możliwość zarządzania zapisaną w telefonie muzyką, wykonywania zdjęć oraz namierzenia telefonu, co daje im przewagę nad innymi produktami tego typu.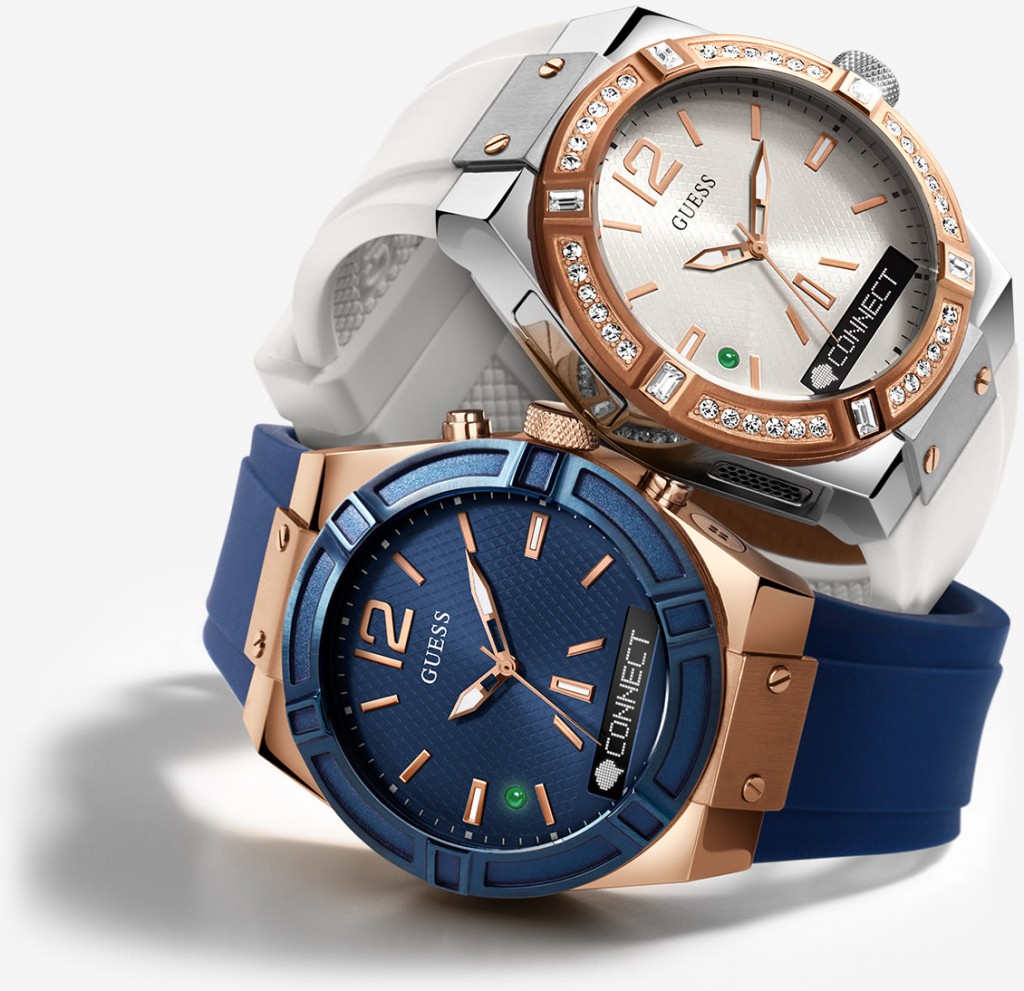 Również Tommy Hilfiger pokusił się o własną linię czasomierzy inteligentnych. Po ustawieniu ulubionych kontaktów możemy odbierać na analogowo-cyfrowym ekranie zegarka powiadomienia sms i informacje o przychodzących połączeniach. Możemy także śledzić naszą aktywność, a w nocy, kiedy chcemy odpocząć i nie życzymy sobie, żeby ktokolwiek nam przeszkadzał, możemy wprowadzić nasz smartwatch w tryb nocny. Wzornictwo inteligentnych modeli TH jest wysoce zróżnicowane i nie da się przejść obok niego obojętnie. Część produktów zachowana jest w casualowym stylu, natomiast niektóre wyróżniają się biżuteryjnym designem np. z motywem gwieździstego nieba.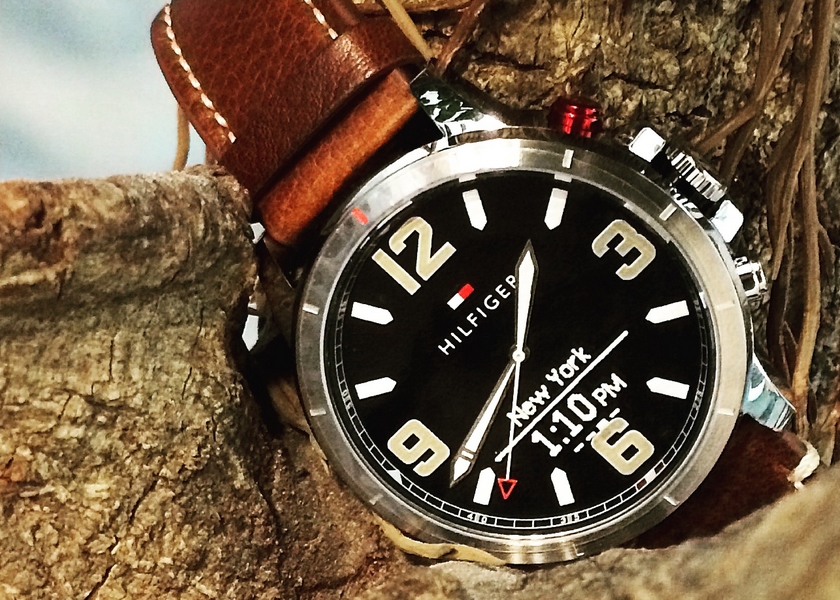 Smart-Manufaktura
Alternatywą dla modeli typu fashion takich jak MK Access, Diesel ON, Skagen czy Armani Connected i innych wspomnianych producentów są inteligentne zegarki oferowane przez cenioną na całym świecie manufakturę Frederique Constant. Ich charakterystyczną cechą jest system odzyskiwania danych Motion X, który pozwala odzyskać zapisane w chmurze dane nawet jeśli stracimy telefon czy zegarek. Mamy na to 30 dni i nie jest konieczne sparowanie smartwatcha z telefonem. Oprócz tego posiadają szereg funkcji znanych nam z modeli fashion – wibracyjne alarmy jako system powiadomień o nieodebranych połączeniach i wiadomościach oraz śledzenie aktywności i monitoring snu wzbogacone o cechy takie jak inteligentny alarm, który wybudza nas w najkorzystniejszym dla nas momencie (gwarantuje najwyższy poziom odpoczynku) czy funkcję trenera adaptacyjnego, który przedstawia nam szereg wskazówek dotyczących trybu życia na podstawie obserwacji naszego sposobu spędzania czasu.
Problem bogactwa
Ponieważ liczba producentów zegarków inteligentnych nieustannie się powiększa, mają oni coraz trudniejsze zadanie, że przebić się ze swoją ofertą. Tym, co pozwala dotrzeć do klientów na całym świecie są kampanie marketingowe, które podobnie jak same produkty wzbudzają ogromne emocje. Nic dziwnego, każda z nich musi przecież zaskoczyć, przykuć uwagę i co najważniejsze przekonać do zakupu. Jakich tricków i metod używają specjaliści od PR i reklamy gigantów modowych?
Michael Kors postawił na przekaz skierowany do kobiet, które są głównymi klientami zarówno odzieży jak i dodatków sygnowanych logo tego znanego producenta. Na filmach reklamowych, które wyświetlane były m.in. podczas "Kina na obcasach" widać zjawiskowo piękną modelkę w codziennych sytuacjach – droga do pracy, praca, spotkanie ze znajomymi, wieczór w domowym zaciszu, która nieustannie korzysta ze swojego smartwatcha. Odbiera połączenia, wiadomości, sprawdza jak aktywna była w ciągu dnia, a wszystko to robi w doskonałym stylu jaki prezentuje wzornictwo zegarka. Tym, co zdecydowanie wyróżnia tę kampanię jest zaangażowanie samego projektanta, który zdecydował się w niej wystąpić. Na ekranie czasomierza widzimy, że dzwoni Michael Kors, a po chwili pojawia się on we własnej osobie. Zabieg ten pokazuje, jak bardzo marka jest dumna z linii MK Access i jak bardzo się z nią utożsamia. Z punktu widzenia klienta szukającego potwierdzenia renomy kupowanego produktu jest absolutny strzał w dziesiątkę!
Zupełnie inaczej przedstawia się reklama Diesel ON! Jak można się domyślić ta reklama to ciężki kaliber, który po prostu szokuje. Daje do zrozumienia, że produkty tej linii skierowane są do młodych osób żyjących pełną parą, na bardzo wysokich obrotach, nie patrząc na ramy, w które próbuje wcisnąć nas polityka czy media. Diesel ON w swojej kampanii to niejako nuta wolności i zapomnienia zamknięta w smartwatchu o nietuzinkowym designie. Nawet osoby występujące w reklamie nie zostały dobrane tak, aby zwracały uwagę ponadprzeciętną urodą. Wręcz przeciwnie, główny bohater jest raczej "wyjątkowy w swej zwykłości" i jak widać po jego zachowaniu, taki chce pozostać nie patrząc na innych.
Potrzebna alternatywa
Szybki, łatwo zauważalny sukces smartwatchy pokazał, jak bardzo potrzebujemy alternatywy dla klasycznych produktów jakimi są zegarki oraz dla gadżetów, które już się nam przejadły (smartfon). Połączenie ciekawego wzornictwa i najnowszych technologii daje nam wszystko, czego szukamy i czym chcemy się wyróżnić wśród znajomych. Możliwość personalizacji – wymiany pasków i ustawienia dowolnej kolorystki tarczy jaką oferuje część modeli wzmaga atrakcyjność produktów inteligentnych i sprawia, że z powodzeniem można nazwać je towarem uniwersalnym.
Jeśli masz dodatkowe pytania co do działania smartwatchy lub potrzebujesz porady, jaki model wybrać, dzwoń! Nasi smart konsultanci rozwieją wszelkie wątpliwości.