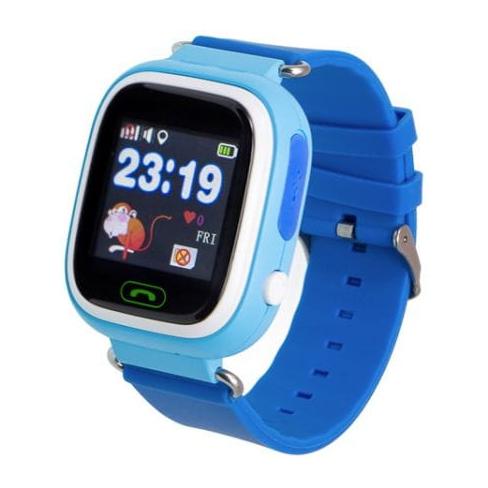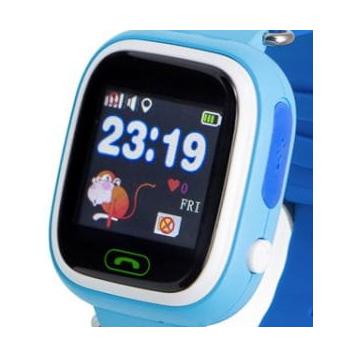 Garett Kids 2 5906395193660
| | |
| --- | --- |
| Dostępność: | Dostępny |
| Wysyłka | do 12 godzin |
Nasza cena:
269,00 zł
-10%
Cena w sklepie stacjonarnym: 299,00 zł

Bezpłatna dostawa i zwrot
Kod produktu: 5906395193660
Zegarek Garett Kids 2 dziecięce smartwatch 5906395193660
Dziecięcy zegarek Garett 5906395193660 to obecnie jeden z najbardziej pożądanych smartwatchy dla najmłodszych, z pomocą którego mogą oni zdobywać dane z wielu przydatnych funkcji, a rodzice czy opiekunowie otrzymują możliwość kontrolowania miejsca pobytu ich dziecka. Czołową funkcją czasomierza Garett 5906395193660 jest GPS, który z dużą dokładnością wskazuje położenie użytkowania tego modelu. Poza nim zegarek ten posiada szereg ciekawych funkcji, od timera i chronografu, aż po możliwość zmiany muzyki, odczytywania smsów i wykonywania oraz odbierania połączeń. Techniczna strona tego modnego smartwatcha dla dzieci opiera się o możliwość połączenia go w telefonem komórkowym, z którego odczytamy dane o naszej aktywności czy ilości kroków. Decydując się na kupno zegarka Garett 5906395193660 zarówno dla młodych dziewcząt jak i chłopców warto pamiętać, iż jego poziom wodoodporności pozwala stale nosić go na nadgarstku, bez potrzeby zdejmowania wybierając się nad morze czy jezioro. Dotykowy, cyfrowy wyświetlacz to łatwość obsługi, co zadowoli bez wątpienia każdego.

Koperta - tworzywo koloru niebieskiego.
Tarcza - cyfrowa dotykowa LCD, negatywna.
Pasek - guma koloru niebieskiego.

Bluetooth - zegarek posiada moduł pozwalający na łączność ze smartfonami pracujących na systemach Android oraz iOS dzięki czemu możemy za pomocą smartphona sterować funkcjami zegarka.
Funkcje dodatkowe - smartwatch, bluetooth, WiFi, slot na kartę SIM - Micro SIM, IP54, GPS (aplikacja), powiadomienia wibracyjne (połączenia przychodzące oraz SMS), wykonywanie zdjęć telefonem, kontrola muzyki na telefonie, odnajdywanie telefonu, krokomierz, monitoring snu, pogoda, latarka, wymienne paski. 
Bateria - 400 mAh (ładowanie około 1 godzina - do 100 godzin czuwania)


Najważniejsze cechy i funkcje zegarka

Gwarancja: 2 lata - Okres ochrony udzielanej przez producenta przypisany oryginalnym produktom. Oznacza, że w przypadku pojawienia się usterki nie wynikającej z winy użytkownika, w ciągu 2 lat klient ma prawo do złożenia reklamacji w autoryzowanym serwisie producenta.
Kształt koperty: Prostokątna / kwadratowa - Co raz bardziej popularny kształt, który spotykamy głównie w modelach eleganckich i casualowych.
Materiał wykonania: Tworzywo sztuczne - Stosowane głównie modelach sportowych i dziecięcych, trwałe tworzywo sztuczne z powodzeniem stanowi alternatywę dla innych, bardziej popularnych materiałów wykonania. Lekkie i wygodne w użytkowaniu sprawia, że wykonany z niego czasomierz nie obciąża nadgarstka przez co sprawdza się doskonale w różnych sytuacjach.
Mechanizm: Kwarcowy (zasilany baterią) - Najpopularniejszy rodzaj mechanizmu, jego siłę napędową stanowi bateria. Margines błędu waha się między -15/+21 sekund w skali miesiąca.
Pasek/Bransoleta: Pasek gumowy/kauczukowy - Wykonany z miękkiego, plastycznego tworzywa sztucznego, doskonale układa się na ręku. Dzięki walorom estetycznym stanowi element modeli damskich i męskich.
Płeć: Dziecięcy - Zegarek stworzony z myślą o najmłodszych. Łatwy w obsłudze. Przyjemny w użytkowaniu, atrakcyjny wizualnie.
Styl zegarka: Fashion - Inaczej nazywany modowym. Pochodzi z oferty producenta doskonale znanego w świecie mody. Jego podstawową zaletą jest oparty na obowiązujących trendach design, który sprawia, że obok tego czasomierza nie można przejść obojętnie.
Szkło: Hesalitowe - Przez wielu określane mianem "plastikowego", wykonane jest z polipropylenu, który poddano zabiegom oczyszczenia i utwardzenia. Miękkie i podatne na zarysowania, jednakże możliwe do wypolerowania przy użyciu specjalnej pasty.
Wodoodporność: 30m (odporność na zachlapania) - Wg tej klasy wodoodporności zegarek jest odporny na zachlapania. Należy jednak unikać większego kontaktu z wodą, aby nie uszkodzić czasomierza.


Stoper
GPS
Timer - odmierza czas wstecz
Chronograf - popularnie zwany stoperem, pozwala na precyzyjny pomiar czasu
Alarm - nastawiony na konkretną godzinę wskazuje ją poprzez sygnał dźwiękowy
Multifunction - wskazywanie dokładnej daty (dzień, miesiąc) i godziny
Podświetlana tarcza - umożliwia odczyt godziny w ciemności


Zobacz wszystkie produkty z kategorii: Garett

Dane techniczne:

| | |
| --- | --- |
| Gwarancja | 2 lata |
| Kształt koperty | Prostokątna / kwadratowa |
| Materiał wykonania | Tworzywo sztuczne |
| Mechanizm | Kwarcowy (zasilany baterią) |
| Pasek/Bransoleta | Pasek gumowy/kauczukowy |
| Płeć | Dziecięcy |
| Średnica koperty | 33mm |
| Styl zegarka | Fashion, Sportowe |
| Szkło | Hesalitowe |
| Tarcza | Ciemna |
| Wodoodporność | 30m (odporność na zachlapania) |
U nas nie płacisz za dostawę i zwrot na terenie Polski!
Niezależnie od formy płatności jaką wybierzesz, nie musisz martwić się o dodatkowe koszta związane z wysyłką. Ty decydujesz, jaką formę dostawy wybierasz - DHL czy paczkomaty InPost, a koszty pokrywamy my.
Wiemy, jak bardzo irytujące potrafi być oczekiwanie na zamówiony towar, dlatego staramy się, aby wysyłki realizowane były możliwie jak najszybciej.

Codziennie w naszej ofercie znaleźć możesz blisko 10 tysięcy produktów, które mogą być do Ciebie dostarczone już następnego dnia. Zegarki te opisane są jako wysyłka w 12 godzin, a wyodrębnić je spośród pełnej