Zegarek z podświetleniem - jakie są rodzaje?
Spośród wielu elementów, na jakie zwraca uwagę użytkownik czasomierza, istotne wydaje się podświetlenie tarczy zegarka. Wprawdzie, nie korzystamy z niego często, jednak w pewnych szczególnych sytuacjach może okazać się niezastąpioną i bardzo przydatną funkcją.
Zegarki z podświetleniem Indiglo od Timex
Decydując się na zakup zegarka męskiego lub damskiego z podświetlaną tarczą, należy przemyśleć barwę światła, jaką pragniemy uzyskać. W przypadku zegarków dla mężczyzn, wskazany będzie wybór zimnego odcienia, co zagwarantuje dopełnienie codziennego stylu oraz klasycznego, eleganckiego ubioru. Dla kobiety, trafny okaże się zakup zegarka z podświetlaną tarczą o nieco cieplejszym odcieniu. Dostępna na rynku oferta czasomierzy daje nam w tym zakresie większe możliwości. W ostatnim czasie, popularne stały się chronometry z podświetlaną tarczą Indiglo, będące wizytówką firmy Timex, które zdaniem wielu osób nawiązują do wyglądu zegarów instalowanych w wielu pojazdach. Wiele rozwiązań branży chemicznej, które były implementowane do życia codziennego, nie zyskały dobrej sławy. Zdecydowanie inaczej jest w przypadku wspomnianego oświetlenia Indiglo opartego na większej fluorescencji. Dla wielu osób, wskazówki świecące w ciemności nie są niczym rewolucyjnym. Tymczasem, oświetlenie dużej powierzchni, które utrzymuje się przez dłuższy czas, nawet jeśli nie ma stałego dostępu do źródła światła, nie jest już tak oczywiste. W 1992 roku, wspomniana firma Timex, poszukując rozwiązania, które skutecznie rozświetli tarcze zegarków męskich i damskich, postanowiła postawić na znane rozwiązania. Początkowo, pokrywała wskazówki swoich produktów materiałem pochłaniającym światło. Było to jednak rozwiązanie "na chwilę" i budziło zastrzeżenia w przypadku dłuższego przebywania w ciemności. W związku z tym, zdecydowano się wzbogacić znany już środek chemiczny, co spowodowało, że nawet krótkotrwały kontakt ze źródłem światła daje możliwość magazynowania energii, która w razie konieczności jest zamieniana na oświetlenie głównie tarczy zegarka. Przy tym wszystkim nie jest konieczne, by urządzenie miało duże wymiary. Obecnie, tarczę pokrywa się cienką warstwą środka chemicznego, a generowany odcień oświetlenia łączy barwę niebieską z zieloną. Z uwagi na pobudzenie zmagazynowanego "światła" przez prąd płynący z baterii, jest to również bardzo dobry tester jej poziomu. Mniejsze natężenie oświetlenia wskazuje bowiem na konieczność jej wymiany. Należy mieć na względzie jednak, że ilość energii wykorzystywanej z akumulatora jest znikoma, zatem nie wpływa właściwie na jej żywotność. Obecnie, poszukując informacji o technologii Indiglo, można zauważyć przy niej literę "R", oznaczającą zastrzeżenie rozwiązania przez firmę Timex.
Zapoznaj się:

Zegarek z podświetleniem tarczy – ledowe, trytowe?
Oczywiście, w produkcji zegarków z podświetlaną tarczą korzysta ona również z innych znanych technologii (światło trytowe, ledowe itp.), jednak flagowym rozwiązaniem, wykorzystanym w najbardziej znanych modelach jest właśnie Indiglo. Ważne jest również to, że w porównaniu do innych możliwości, światło- które widzimy na tarczy czasomierza- nie męczy naszego wzroku nawet po dłuższym patrzeniu. Oczywiście, standardowe podświetlenie zegarka trwa kilka sekund, jednak w czasie, kiedy właściwie większość swojego czasu spędzamy przed ekranem telefonu czy komputera, każde odstępstwo w tym zakresie jest wskazane.
Zegarki z podświetleniem trytowym
Technologia podświetlenia tarczy czasomierzy wykorzystująca tryt, oznaczona częstokroć symbolem H3, została opracowana przez szwajcarską firmę w 1968 roku. Pomimo swojej długiej historii, dopiero niedawno zyskała popularność. Oparta jest na zestawieniu rurek o bardzo małych rozmiarach, które pokryte są specjalną, świecącą masą zwaną luminoforem, a ich wnętrze wypełnione jest śladową ilością gazu. Emitowane z trytu elektrony uaktywniają masę aktywną. Warto wspomnieć o tym, że zgodnie z badaniami, technologia ta jest właściwie samowystarczalna. Oznacza to, że nie korzysta z energii pochodzącej z baterii zegarka, a zatem nie ma wpływu na długość działania samego czasomierza. Uznaje się, że oświetlenie trytowe jest jednym z najbardziej intensywnych i może dawać światło bez przerwy przez 25 lat. Jego natężenie nie jest jednakowe: największą emisję obserwujemy przez około pięć pierwszych minut po czym ulega nieznacznemu (o około 15%) zmniejszeniu. Biorąc pod uwagę długość korzystania z oświetlenia zegarka w celu sprawdzenia aktualnej godziny czy daty, to wspomniane pięć minut wydaje się bardzo długim czasem. Zatem, poszukując urządzenia wskazującego czas, idealnym wyborem będzie zegarek męski lub damski z podświetleniem trytowym. Tego rodzaju technologia stosowana jest głównie w popularnych zegarkach męskich Casio z podświetleniem, zwłaszcza w linii G- Shock znanej z wyjątkowej wytrzymałości.
Zegarek z podświetleniem LED
Zegarki z podświetleniem LED to swoista nowość w branży zegarmistrzowskiej. Pomimo że tego typu rozwiązania stosowane były na co dzień w wielu urządzeniach, z którymi spotykamy się w najbardziej prowizorycznych sytuacjach, nie były dotąd implementowane do zegarków. Technologia LED pozwala na oświetlenie całej tarczy czasomierza diodą elektroluminescencyjną. Wykorzystuje się do tego pojedyncze diody lub panele ledowe, które umieszczane są pod cyferblatem. Zapewnia to jeszcze lepsze doświetlenie, co powoduje, że wskazówki oraz cyfry zegarka męskiego lub damskiego są widoczne w bardzo wyraźny sposób, równomiernie na całej tarczy. Spośród najbardziej znanych marek czasomierzy, warto wspomnieć o tym, że zegarki z podświetleniem LED stosują tacy producenci, jak: Casio i Suunto. Urządzenia te charakteryzują się bardzo dużą wytrzymałością w nawet najbardziej ekstremalnych warunkach. Pewną różnicą, w zakresie oświetlenia LED, jest fakt, że nie jest ono samowystarczalne i dla swojego funkcjonowania wykorzystuje baterię zegarka. Na jego korzyść przemawia jednak energooszczędność.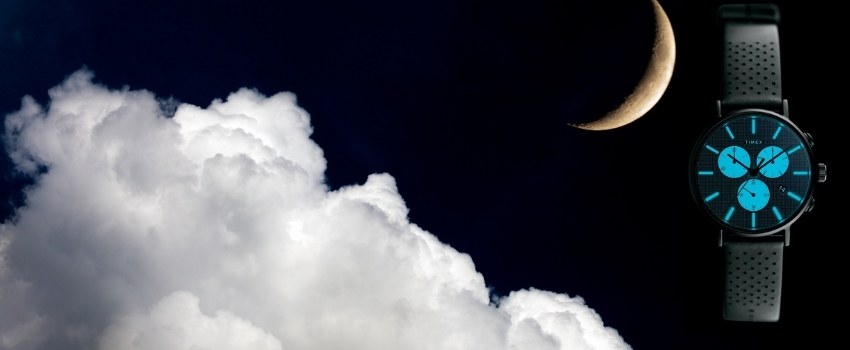 Zegarki męskie z podświetleniem
Spośród bogatego asortymentu, jakie proponuje nam rynek czasomierzy, zdecydowanie warto zwrócić uwagę na zegarki męskie z podświetlaną tarczą. Jak wspomniano, nie jest to jedynie kolejna, dodatkowa opcja, która zwiększa wartość pieniężną urządzenia, ale bardzo przydatne rozwiązanie zarówno dla osób korzystających z niego na co dzień, jak i dla tych o nieco bardziej sportowym zacięciu. Warto także wskazać, że oferta obejmuje zegarki męskie podświetlane z tarczą, jak i cyfrowe. Zatem, w zależności od poszukiwanego stylu, możemy wybierać w klasyce, jak i nieco w bardziej sportowym wzornictwie. Grono firm produkujących zegarki męskie z podświetlaną tarczą stale rośnie, a w konsekwencji wybierane są nowe technologie, które pełnią w tym aspekcie kluczową rolę. Spośród wskazanych metod oświetlenia największe kontrowersje budzi podświetlenie trytowe. Dzieje się tak za sprawą różnych opinii w zakresie negatywnego oddziaływania tego gazu na nasze zdrowie. Należy jednak mieć na względzie, że jego śladowe ilości użyte do opisanego oświetlenia są tak nieznaczne, że nie mogą w żaden sposób wpłynąć na nasze samopoczucie. Nadto, gaz ten jest zamknięty bardzo szczelnie we wspomnianych rurkach.
Zegarki z podświetleniem
Poza zegarkami męskimi z podświetleniem, istotne miejsce na rynku pełnią zegarki damskie z podświetlaną tarczą. Charakteryzują się one bogatym wzornictwem i bardziej wyszukaną sztukaterią niż rozwiązania dla mężczyzn. Również tutaj oferta obejmuje zegarki damskie z podświetleniem tarczy numerycznej oraz cyfrowej. Pewna różnica pojawia się w zakresie odcieni oświetlenia, chociaż najbardziej znane marki producenckie dają użytkownikowi możliwość wyboru kolorytu. Niezależnie od decyzji w zakresie modelu, półki cenowej czy też technologii pewne jest to, że zegarek damski z podświetleniem będzie idealnym rozwiązaniem w ciemnych pomieszczeniach czy w trakcie pory nocnej. Wprawdzie, podświetlenie tarczy jest jedną z często pomijanych funkcji przy wyborze czasomierza, jednak osoby, które raz skorzystały z produktu wyposażonego w tę opcję, bez wątpienia docenią ją i będą chciały do niej powrócić.
Wybór formy oświetlenia z pewnością jest indywidualną kwestią. Zapewne, wraz z upływem czasu pojawią się nowe, bardziej zaawansowane technologie oświetlenia tarczy zegarka. Obecnie jednak, najpopularniejsza jest metoda ledowa.
---

Najczęściej czytane teksty ZegarkiCentrum.pl:
Jaki wyświetlacz wybrać w Smartwatchu?
Jak prawidłowo użytkować zegarek z panelem słonecznym?
Jak ustawić G-shocka?