Białe zegarki damskie
Jeszcze do niedawna kolor biały, choć kojarzący się ze śniegiem, zarezerwowany był jedynie dla letnich stylizacji. Czy ten trend nadal się utrzymuje? Czy zegarki w kolorze białym możemy nosić tylko w wakacje? Przeczytaj nasz artykuł i sprawdź jak to obecnie wygląda.
Białe zegarki dla kobiet – kiedy je nosić?
Choć rzeczywiście pory roku rządzą się swoimi prawami i w pewnych okresach chętniej stawiamy na określone kolory otaczając się pastelowymi czy też chłodnymi, ziemistymi barwami, to jednak jest to raczej nasza maniera wynikająca z zaszłości niż wyznacznik mody. Obecnie trendy wskazują, że nie ma "regulaminu kolorystycznego", a każdy kolor możemy ubrać kiedy chcemy, jeśli tylko odpowiednio zestawimy go z naszą stylizacją. Takie wytyczne dotyczą nie tylko ubrań, ale również dodatków, a wśród nich zegarków. Jeśli więc masz w swoich zasobach biały czasomierz i chowasz go na dnie szuflady odliczając dni do nadejścia choćby +15oC, to spokojnie możesz go wyjąć, odkurzyć i założyć na rękę.
Z czym zestawić białe zegarki dla Pań?
Pamiętaj, że wszystko musi stanowić spójną całość. W świecie mody nie ma miejsca na przypadek, mimo że niektóre stylizacje wyglądają co najmniej przypadkowo. Każdy detal powinien mieć swoje miejsce i być tym, co akurat chcesz ze sobą zestawić i co oddaje Twój styl, ale w granicach rozsądku. Nie chodzi przecież o to, żeby obwiesić się wszystkimi dodatkami i ciuchami, które lubimy.
Ok, wróćmy do meritum. Jeśli chodzi o białe zegarki dla kobiet, to musisz wiedzieć, że są one bardziej praktyczne niż Ci się wydaje, a jeden model możesz ubrać do naprawdę wielu zestawów. Wszystko zależy od tego, jaki design ów czasomierz prezentuje, z jakim kolorem się łączy i z czego jest wykonany.
Zegarki na białym pasku kauczukowym
Bardzo praktycznym rozwiązaniem jakie stosuje się właśnie w przypadku zegarków damskich w białym kolorze, jest kauczukowy pasek. Choć dawniej kojarzył się tylko ze sportowymi kreacjami, obecnie jest utożsamiany z uniwersalizmem. Dzieje się tak dlatego, że kauczukowy pasek zestawiany jest z najróżniejszymi materiałami – stalą, ceramiką, tworzywem sztucznym, a nawet diamentami czy kryształkami. Może więc wskazywać na charakter zarówno sportowy jak i nawet biżuteryjny. Do czego więc nosić zegarki damskie na białym pasku silikonowym?
Cóż… opcji jest wiele. Jeśli mamy model o stonowanym designie sportowo-eleganckim, który nie wyróżnia się kontrastującymi barwami i mnogością zdobień, to rozwiązań jest od groma i ciut ciut. Możemy połączyć go z luźnym swetrem, ale także longsleevem, marynarką, a nawet ubrać go na siłownie. Pamiętając o zachowaniu zasad estetyki, łącząc go z casualowymi i umiarkowanie sportowymi zestawami, możemy stworzyć stylówkę, w której zegarek damski na białym kauczuku odnajdzie się doskonale.
Czy mogę go ubrać do sukienki?
Pewnie często się nad tym zastanawiasz, czyż nie? Spokojnie. Możesz. Dobierz tylko zegarek do odpowiedniej sukienki. Elegancka mała czarna nie wpasuje się w klimat białego paska i to niezależnie od tego czy będzie to model na pasku skórzanym czy kauczuku. Natomiast bardziej sportowa czy casualowa kiecka (a zwiewna letnia już w ogóle) z pewnością dobrze skomponuje się z białym czasomierzem. Przykładem takich modeli, które śmiało możesz komponować z sukienką jak również spodniami i t-shirtem, a nawet koszulą są popularne Ice Watch Ice Glitter czy Ice Lo, których błyszczące, brokatowe tarcze przełamują biel i dodają kobiecej lekkości.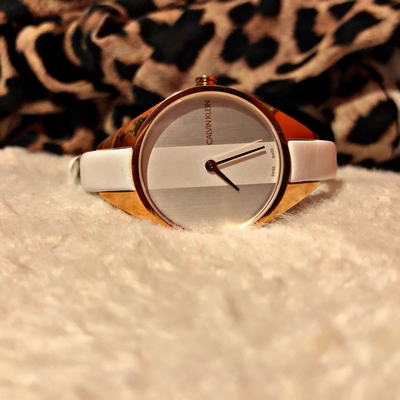 Eleganckie białe czasomierze?
Może, oczywiście, że może. Jak już wspomniałam, średnio wygląda on przy klasycznej, czarnej sukni, z którą nie oszukujmy się – dość mocno kontrastuje. Ale jeśli zestawimy go z kreacją wyjściową (sukienką, kombinezonem czy kompletem) o bardziej neutralnym odcieniu, to może okazać się, że biały zegarek okaże się strzałem w dziesiątkę i najlepszym możliwym dopełnieniem stylizacji. Popatrz na modele damskie Versace? Chyba sama przyznasz, że te białe zegarki zdecydowanie są eleganckie i w taki klimat idealnie się wpasowują.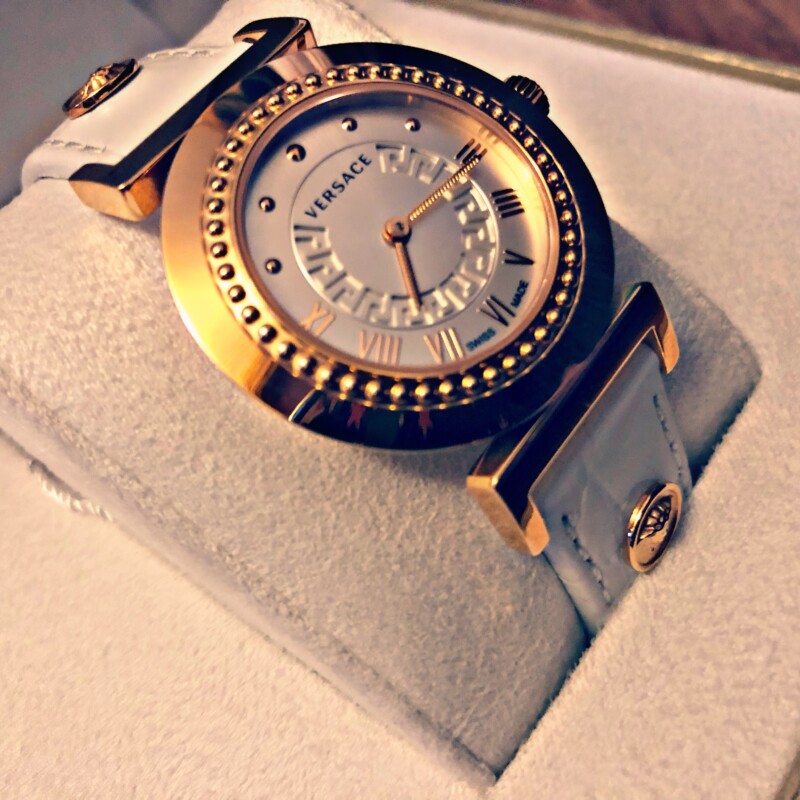 Uniwersalny charakter 
Jak widzisz, białe zegarki są bardzo uniwersalne. Możesz założyć je niemal na każdą okazję. Kluczem jest odpowiednie dopasowanie ich do stylizacji, którą akurat planujesz stworzyć, ale zasada ta tyczy się każdego typu i koloru czasomierzy. Nie przejmuj się więc, tym czy jest lato czy zima i noś białe zegarki jeśli masz na to ochotę. W końcu modą bawić się trzeba cały rok!
---
Skorzystaj z wyjątkowej promocji – Kup zegarek, a za pakowanie na prezent zapłać jedynie 1zł

---
Inne teksty, które mogą Cię zainteresować: