Fossil Q - pytania i odpowiedzi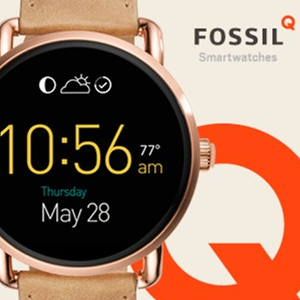 Jak połączyć Fossil Q ze smartfonem?
Fossil Q to smartwatch kompatybilny z systemami iOs i Android. Aby korzystać z niego w pełni zainstaluj aplikajcję Android Wear na Twój smartfon, włącz moduł bluetooth smart z ulepszoną transmisją danych i ciesz się Twoim Fossil Q! Pamiętaj, że dla poprawnego działania smartwatcha możliwa odległość między połączonymi urządzeniami nie może przekroczyć 10 metrów.
Jak uruchomić Fossil Q?

Aby pierwszy raz uruchomić smartwatch, należy po zainstalowaniu aplikacji na telefon, podłączyć go do ładowania (włączy się automatycznie) lub naładować a następnie włączyć go przez przytrzymanie koronki przez ok 3 sekundy. Potem wystarczy już postępować zgodnie z instrukcjami zawartymi w aplikacji.
Włączanie i wyłączanie Fossil Q

Standardowe włączenie Fossil Q odbywa się właśnie przez przytrzymanie przez ok 3 sekundy wciśniętej koronki urządzenia. Chcąc wyłączyć urządzenie, gdy jego ekran jest wyłączony przytrzymujemy koronkę, aż pojawi się menu a następnie wybieramy opcję wyłącz w ustawieniach. Jeśli ekran jest włączony od razu wybieramy palcem odpowiednią komendę w ustawieniach.
Ustawienia fabryczne

Jeżeli chcesz całkowicie usunąć wszystkie zapisane dane i ustawienia, skorzystaj z opcji przywrócenia ustawień fabrycznych (ustawienia >> przywróć). Pamiętaj jednak, że proces ten jest nieodwracalny i wiąże się z koniecznością ponownej synchronizacji urządzenia.
Mój smartwatch a wi-fi?
Fossil Q posiada opcję zapamiętywania sieci wi-fi i łączenia się z nimi automatycznie. Dzięki temu, nawet jeśli stracisz połączenie Bluetooth, Twój telefon i zegarek mogą pozostać zsynchronizowane niezależnie od dystansu jaki je dzieli. Wystarczy wspólna sieć wi-fi. Automatyczne wyszukiwanie i łączenie się z siecią wi-fi możesz włączyć i wyłączyć w zakładce ustawienia.
Jak zsynchronizować Fossil Q ze smartwatchem?
W zależności od systemu (Android lub iOS) wytyczne mogą się nieco różnić, jednak są bardzo zbliżone. Podłącz zegarek do ładowania. Uruchom aplikację Android Wear i sprawdź listę urządzeń znajdujących się w pobliżu Twojego urządzenia. Przeciągnij palcem od prawej do lewej strony wyświetlacza zegarka, aż zobaczysz jego nazwę i wybierz go w aplikacji, a następnie kliknij "połącz w parę z nowym urządzeniem". Na zegarku pojawi się kod synchronizacji, który musisz wpisać w aplikacji i kliknąć "połącz w parę". Pamiętaj, że za pomocą aplikacji możesz zsynchronizować tylko jeden smartwatch ze swoim telefonem.
Fossil Q a iOS – funkcje
 Dzięki synchronizacji Fossil Q z telefonem, na ekranie zegarka możesz odczytywać liczne informacje i korzystać z opcji takich jak:
Korzystanie z powiadomień o:
Przychodzących połączeniach
Wiadomościach email
Wydarzeniach z kalendarza
Aplikacjach
Możesz także:
Sprawdzić swój grafik
Śledzić przesyłki
Dowiedzieć się o korkach
Sprawdzić swoje loty i rezerwacje hoteli
Sprawdzić prognozę pogody
Tłumaczyć słowa lub frazy
Sprawdzić notowania giełdowe
Rozwiązywać działania matematyczne
Konwertować jednostki
Szukać miejsc lub firm
Monitorować swoją aktywność
Monitorować kroki, bieg lub jazdę na rowerze
Fossil Q a Android:
W przypadku systemu Android mamy do czynienia z kilkoma dodatkowymi funkcjami:
Odczytywanie powiadomień o wiadomościach tekstowych
Dowiadywać się więcej o firmach, których szukasz w nawigacji
Stawiać sobie i monitorować cele dziennej aktywności 
Zarządzać muzyką
Słuchać muzyki z zegarka bez telefonu
Słuchać podcastów i muzyki
Jak korzystać z powiadomień?
Powiadomienia o przychodzących wiadomościach, połączeniach czy wydarzeniach z kalendarza są sygnalizowane przez zegarek za pomocą wibracji (jeśli telefon ma włączony dźwięk lub wibracje) lub jedynie poprzez powiadomienie na wyświetlaczu zegarku (gdy włączony tryb cichy). W zależności od uruchomionego trybu pracy telefonu, możesz kontrolować włączanie i wyłączanie powiadomień. Możesz również zablokować pojawianie się powiadomień z niektórych aplikacji jak np. kalendarz.
Korzystanie z trybu kinowego
Fossil Q posiada opcję trybu kinowego, która pozwala na wyłączanie ekranu. Jeśli chcesz wyłączyć ekran, a Twój zegarek posiada przycisk włącz/wyłącz, to szybko, dwukrotnie przyciśnij przycisk. Jeśli natomiast Twój zegarek nie posiada przycisku włącz/wyłącz, a wyświetlacz jest uśpiony, dotknij go, aby uaktywnić zegarek. Następnie przeciągnij palcem od góry do dołu wyświetlacza, przeciągaj palcem od lewej do prawej, aż do trybu kinowego. Potem kliknij, aby włączyć tryb. Aby z powrotem włączyć wyświetlacz ponownie szybko, dwukrotnie przyciśnij przycisk włącz/wyłącz.
Google Fit
Aplikacja ta pozwala a zliczanie kroków dziennej aktywności i działa zarówno w systemie Android jak i iOS. Niestety nie ma obecnie opcji przesyłania rekordów do innych aplikacji, można je jedynie przeglądać. Niestety zegarek nie pozwala również na korzystanie z systemu GPS i nie posiada też monitora pracy serca.
Personalizacja tarczy zegarka
Zegarki Fossil Q mają szeroką gamę wizualizacji tarczy, którą można zmieniać poprzez przyciśnięcie dowolnego obszaru tła i przewijanie palcem po wyświetlonych dostępnych wzorach lub poprzez wybór tła z panelu aplikacji.
Dodatkowe aplikacje
Dla systemu Android dostępne jest także korzystanie w zegarku z niektórych mikroaplikacji jak i współpraca z innymi aplikacjami (jak np monitorowanie snu) poprzez aplikacje zewnętrzne pobrane z google play.
 Bateria
Żywotność baterii to ok 24 godziny, jednakże może różnić się w zależności od intensywności użytkowania. Aby ograniczyć zużycie baterii zmień tło tarczy, wyłącz lub wykasuj nieużywane aplikacje, włącz tryb kinowy, wyłącz zbędne powiadomienia i połączenie wi-fi, wyłącz opcję "Ekran zawsze włączony". Pamiętaj o regularnym ładowaniu zegarka. Gdy jest prawidłowo podłączony do ładowarki, na ekranie pojawia się błyskawica.
Dane personalne
Wszystkie dane – nazwa użytkownika, hasło czy adres email ustawiane są w oparcie o konto Google. Jeśli chcesz dokonać zmian na tym polu, musisz zrobić to z poziomu konta Google. Język użyty w zegarku ustawiany jest na podstawie języka używanego w Twoim smartfonie.