Najważniejsze funkcje-Smartwatch
Jaki powinien być Twój smartwatch – Less is more
Od kilku lat obserwujemy stały wzrost popularności tzw. smartwatchy. Początkowo cyfrowe cuda były rzadkością na nadgarstkach. Zegarki z dużymi wyświetlaczami stanowiły atrakcję, która przyciągała wzrok przechodniów i budziła zainteresowanie na spotkaniach.
Aktualnie smart nie jest już niczym wyjątkowym, a mnogość dostępnych modeli potrafi przyprawić o zawrót głowy. Jakby tego było mało, same modele różnią się funkcjonalnością i możliwościami jakie oferują.

>>>Link do kolekcji Fossil Q<<<
Smartwatch funkcje
Na czym zatem powinniśmy skupić się wybierając "smartwatch"? Czy wygląd jest istotniejszy od funkcji, a może funkcje powinny być stawiane ponad wygląd? W pierwszej kolejności trzeba odpowiedzieć sobie na pytanie – czy jesteśmy fanatykami sportu czy raczej podążamy za wielkomiejskimi trendami i stanowimy część struktury dużego miasta? Jeśli jesteś miłośnikiem sportu, czeka Cię potężna przeprawa przez dziesiątki modeli mierzących tętno, rysujących skomplikowane mniej lub bardziej wykresy. Informujących Cię o czasie regeneracji i tym podobnych rzeczach.
Przyjmijmy jednak, że jesteś osobą, która ma do czynienia ze sportem regularnie, ale nie wyczynowo. Za pewne cenisz sobie dobry styl i prostotę. Wybór smartwatcha będzie dla Ciebie znacznie prostszy.
Tutaj poza samymi funkcjami istotna będzie możliwość personalizacji zegarka. To czy możesz np. zmienić w nim szybko i wygodnie pasek zmieniając jego charakter, czy tarcze na wyświetlaczu są estetyczne i czytelne, czy system powiadomień jest klarowny
i przejrzysty. Warto w tym miejscu spojrzeć na gamę produktów oferowanych przez markę FOSSIL Q. Cechuje je prostota obsługi i odpowiednie zbilansowanie funkcji. Dodatkowo to markowy produkt o wysokiej jakości. Dla przykładu damski model Q VENTURE, spokojnie mógłby zdobyć niejedną nagrodę za design podobnie jak męski Q EXPLORIST.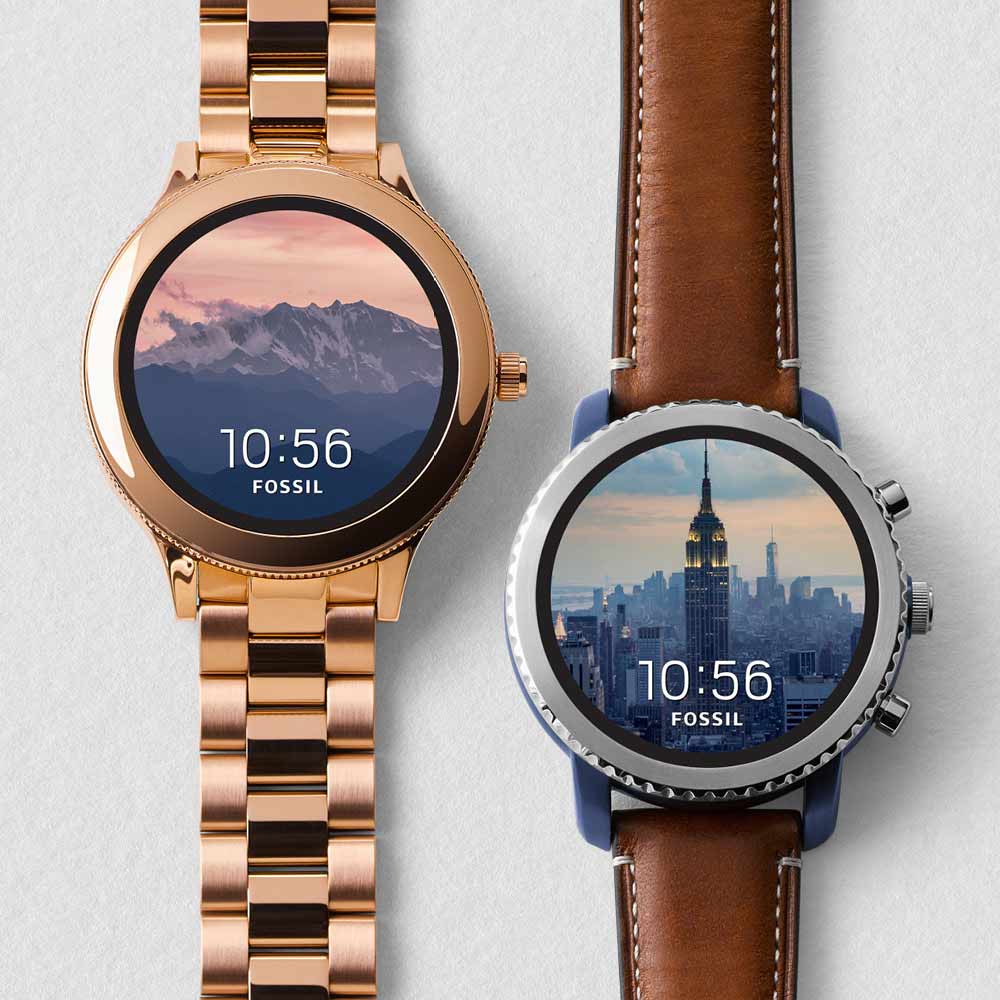 Fossil Q FTW6000 / Fossil Q FTW4004
Funkcje smartwatch
Funkcje obu smartwatchy są tożsame. Do ich podstawowych zadań należy informowanie o nadchodzących połączeniach, smsach czy też emailach. Dzięki Fossil Q możesz szybko ustalić drogę do celu za pomocą aplikacji Google Maps, a jeśli zechcesz dyskretnie przejrzysz zawartość maila, Instagrama czy Facebooka. Zegarek policzy również Twoje zapotrzebowanie kaloryczne i w prosty sposób poinformuje Cię o Twojej aktywności fizycznej. Na uwagę zasługuje bezprzewodowy system ładowania. To naprawdę ułatwia życie! Odkładasz zegarek na specjalną podstawkę i już się ładuje. Proste i niezwykle użyteczne. A jeśli nastanie ciemność, dwoma ruchami palca włączysz systemową latarkę. Wyświetlacz zacznie świecić intensywnym białym światłem.

Sam sposób obsługi jest niezwykle intuicyjny i nie wprawi Cię w zakłopotanie. Duży wyświetlacz wypełniający całą "tarczę" pozwala nawigować po funkcjach płynnie i bez opóźnień, a jeśli zechcesz możesz również kontrolować nim odtwarzanie muzyki w Twoim telefonie. Połączenie ze smartfonem jest stabilne i praktycznie nie zdarza się rozłączanie.
Czy potrzebujesz czegoś więcej?

Jeśli chodzi o codzienność z pewnością nie. Pakiet funkcji zaprezentowany w modelach Q
w połączeniu z jakością FOSSIL powoduje, że smartwatch ten jest użyteczny, a nie "przeładowany" funkcjami. Bezprzewodowe ładowanie, stabilna praca i możliwość fizycznej personalizacji (poprzez zmianę paska – dostępnych są setki wzorów) może stanowić wzór i odpowiedź na pytanie – jaki powinien być stylowy smartwatch.