Granatowe zegarki damskie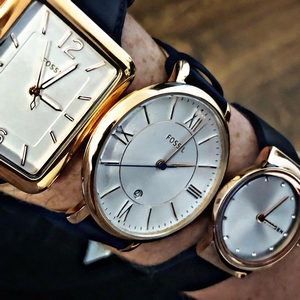 Granatowe zegarki damskie
Jeśli myślisz, że design zegarka musi być nudny, stonowany, czarny albo biały, to grubo się mylisz! Kolorystyka czasomierzy jest bardzo szeroka i daje poczucie swobodnego wyboru takiego modelu, jaki akurat nam się podoba, a dowodem na to są wyjątkowe, granatowe zegarki damskie!
Zegarki damskie w kolorze granatowym
Każda z nas, nawet ta najspokojniejsza i najbardziej opanowana, marzy czasem o odrobinie szaleństwa. Chce przełamać samą siebie i sprawić, że ludzie jak i my same spojrzymy siebie w inny sposób. Zmieniamy fryzury, kolor paznokci, kreacje, ale dlaczego by nie poszaleć również w kwestii zegarka i wybrać taki model, jaki od razu wyróżni nas na tle tłumu? Dlaczego nie postawić na zegarek damski w odcieniu granatowym? 
Granatowe zegarki damskie – skąd ta moda?
Granatowy, jako odcień w jakim zachowane są liczne damskie czasomierze początkowo był rzadkością i właściwie ciężko wskazać producenta, który w swojej ofercie prezentowałby takie właśnie zjawisko. Wszystko zmieniło się mniej więcej dwa lata temu, kiedy nagle granatowe zegarki damskie wręcz zalały rynek. Zaczęło się od marek fashion jak np. Fossil, z czasem modele te przełamały lody skandynawskich Skagenów i Beringów, aż w końcu "wdrapały się" na sam wierzchołek szwajcarskiej Jury pojawiając się w katalogach uznanych producentów jak chociażby Maurice Lacroix. Wszystko to za sprawą high fashion i trendów z najwspanialszych wybiegów świata mody, gdzie granat zaczął wybijać się jako topowy kolor branży odzieżowej i dodatków.


Monochromatyczne, granatowe zegarki damskie
Jak już wspomniałam, granatowych zegarków damskich jest obecnie mnóstwo i każdy praktycznie rzecz biorąc może być tym, który spełni Twoje oczekiwania. Szukając jednak tego jedynego, który wzbogaci Twoje zasoby musisz zastanowić się czego oczekujesz. Czy zależy Ci na stricte granatowym zegarku czy też chciałabyś, aby przełamywał je jakikolwiek inny odcień. O ile z zegarkami, które łączą granat z innym kolorem, nie ma większego problemu, to modele opiewające jedynie o kolor ciemnego niebieskiego są raczej rzadkością. Dzieje się tak, ze względu na to, że stworzenie tego typu czasomierza wymaga od producenta zainwestowania w technologię nanoszenia koloru na kopertę, bransoletę, a nawet zapięcie paska. Warstwa ta musi być trwała i dobrze pokrywać stal, tytan czy aluminium (w zależności od wyboru materiału wykonania). Musi spełniać wysokie normy estetyczne, a także gwarantować komfort użytkowania, a to dodatkowa zagwozdka dla twórców. Poza tym, model taki nie może być nudny. Skoro już jest "jednolity", to jego design musi przyciągać wzrok innymi elementami. Sama więc widzisz, że taki model znaleźć nie łatwo, ale jeśli Ci zależy – szukaj! Na pewno warto!
Granatowe zegarki damskie a złoto
Kolorem, który niezwykle często łączy się z odcieniem granatowym, jest złoto – różowe jak i żółte. Zestawienie to jest niezwykle popularne i to nie bez powodu. Trzeba przyznać, że kolory te komponują się ze sobą doskonale. Kontrastują, a jednocześnie się dopełniają. Stanowią idealny balans pomiędzy jedną a drugą barwą. Zestawione w odpowiedni sposób, pozytywnie wpływają również na wygląd całej stylizacji, gdyż zegarek o takim ubarwieniu potrafi nadać charakteru i świeżości praktycznie każdej kreacji – tej codziennej jak i wieczorowej. Ponadto, idealnie komponują się z delikatną biżuterią. Granatowo-złote damskie zegarki są więc, jakby nie patrzeć, bardzo uniwersalne.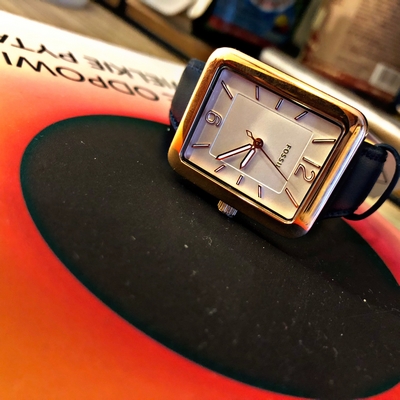 Modne zegarki damskie – granatowy pasek
Damskie, granatowe zegarki na pasku to prawdziwy must have ostatnich sezonów. Promowane są na portalach społecznościowych, blogach o tematyce modowej, prasie z zakresu mody i dodatków. Nic dziwnego, są naprawdę piękne i trzeba przyznać bardzo uniwersalne. Dzięki skórzanemu, granatowemu paskowi, jaki producenci mocują na teleskopach kopert, czasomierze tego typu idealnie układają się na nadgarstku, do którego są wręcz "dopasowane". Są bardzo wygodne w użytkowaniu i gwarantują świetny efekt wizualny. Sprawdzają się jako modny gadżet do pracy czy na spacery i to niezależnie od pory roku. 
I co myślisz na temat granatowych damskich zegarków? Podobają Ci się, czy raczej to nie Twój styl? A może już masz taki zegarek? Pochwal się nam i wyraź swoją opinię w komentarzu. A jeśli tekst Ci się spodobał i chcesz podzielić się nim z innym zostaw "like" i udostępnij go na swoim profilu. Dziękuję <3
Inne teksty, które mogą Cię zainteresować: