Mechanizm ML 134 masterpiece squelette
Nie ulega wątpliwości, że sercem każdego zegarka jest jego mechanizm. Kwarcowy, automatyczny, mechaniczny.. zależy od modelu. Jednym z bardziej cenionych werków jest będący autorskim rozwiązaniem manufaktury Maurice Lacroix model ML 134. Dlaczego? Jakie ma funkcje i cechy? Sprawdźmy…
Mechanizm ML 134 masterpiece squelette – recenzja
Masterpiece Squelette to model zegarka Maurice Lacroix, obok którego nie sposób przejść obojętnie. Zachwyca najwyższą jakością i przyciąga spojrzenia całością wzornictwa jak i każdym poszczególnym elementem. Tym, co odgrywa kluczową rolę w przypadku tego czasomierza jest jego mechanizm o ręcznym naciągu, który znawcy sztuki zegarmistrzowskiej uważają za arcydzieło w tej kategorii. Spróbujmy go "prześwietlić" i sprawdzić, dlaczego jest taki doskonały.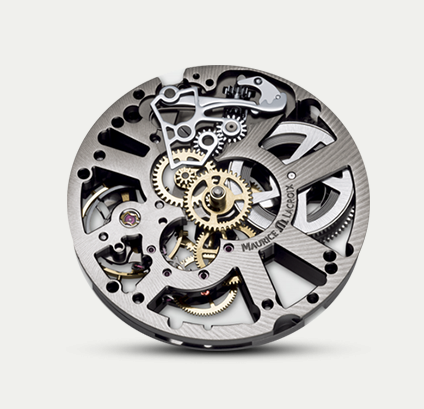 Parametry techniczne mechanizmu ML134 masterpiece squelette
Jak każdy mechanizm, Maurice Lacroix ML134 ma określone parametry techniczne, które wpływają na jego funkcjonowanie. Niezwykle ciekawą kwestią jaka dotyczy tego werku z automatycznym naciągiem jest liczba wahnięć, którą szacuje się jako 18 000 wibracji na godzinę. Ta stosunkowo niska częstotliwość, będąca częstym rozwiązaniem w przypadku "skeletonów", sprawia, że można łatwiej obserwować oscylujące koło balansu. W przypadku ML134 praca balansu jest bardzo widoczna, co daje mu przewagę nad werkami o wyższej częstotliwości, gdzie szybsze ruchy wibracyjne powodują, że koło to "rozmazuje się". Drugim ważnym parametrem wpływającym na doznania estetyczne jak również jakość jest fakt, iż praca balansu regulowana jest przy pełnym nakręceniu aż w 5 pozycjach, a nie jak w przypadku większości mechanizmów tylko w dwóch (w ML 134 balans regulowany jest w 2 pozycjach dopiero po 24 godzinach od pełnego nakręcenia!) Taki stan rzeczy wpływa na stabilność mechanizmu i określa ją jako bardzo wysoką. Liczba kamieni wykorzystana w tym modelu to 17, natomiast długość rezerwy chodu oscyluje w granicy 45 godzin. 
Walory estetyczne mechanizmu ML134 masterpiece squelette
Doskonałe mechanizmy stosowane w najlepiej ocenianych czasomierzach mają to do siebie, że oprócz wysokiej funkcjonalności przedstawiają również szereg walorów estetycznych. Nie inaczej jest w przypadku ML134. Ten rodzaj werku został skonstruowany tak, aby miał tzw industrialny design. Wpływ na to mają śruby i mosty bębna sprężyny powrotnej, które pokryte są warstwą ciemnego PVD. W mechanizmie tym, podobnie jak w większości zbliżonych do niego pod kątem konstrukcji werków, dużą rolę estetyczną jak i jakościową odgrywają mieniące się rubiny. Budowa koła balansowego jest tradycyjna, zaś wyróżniającym się elementem jest regulator w stylu ETAchronu, który pozwala na łatwą regulację chodu. 
Aby zapewnić jeszcze ciekawsze doznania wizualne, Maurice Lacroix zdecydował się tak skonstruować modele Masterpiece wyposażone w mechanizm ML134, aby wyróżnić najbardziej atrakcyjne elementy werku. Dlatego właśnie szkło szafirowe pokrywające dekiel jest "przypalane" z pozostawionymi wolnymi fragmentami w miejscach, gdzie znajdują się najciekawsze elementy mechanizmu. Zabieg ten zdecydowanie powiększa wartość wizualną czasomierza i czyni go jeszcze bardziej atrakcyjnym. Dużą rolę odgrywa tu również mała wskazówka sekundowa osadzona na wysokości godziny 9, za która odpowiada konkretna część mechanizmu, oddzielna względem dużych wskazówek minutowej i godzinowe.
Mechanizm Maurice Lacroix ML134 masterpiece squelette z ręcznym naciągiem – podsumowanie
Jak widać mechanizm ML134 z ręcznym naciągiem jest niezwykle interesującym rozwiązaniem. Przedstawia szereg wartości wizualnych jak również jakościowych. Gwarantuje wysoką jak na ten typ mechanizmu precyzję wskazań czasu oraz wieloletni komfort użytkowania bez obaw o ewentualne uszkodzenia. Przy regularnym serwisie i przeglądzie, bez wątpienia jest w stanie funkcjonować przez długie, długie lata. Jego wygląd oparty m.in. na nietypowej kolorystyce osiągniętej przez naniesie powłoki black PVD, stanowi dodatkowy atut i motywację dla kupujących, szukających w czasomierzu nietuzinkowego designu.
Myślę, że spokojnie można pokusić się o nazwanie "doskonałym" mechanizmu Maurice Lacroix ML134. Jest to bez wątpienia werk, który bezsprzecznie jest sercem czasomierza. A może posiadasz zegarek ML Masterpiece Squelette i chcesz opowiedzieć o nim z perspektywy użytkownika? Jeśli tak, skomentuj ten post lub skontaktuj się z nami. Nie zapomnij też dać kciuka w górę 😉