Pozłacane zegarki Michael Kors
Pozłacane zegarki Michael Kors
Chcesz kupić pozłacany zegarek Michael Kors i zastanawiasz się czy warto? Boisz się, że warstwa koloru to "bubel" a Ty stracisz swoje pieniądze? Przeczytaj ten tekst. Postaram się rozwiać Twoje wątpliwości…
Ion Plating – Trwałe pozłocenie zegarków Michael Kors
Konkurencja na rynku zegarków fashion jest niezwykle zaciekła i wydaje się rozkręcać coraz bardziej z każdym dniem. Są jednak takie marki jak Michael Kors, których popularność nie słabnie mimo napływu nowych firm zajmujących się tą samą dziedziną. Sytuacja taka wynika z faktu, że czasomierze sygnowane logo MK zyskały sobie opinię wyjątkowych za sprawą ich wspaniałego wzornictwa, które znane jest chyba każdej fashionistce. Miłośniczki mody rozpływają się nad stalowymi zegarkami, szczególnie kochając te, które występują w kolorze żółtego i różowego złota. I tu pojawia się pytanie. Czy takie pozłacanie, widoczne właśnie w kolekcjach MK jest trwałe? Czy może zejdzie po kilku miesiącach lub (nie daj Boże) dniach noszenia? Spokojnie… nie zejdzie, oczywiście jeśli Twój zegarek jest oryginalny (za te, które przypłyną kontenerowcem w małej kopercie bąbelkowej nie odpowiadamy). Za trwałość warstwy pozłacania widocznej w modelach Michael Kors odpowiada specjalna metoda nanoszenia koloru zwana Ion Plating, w skrócie IP.  (Nie mylić z podobną, ale jednak inną metodą PVD) To właśnie ona, dzięki najnowszej technologii, pozwala na naniesienie cząsteczek koloru na metal. Odpowiednia temperatura otoczenia jak i pozostałe warunki, które towarzyszą napyleniu cząsteczek sprawiają, że lepiej przywierają one do powierzchni i pokrywają ją cienką, a jednocześnie trwałą i twardą warstwą koloru, bez utraty czy pogorszenia cech danej powierzchni jak np. stali szlachetnej. Co ważne, IP nie tylko nie doprowadza do pogorszenia stanu metalu na jaki jest nanoszona, ale wręcz poprawia jego właściwości, czego przykładem może być fakt, iż zegarki ze stainless steel, które pokryto kolorem naniesionym metodą jonizacji, stają się jeszcze bardziej antyalergiczne i uczulają zdecydowanie mniej niż 5% alergików przypisywane temu materiałowi. Jak wynika z terminologii fachowej, warstwę IP szacuje się jako grubość 2-5 micronów dzięki czemu, nie powinna ścierać się w ciągu kilku lat.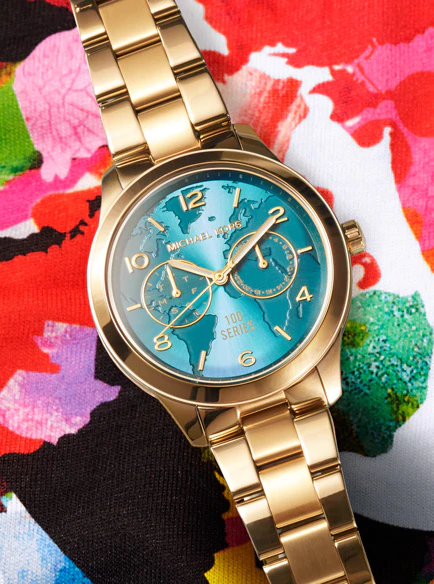 Kolory pozłacanych zegarków Michael Kors
Czasomierze Michael Kors w kolorze żółtego i różowego złota
Zegarki Michael Kors robią prawdziwą furorę wśród kobiet, a jest to m.in. zasługa szerokiej gamy kolorystycznej. Najbardziej popularnymi barwami, w jakich występują czasomierze MK są odcienie różowego i żółtego złota. To właśnie one stały się niejako wizytówką marki, przebijając pod kątem liczebności czasomierze zachowane w naturalnym odcieniu stali. Kolory różowego i żółtego złota przewijają się ze sobą także w modelach o tzw bikolorze, czyli łącząc się ze sobą albo z odcieniem stali.
Zegarki MK z czarnym IP
Ogromnie popularne w ostatnich sezonach stały się także czasomierze Michaela Korsa pokryte warstwą czarnego IP. Zabieg ten stosowany jest zarówno w zegarkach damskich i męskich tego producenta jak również smartwatchach MK Access. Trzeba przyznać, że jest to bardzo udany zabieg, gdyż przysporzył marce wiele zadowolonych klientek i klientów, którzy szukali alternatyw wobec dostępnych już wersji zegarków pozłacanych.
Inne kolory IP w zegarkach Michael Kors
Ponieważ Ion Plating daje swobodę w dobieraniu koloru jaki chcemy nanieść na metal, spotkać możesz czasomierze MK w naprawdę różnych kolorach. Są to odcienie szarości, brązu, a nawet niebieskiego. Każdy trwały i odpowiedni nawet dla alergików. Ogromnie popularne są modele zachowane w kolorach czekoladowym i granatowym, które przewijają się zarówno w smartwatchach jak i modelach "tradycyjnych", analogowych.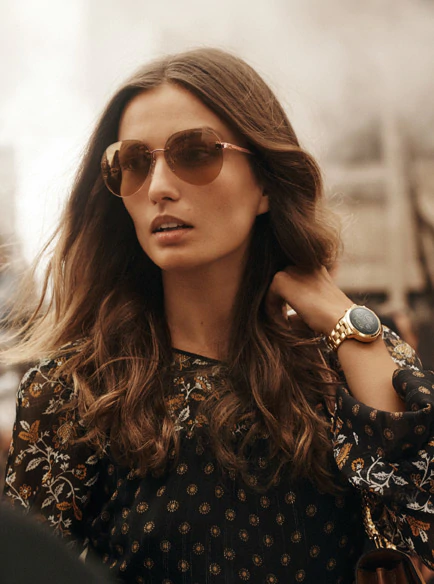 Czy warstwa IP może się ścierać
Według wszelkich doniesień ze świata nauki i techniki, trwałość warstwy IP określa się jako 2-5 lat, gdyż odpowiada ona tylu mniej więcej micronom. Niestety nie ma powłok idealnych, a błądzić jest rzeczą ludzką dlatego czasem okazuje się, że na zegarku zobaczysz przebarwienia nieco szybciej. Producent bierze to jednak "na klatę" i jeśli tylko taka sytuacja zdarzy się w ciągu 2 lat od zakupu, a więc w czasie ochrony gwarancyjnej, masz prawo do zareklamowania towaru w oficjalnym serwisie producenta, a wystarczy Ci do tego karta gwarancyjna podstęplowana przez autoryzowanego sprzedawcę czyli np. przez nasz sklep.
Zachęcam Cię do zapoznania się z ofertą pozłacanych zegarków Michael Kors. Jeśli tylko kochasz modę i chcesz mieć w swojej kolekcji czasomierz, który świetnie wyglądać będzie w różnych stylizacjach, na pewno będziesz czuć się świetnie z takim właśnie dodatkiem na ręku. A jeżeli nadal masz wątpliwości co do trwałości warstwy IP możesz poczytać o niej więcej w naszej zakładce poświęconej właśnie tej metodzie.