Tissot Heritage 1973
Zupełna nowość marki Tissot, limitowana edycja chronografu, inspirowana modelem zegarka z 1973 roku- Tissot Heritage 1973! Czym wyróżnia się wśród innych czasomierzy tej marki? Jak wygląda? Czy warto "skusić" się akurat na ten zegarek? Sprawdźmy!
Imponujące dziedzictwo marki Tissot
Od zawszę markę Tissot cechowała miłość do dziedzictwa i przeszłości. Często nowe propozycje zegarkowe wzorowane były na "starych modelach" lecz ulepszano je tak, aby wpasowały się w gusta obecnych klientów. Podobnie jest właśnie z zegarkiem Tissot Heritage 1973. Domyślacie się, którego czasomierza jest on odzwierciedleniem? Stylem nawiązuje on do modelu Nawigator, jak sama nazwa wskazuje, z 1973 roku.
Stare- nowe wydanie Tissot!
Wyprofilowana koperta to już ikona czasomierzy marki Tissot, więc zupełnie zrozumiałe jest, że Tissot Heritage 1973 również taką posiada. Powstała ona z chirurgicznej stali szlachetnej lecz co ciekawe częściowo szczotkowanej, a częściowo polerowanej. Miłośników sportów i aktywności fizycznych na pewno zadowolą funkcje umieszczone na analogowej tarczy. Zarówno tachymetr, chronograf jak i datownik "sterowane" są automatycznym mechanizmem Valjoux 7753, którego rezerwa chodu wynosi 46 godzin. Większość danych określanych jest za pomocą indeksów liniowych oraz wskazówek, na które nałożono substancję fluorescencyjną. Urozmaicenia całej stylistyce tarczy nadają wskazówka sekundowa oraz wskazówki od chronografu w kolorze pomarańczowym. Nie możemy pominąć mocowania tego zegarka- skórzanego, czarnego paska z "dziurkami". Jeżeli myślisz, że dobrano go tutaj, ponieważ akurat pasował to jesteś w dużym błędzie.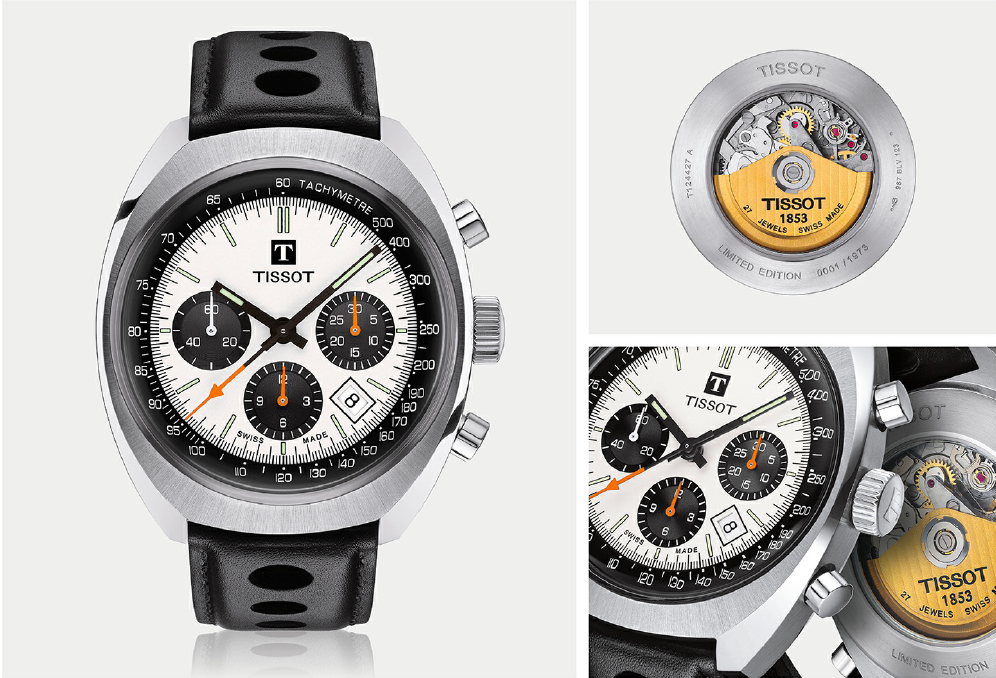 Tissot, a rajdy samochodowe
Każdy element zegarka Tissot Heritage 1973 ma być ukoronowaniem współpracy między marką Tissot, a Kessel Classics Racing Team- siecią salonów samochodowych. Nie bez powodu to właśnie rok 1973 jest tu taki istotny- właśnie wtedy marka sponsorowała Alpine w samochodowym rajdzie Monte-Carlo. Teraz rozumiesz, dlaczego wybrano akurat taki styl paska? Ma on przypominać design kierownic montowanych niegdyś w sportowych, wyścigowych samochodach. Również kolorystyka całego zegarka nawiązuje do czołowego samochodu Kessel Classics, który stanął na podium w wyścigu Monaco Historic Grand Prix w 2016 roku.

Limitowane zegarki sportowe
Jak to mówią "kto pierwszy ten lepszy" i warto się śpieszyć, bo Tissot Heritage 1973 to limitowany zegarek, a dostępnych będzie jedynie 1973 sztuk! Nie ważne jest to, czy jesteś wielkim miłośnikiem wyścigów samochodowych i z wielką pasją obserwujesz wyścigi Grand Prix czy jedynie cenisz sobie markę Tissot i perfekcyjne wykonanie jej zegarków, powinieneś pozwolić sobie na trochę luksus dzięki temu czasomierzowi.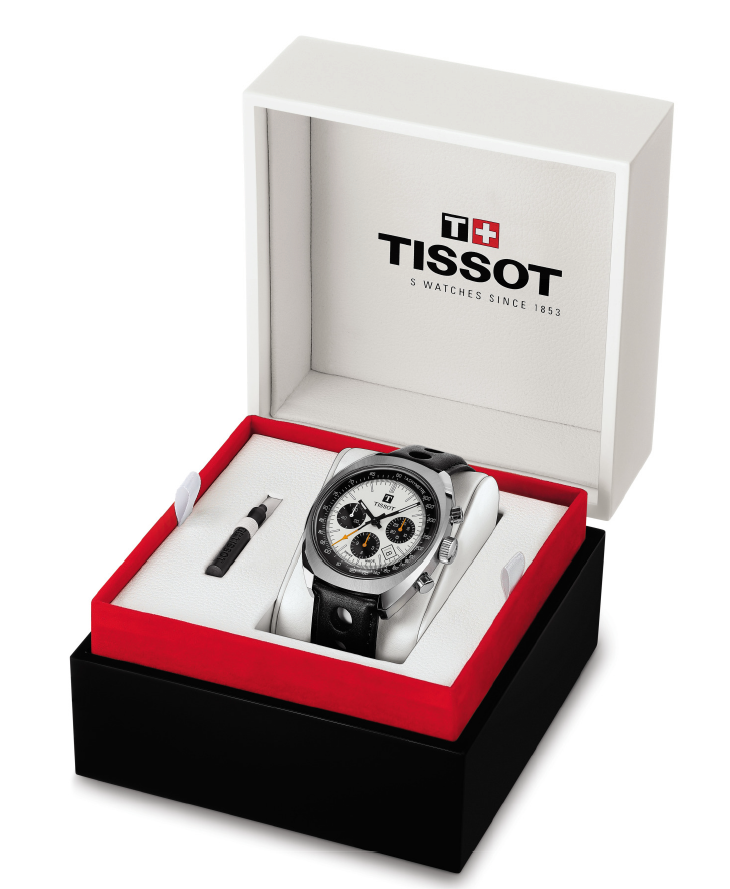 A może to właśnie on pozwoli Ci poczuć się jak kierowca wyścigowego samochodu i jak zwycięzca?