Zegarki Adriatica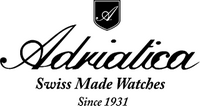 Od ponad 80 lat klienci na całym świecie cenią markę za jej unikatowy styl. Szwajcarski producent zadbał o wysoką jakość produktów idącą w parze z przystępną ceną. Czasomierze są dopracowane, dzięki czemu spełniają oczekiwania nawet bardzo wymagających klientów. Materiały użyte przy produkcji zegarków to m.in. wysokiej jakości stal szlachetna, skóra oraz ozdobne kryształy. Adriatica dzięki rozpoznawalnemu, ale tradycyjnemu stylowi idealnie prezentuje się na ręku. Jest to dodatek, który towarzyszy posiadaczom zarówno podczas codziennej pracy czy wieczornego wyjścia. Szeroki wybór produktów to jeden z głównych autów tej słynnej marki jaką jest Adriatica.
Historia marki Adriatica
Początkowo Adria&Adriatica powstała w drugiej połowie XIX w. w ramach szwajcarskiej firmy Watch Company, która powstała w Montilier a później przeniesiona do Morat znajdującego się w "Zegarkowej Dolinie".Uważa się iż pierwsze modele zostały wyprodukowane w 1931 r. jednakże w czasie II wojny światowej zaprzestano produkcji, którą wznowiono dopiero w 1962 r. Wówczas spółka przeniosła swoją siedzibę do Bienne & Basel. Produkcja została wznowiona a zainteresowanie marką wzrosło. Początkowo czasomierze cieszyły się dużym powodzeniem w Skandynawii oraz we wschodniej Europie, głównie w Polsce gdzie zostały ciepło przyjęte przez koneserów zegarmistrzostwa. W 1989 r. marka postanowiła wprowadzić szereg innowacji, które zaowocowały powstaniem oryginalnych modeli, które były połączeniem nowoczesności z tradycją.