Męskie zegarki na pasku do Emporio
Emporio Armani. Brzmi znajomo? Pewnie, ze tak! W końcu to jedna z najpopularniejszych marek świata mody. A co powiesz na sygnowane jej logo zegarki EA na pasku? Sprawdź co o nich sądzą nasi Klienci i dlaczego.
Emporio Armani na pasku
Emporio Armani to marka, która w naszej ofercie jest praktycznie od samego początku. Obok Fossila, Diesla, Skagena, Michaela Korsa oraz wielu innych stanowi część światowego koncernu Fossil Group, który skupia uznane marki świata mody odpowiadając za tworzone przez nie czasomierze. Trzeba przyznać, że działania te przynoszą bardzo dobry rezultat, bo chronometry te, z EA na czele, plasują się w gronie najchętniej kupowanych modeli świata fashion. Co stoi za ich sukcesem? Które modele Armaniego klienci wybierają najczęściej? Sprawdźmy opinie, które widnieją na naszej stronie, a szybko znajdziemy odpowiedź!
Panowie uwielbiają czasomierze na pasku
Obecnie ciężko jest stwierdzić, co jest bardziej popularne – pasek czy bransoleta. W końcu ile osób, tyle opinii. Patrząc jednak na wyniki sprzedaży możemy stwierdzić, że w ostatnich trzech miesiącach decydowaliście się jednak na te zegarki Armaniego, które występują na pasku.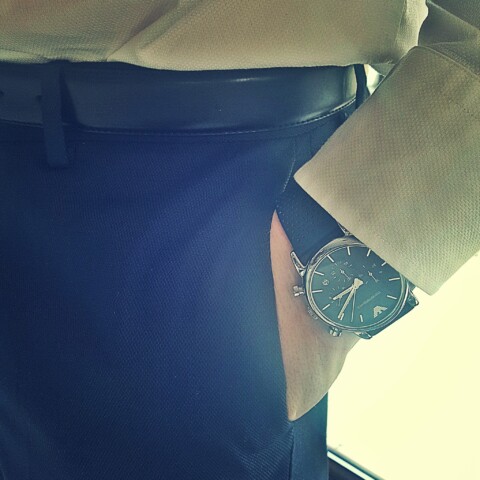 Męskie na pasku – zalety
Rzeczywiście, są one bardzo wygodne, a jednocześnie efektowne. Z całą pewnością są lżejsze i łatwiej dopasować je do nadgarstka. Czy to latem czy też zimą, możemy swobodnie regulować ich obwód poprzez odpowiednie ustawienie długości paska. W ten sposób niwelujemy problem "puchnącej ręki" i ewentualnych odparzeń, na które część z nas narażona jest z racji noszenia bransolety.
Co ważne modele te mają zazwyczaj ciekawszą, bardziej zróżnicowaną kolorystykę niż zegarki Na bransolecie. Wśród czasomierzy Emporio Armani na pasku możemy znaleźć wersje w praktycznie każdym odcieniu skóry czy też kauczuku. To rozwiązanie jest z pewnością nie bez znaczenia da miłośników mody, którzy cenią sobie dodatki na topie, zgodne z obowiązującymi trendami.
Kolejną istotną kwestią związaną z pielęgnacją zegarka jest fakt, że modele męskie Emporio Armani na pasku łatwiej i taniej doprowadzisz "do ładu" niż ich modele na bransolecie. Dużo mniej kosztuje bowiem nowy pasek niż bransoleta, której koszt to już bagatela kilkaset złotych. Jeśli więc Twój model swoje już przeszedł i chcesz go odświeżyć, to z mniej kosztochłonnych rozwiązań pozostaje Ci raczej polerowanie bransolety, które jednak nie zawsze jest skuteczne. W przypadku paska, sprawa jest łatwiejsza i tańsza, gdyż nawet oryginalny pasek jest znacznie tańszy niż bransoleta, a i u dobrego zegarmistrza często kupisz zamiennik za przysłowiowe grosze, którym odświeżysz swój czasomierz.
Ostatnią kwestią, która nakłania Was do zakupu modeli Armaniego na pasku jest ich cena, niższa niż w przypadku ich odpowiedników na bransolecie. Jest to logiczne i poprzedni punkt już niejako nakreślił Wam przyczynę takiego zjawiska. Koszt wytworzenia modelu w skórze jest niższy niż sama stal, a więc i Wy to odczuwacie.
Pamiętajcie jednak, że powyższe cechy, to plusy modeli Emporio Armani na pasku. Jest ich sporo, ale modele na bransolecie także mają mnóstwo walorów jak to, że są bardziej szykowne, eleganckie czy bardziej odporne na działanie czynników zewnętrznych, o czym opowiemy Wam z chęcią w kolejnych postach.
Sprawdźmy jednak co Wy sądzicie na temat męskich zegarków Emporio Armani na pasku. W końcu to Wy, jako klienci, odpowiadacie za sukces lub fiasko producenta, którego towary kochacie lub nienawidzicie.
"Zdecydowanie świetny model. Kupiłam mężowi na święta i już wiem, że kolejny również będzie tej marki. Nosi go na spotkania z klientami i zawsze wygląda świetnie. Na urodziny kolejny – na randkę z żoną!"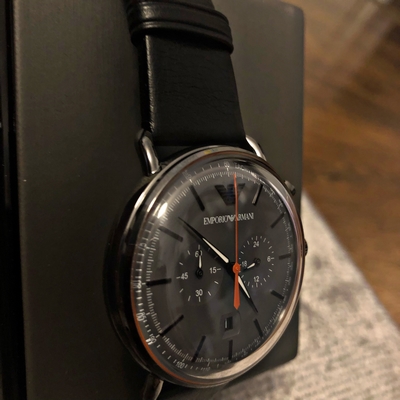 "Zegarek jakiego potrzebowałem. Z przysłowiowym jajem. Super kolory, szczególnie pomarańczowa wskazówka. Z czasem myślę, że dokupię do niego pomarańczowy lub szary pasek. Raz się żyje!"
"Nie byłem przekonany, ale kiedy znajomi kupili mi go na 30stkę musiałem go nosić. Tera to mój ulubiony zegarek. Praktyczny i wygodny. Tylko raz zdarzyło mi się wymienić pasek, ale na własne życzenie – wakacje i morze zrobiły swoje."
"Zegarek zamówiłam na walentynki sugerując się Waszym postem na IG. Jest świetny! Już czekam do 14, żeby dać go M. Po takim prezencie, będzie musiał kupić damski dla mnie hahah"
No cóż, Wy naprawdę kochacie zegarki Emporio Armani na pasku. Wiecie co? Wcale nas to nie dziwi! My też je uwielbiamy i wiemy, do czego warto je nosić! Jeśli Ty też chcesz się przekonać, odwiedź nasze porady stylisty – tam, już jutro – 7.02. post poświęcony karnawałowym stylizacjom dla panów z wykorzystaniem właśnie EA!