Jaki założyć zegarek do garnituru?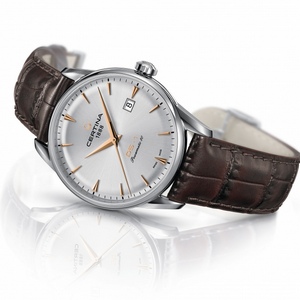 Nie ma co się oszukiwać, do garnituru z pewnością nie będzie pasował każdy zegarek. Powinniśmy również zwrócić uwagę na sam rodzaj garnituru, który także ma duże znaczenie w czasie wybierania czasomierza. W związku z tym, na co warto postawić?
Jaki zegarek do garnituru?
Jeszcze na początku ubiegłego wieku założenie zegarka naręcznego wiązało się z brakiem gustu oraz elegancji. Dlaczego? Oczywiście, dlatego że dla wielu był on po prostu tanią oraz kiepską podróbką kieszonkowej wersji tego urządzenia. Jak się jednak można domyśleć, wszystko uległo zmianie i zegarki noszone na nadgarstku zyskały miano eleganckich oraz funkcjonalnych. Aktualnie zegarek garniturowy to absolutnie podstawowy element każdego eleganckiego pana. Źle dobrany jednak może wywołać wiele negatywnych myśli. W związku z tym jakie zegarek powinniśmy wybrać do garnituru?
Przede wszystkim powinniśmy zwrócić uwagę na to, aby był on w pełni proporcjonalny do naszego ciała. Obecnie wielką popularnością cieszą się duże zegarki, jednak przeznaczone są one głównie do codziennych czy sportowych stylizacji. Ogólnie przyjętą średnicą czasomierza dla kobiet jest 30-35 mm. Mimo wszystko w przypadku męskiego zegarka garniturowego powinna być ona niewiele większa, ponieważ warto postawić na średnicę wynoszącą 35-40 mm. Oczywiście, kiedy nasz nadgarstek jest większy niż innych panów, powinniśmy postawić na większy model. Bez względu na to, czy postawimy na klasyczny, elegancki czy szwajcarski zegarek garniturowy, powinien on przede wszystkim mieścić się pod mankietem naszej koszuli. W związku z tym na formalne okazje warto zainwestować na cienkie zegarki, których koperta nie jest zbyt duża.
Zapoznaj się:
Jaki zegarek męski do garnituru granatowego, a jaki do czarnego?
W czasie wybierania zegarka męskiego do garnituru powinniśmy wziąć pod uwagę absolutnie wszystkie kolory, jednakowo te, które występują na kopercie, tarczy, a także pasku czy bransolecie. Najbardziej klasycznym rozwiązaniem będzie garniturowy zegarek z białą tarczą, srebrną kopertą oraz czarnym, skórzanym paskiem. Taki zestaw idealnie będzie pasował do klasycznego garnituru o czarnej barwie. W przypadku garnituru o kolorze granatowym powinniśmy postawić na złotą tarczę oraz kopertą, a także brązowy pasek. Pod żadnym pozorom nie powinniśmy odwracać tych kolejności dopasowania. W przeciwnym razie modowa wpadka będzie absolutnie nieunikniona!

Nie możemy zapomnieć, że garnitury na co dzień mogą się znacznie różnic od tych wieczorowych. Nie wszystkie z nich są granatowe czy czarne. W związku z tym należy pamiętać, aby srebrne bransolety oraz koperty łączyć z wszelkimi srebrnymi akcesoriami, takimi jak sprzączki od paska do spodni czy spinki. Kolor paska powinien zawsze być dobrany do odcienia pozostałych elementów naszej stylizacji, takich jak pasek czy buty.
Jak sytuacja wygląda z niepospolitymi barwami bransolet oraz pasków? Tutaj niestety nie spotkamy się z ogólnymi zasadami. Powinniśmy zdać się na nasze własne wyczucie w komponowaniu kreacji. Nie możemy jednak zapomnieć, że wszystkie nieformalne barwy znacznie obniżą elegancję naszego stroju.
Zegarek na pasku do garnituru klasycznego, a może na bransolecie?
Mimo tego, że zegarek na bransolecie do garnituru nosił sam James Bond, to dzisiaj odradzamy takie działanie. Jaki zatem zegarek powinniśmy wybrać do garnituru? Znacznie lepszym rozwiązaniem będzie zegarek na pasku, lecz zawsze skórzanym, który cechuje się niewidocznymi przeszyciami oraz klamerką na końcu. W związku z tym wszystkie gumowe paski odpadają.
Nie możemy jednak zapomnieć, że zegarek garniturowy może być także nieco mniej formalny. W przypadku, gdy zamiast klasycznego czy wieczorowego garnituru wybieramy te w kratę, flanelowe czy w prążki, warto postawić na nieco szaleństwa. Powinniśmy jednak pamiętać, że zegarek powinien być dobrany zarówno do stroju, jak i właściciela. Osoby będące dyrektorami dużych korporacji, którzy przepadają za ekstremalnymi sportami, powinny postawić na przykład zegarek z kauczukowym paskiem.
Nasi Klienci najczęściej wybierają klasyczne zegarki szwajcarskie Tissot, Certina lub japońską klasykę Seiko. 
Jaki elegancki zegarek do garnituru wybrać? Podsumowanie
Nie ma co się oszukiwać, zegarek to biżuteria, która najbardziej pasuje każdemu mężczyźnie. Mimo wszystko dokładnie tak samo, jak w przypadku kobiecych dodatków może on zarówno podkreślić daną kreację, jak i całkowicie ją zniszczyć. Źle dopasowany sprawi, że zostaniemy ukazani w złym świetle, w szczególności, gdy mówimy o sytuacjach formalnych.
Idealny zegarek do garnituru to ten, który oparty jest na klasycznym wzornictwie. Wraz z okrągłą kopertą, prostymi wskazówkami, a także nieudziwnionym wzorem. Tarcza nie może być zbyt szeroka, a średnica zbyt duża w porównaniu do naszego nadgarstka. Warto również stawiać na stonowane barwy. Przecież nasz zegarek ma być jedynie dodatkiem, a nie rzeczą, która nachalnie rzuca się w oczy. Nie możemy także zapomnieć o skórzanym, który sprawdzi się znacznie lepiej niż bransoleta.
Jak widać, wybór zegarka do garnituru to nie takie proste zadanie. Jeśli jednak zastosujemy się do powyższych rad, z pewnością będziemy zadowoleni oraz unikniemy modowej wpadki.
Zegarek brudniejszy od…. toalety
Jak ustawić G-shocka?
Pielęgnacja skórzanego paska w zegarku