Zegarek brudniejszy od.... toalety
Zegarek brudniejszy od … toalety!
Praktycznie każdy z nas ma zegarek, jeden lub więcej w zależności od tego, jak bardzo lubi i ceni sobie te naszym zdaniem wyjątkowe dodatki. Używamy ich na co dzień, ale i od święta. Towarzyszą nam na spotkaniach firmowych, ale używamy ich także w trakcie treningu sprawdzając na ich wyświetlaczach nie tylko aktualny czas, ale również nasze osiągi (smartwatche i modele multifunkcyjne). Korzystamy z nich zgodnie z ich przeznaczeniem wykorzystując wspomnianą już funkcjonalność, ale czasem próbujemy naginać rzeczywistość i zapominamy np ściągnąć je z ręki przy kąpieli czy myciu naczyń (nie każdy model może być "moczony – musisz najpierw sprawdzić jego klasę wodoszczelności). W takim codziennym toku zdarzeń, kiedy zegarek stanowi po prostu element naszego ubioru, zakładany odruchowo i używany cały dzień, a nawet całą dobę, zapominamy często o bardzo istotnej kwestii – o higienie i estetyce naszego czasomierza.
Zegarek – siedlisko bakterii i drobnoustrojów
No cóż, przykre, ale prawdziwe. Faktem jest, iż większość z nas zapomina, a nawet nie myśli o tym, że zegarki wymagają czyszczenia. Użytkowane codziennie mają kontakt przede wszystkim z naszą skórą, która poci się, brudzi, a to wszystko przenosi się na zegarek. O ile myjemy ręce czy po prostu kąpiemy się zmywając z siebie brud, o tyle, zegarka do miski z wodą nie wrzucamy i nie traktujemy go gąbką z mydłem (a może powinniśmy?). Nie pierzemy go też jak ubrania, a przecież czasomierz wcale nie jest mniej narażony na zabrudzenia niż chociażby nasze spodnie. Zdarza się, że oblejemy go herbatą, przybrudzimy kosmetykami podczas robienia make upu czy gotując obiad skonfrontujemy go z makaronem czy ciastem drożdżowym. Co wtedy? Po prostu go wycieramy (zazwyczaj pobieżnie) i "dalej lecimy z tematem", a bakterie harcują między ogniwami bransolety lub (jeszcze częściej) na skórzanym lub kauczukowym pasku.
Jakie zegarki są szczególnie podatne na zabrudzenia?
Brytyjski portal Tic Watches postanowił przeprowadzić cykl badań sprawdzających stopień czystości zegarków w porównaniu do skali w jakiej ocenia się zabrudzenia deski klozetowej czy spłuczki. Badaniom poddano czasomierze różnego rodzaju – damskie i męskie na skórzanym lub kauczukowym pasku. Sprawdzono, jakie bakterie tlenowe, drożdże, pleśń i inne niespodzianki mieszkają na naszych chronometrach. Wyniki były zaskakujące, a może nawet… zatrważające?
Otóż jak wskazały badania, szczególnie narażone na zabrudzenia są plastikowe opaski monitorujące naszą aktywność. Ich stopień zabrudzenia przewyższa ilość brudu na toalecie … ponad 8 razy! Wynika to przede wszystkim z zastosowania tego typu modeli, które towarzyszą nam na treningach, w siłowniach, a więc w sytuacjach i miejscach, gdzie brud i pot ze szczególną łatwością przylegają do naszego czasomierza. Trzeba przyznać, że widok próbki zdecydowanie odrzuca i daje mocno do myślenia w kwestii higieny czasomierza.
Jeśli chodzi o damskie zegarki, najbrudniejsze okazały się być modele na skórzanym pasku. To właśnie na nich skupia się blisko 6 razy tyle brudu co na toalecie. Oczywiście wynika to z tego, że kobiety częściej się perfumują, malują się i zazwyczaj to one spędzają więcej czasu w kuchni skupiając się na gotowaniu.  Brud osadza się na powierzchni i pod spodem paska, ale także między cyrkoniami i diamentami, którymi bardzo często zdobione są koperty kobiecych modeli. Nie zmienia to jednak faktu, że mając świadomość tego, jak bardzo narażone na zabrudzenia są kobiece czasomierze, panie powinny bardziej dbać o ich estetykę.
Jak się okazało, mężczyźni mniej brudzą zegarki, a przynajmniej tak było w przypadku panów, których czasomierze poddano badaniu. Nie oznacza to jednak, że ich chronometry są czyste. Na zegarkach męskich na pasku kauczukowym znaleziono 4,7 x więcej zabrudzeń niż na toalecie a na smartwatchach o pasku skórzanym i kauczukowym odpowiednio po 3,3 x więcej niż na desce sedesowej.
Okropne czyż nie? Spójrz tylko na zdjęcia poniżej. Przedstawiają opisane przez nas przypadki w kolejności w jakiej o nich pisaliśmy. Trzeba przyznać, że nas też to obrzydza…
1.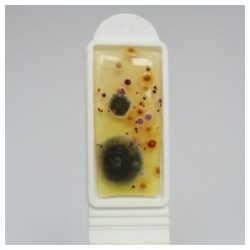 2.
3.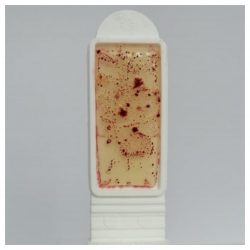 4.
5.
Żródło: https://www.ticwatches.co.uk/blog/2019/06/how-clean-is-your-watch/
Jak w takim razie czyścić zegarki?
Jak w przypadku większości kwestii, zdania co do najskuteczniejszej metody czyszczenia chronometrów są podzielone. Istnieją jednak podstawowe zasady, których warto przestrzegać i którymi należy się sugerować, aby jak najdokładniej wyczyścić czasomierz nie narażając go przy tym na uszkodzenie. Jako, że w naszej ofercie mamy przede wszystkim zegarki wykonane ze stali szlachetnej, pozwólcie, że odniosę się tutaj właśnie do pielęgnacji tego typu produktów.
Po pierwsze, aby przystąpić do czyszczenia zegarka, należy rozebrać go na poszczególne elementy tzn odczepić od koperty pasek lub bransoletę, gdyż każdą część czyścić należy inaczej. Można to zrobić samemu, jeśli mamy odpowiednie narzędzia lub wiedzę lub skorzystać z tutoriali dostęnych "w sieci" czy poprosić o pomoc zegarmistrza, który zrobi to w mgnieniu oka i z pewnością nie policzy za to Bóg wie ile. Kiedy udało nam się już "rozłożyć" nasz produkt na części, musimy odpowiedzieć sobie na pytanie czy jesteśmy na tyle kompetentni, żeby móc samemu podjąć się czyszczenia mechanizmu. Nie oszukujmy się, większość z nas nie jest w stanie prawidłowo wyciągnąć ani wyczyścić werku, nie ma więc sensu "przeceniać siebie" i ryzykować uszkodzeniem czasomierza. W takiej sytuacji lepiej zaufać specjalistom, a mycie na własną rękę ograniczyć do oczyszczenia elementów zewnętrznych.
Przejdźmy do czyszczenia koperty. Jeśli nasz czasomierz posiada wysoką wodoszczelność i jest przeznaczony do pływania, możemy teoretycznie rzucić go "na głęboką wodę" i zanurzyć go w misce z płynem do naczyń, a następnie oczyścić miękką gąbką, ścierką czy szczoteczką. Jest to jednakże ryzykowne nawet przy tzw diverach. Nie wiemy bowiem, czy jakikolwiek element koperty nie został uszkodzony czy nie doszło do choćby lekkiego rozszczelnienia, a wówczas nie trudno o zalanie produktu. Z doświadczenia zalecamy więc mniej brawurową akcję, a więc ograniczenie się do powierzchniowego mycia przy użyciu nawilżonej mydłem lub płynem gąbki, ścierki lub miękkiej szczoteczki. Pamiętaj, aby przyrządami operować delikatnie, na tyle delikatnie, aby nie zarysować koperty. Podobny schemat należy zachować podczas czyszczenia bransolety z tym, że jeśli jesteśmy naprawdę gorliwi, możemy ściągnąć / rozdzielić poszczególne ogniwa i wyczyścić każde po kolei. 
Czyszczenie paska skórzanego odbywa się przy użyciu płynów i środków do pielęgnacji skóry. Warto użyć preparatów przygotowanych do pielęgnacji siodeł, które pomagają zachować elastyczność i sprężystość skóry. Można również skorzystać ze sprytnego rozwiązania jakim jest pokrycie paska na czas ok. 1 godziny specjalną pastą z wody i sody oczyszczonej (1 łyżeczka wody/1łyżeczkę sody). Następnie wystarczy zetrzeć nadmiar pasty, a powierzchnię skóry wypolerować.  (Więcej na temat pielęgnacji skórzanego paska przeczytasz tutaj)
Jak widać czasomierze wymagają więcej pielęgnacji niż nam się wydaje i warto o nie zadbać. Tak, jak dbamy o nasz samochód, tak samo powinniśmy pielęgnować czasomierz. W ten sposób zapewnimy mu długowieczność, a sobie satysfakcję z jego użytkowania.