Lacroix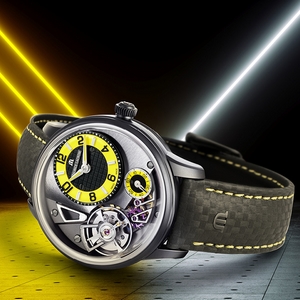 Lacroix
Choć producentów zegarków jest mnóstwo, a na rynku wciąż pojawiają się nowi gracze, są na świecie firmy, które mocno ugruntowały swoją pozycję. Wśród nich bezsprzecznie bryluje Maurice Lacroix, a dlaczego? Przekonajcie sie sami!
Maurice Lacroix firma zegarmistrzowska z historią dość krótką, ale intensywną
Gdyby zerknąć do metryczki Maurice Lacroix zobaczylibyśmy, że jej początki sięgają lat 60' Xx wieku, jednak za oficjalne rozpoczęcie działalności uważa się 1975 rok, kiedy to na rynku pojawiły się pierwsze modele sygnowane logo tego producenta.
Niedawno zatem obchodziliśmy 40-lecie marki, jednak zaznaczyć trzeba, że od samego początku zegarki Lacroix czerpały z doświadczenia i wartości wyniesionych z pracy zegarmistrzów z Zurichu i na tym postanowiono zbudować potęgę firmy założonej w szwajcarskich Saignelegerier.
W świecie zegarków firma ML pojawiła się w czasach kryzysu czym od razu postawiła sobie wysoko poprzeczkę. Jak to bywa w przypadku ludzi ambitnych, tworzących wielkie dzieła, trudna sytuacja stała się kołem napędowym do stworzenia brandu, który w każdym elemencie będzie bił na głowę azjatycką konkurencję.
Maurice Lacroix – presja bycia swiss made
Jako, że zegarki Maurice Lacroix rodziły się w samym sercu szwajcarskiej Jury w pewnym sensie nosiły piętno, jakie znaczyło na nich zaszczytne miano swiss made nadawane innym miejscowym producentom. Określenie to narzucało konkretne warunki co do jakości czym napędzało producenta do ciągłego udoskanalania jego czasomierzy. Dla Desco von Schulthess wyzwanie to było jednak kroplą w morzu planów i ambicji. On już z założenia chciał stworzyć firmę idealną i … unikatową.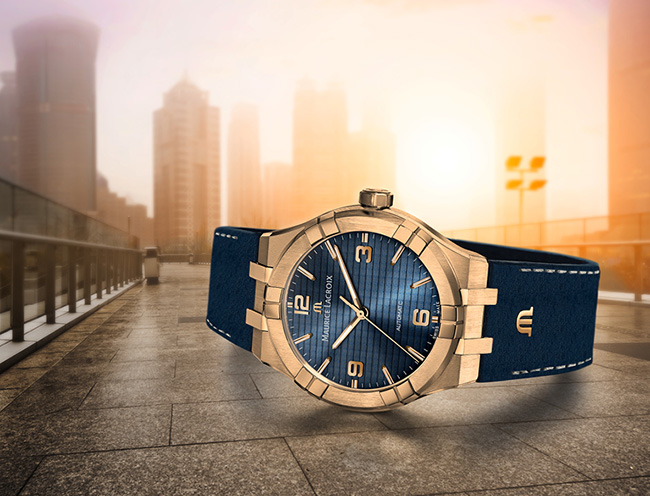 Zegarki Maurice Lacroix – coś więcej niż swiss made
Ponieważ twórca ML posiadał ogromne ambicje, które szły w parze z doświadczeniem i pasją watchmakingu szybko udało mu się osiągnąć swój cel i wybić się na tle rodzimych jak i zagranicznych konkurentów. Mino wielu napływających zewsząd pochwał Nie spoczął na laurach, a wręcz przeciwnie zmotywował się do dalszej pracy i postanowił stworzyć nowy rozdział, w którym grubym drukiem wypisano tytuł MANUFAKTURA.
Maurice Lacroix – jedna z niewielu manufaktur
Miano manufaktury to chyba najbardziej prestiżowe określenie jakie spotkać możemy w świecie zegarków. Dotyczy firmy, która stosuje własne rozwiązania w kwestii designu, części, ale przede wszystkim mechanizmów. Do tego zaszczytnego grona należy Lacroix, który bazuje jedynie na własnych werkach oraz autorskich "przeróbkach" mechanizmów innych szwajcarskich producentów, które ML udoskonala i dostosowuje do potrzeb własnych czasomierzy. Jaki jest tego efekt?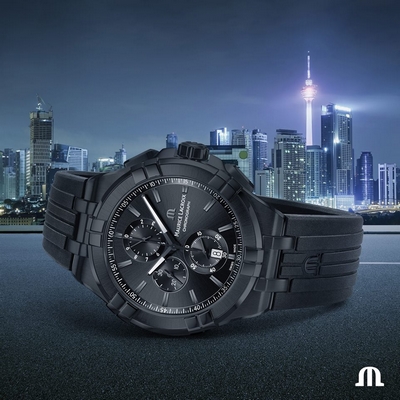 Maurice Lacroix doskonałe zegarki dla Niej i dla Niego
Tak jest, czasomierze, które wychodzą z hal Maurice Lacroix można z powodzeniem uznać za doskonałe. Ich jakość jest gwarancją użytkowania na długie lata, co mogę osobiście zaręczyć, gdyż pracując blisko 10 lat w MiniMax nigdy nie przyjęłam reklamacji na żaden z zegarków tego producenta. Damskie jak i męskie czasomierze tej marki wykonywane są zawsze z wysokiej klasy materiałów i komponowane przez ludzi, którzy uchodzą za mistrzów zegarmistrzostwa. To dzięki ich zaangażowaniu oraz wiedzy udaje się tworzyć modele niezawodne, które są wizytówką Lacroix.
Zegarki Lacroix – klasyka z nutą nowoczesności
Choć wielu osobom zegarki Lacroix kojarzą się głównie z klasyką w rzeczywistości tkwi w nich ogromny potencjał modowy, który wynika z inspiracji najnowszymi trendami o nowoczesną technologią. Niezależnie od tego czy skupiamy się na modelach kwarcowych czy automatycznych a nawet mechanicznych, nie możemy nie docenić bogatej oferty zegarków zróżnicowanych pod katem designu jak również samej kolorystyki konkretnego modelu. Zabieg ten pozwala dotrzeć do szerokiego grona odbiorców wymagającym pod kątem jakości kupowanego produktu jak również jego wzornictwa. Co ważne innowacyjne rozwiązania Lacroix stosuje także w kwestii "budowy" czy inaczej mówiąc tworzenia czasomierza, co widoczne jest w udoskonaleniach wprowadzanych do mechanizmów, jakie stosuje marka.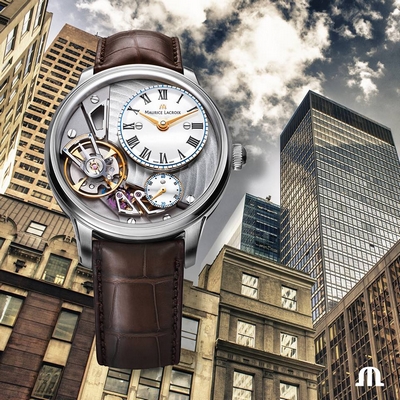 Maurice Lacroix – manufaktura, przed którą świat stoi otworem
Jak już wspomniałam, Maurice Lacroix jest jedną z niewielu manufaktur zegarmistrzowskich. Siła marki jest ogromna i rośnie z każdym dniem, dzięki doskonałej polityce firmy, która otwiera się na potrzeby swoich klientów, otrzymując w zamian ich zaufanie. Marka ta dąży do samodoskonalenia i jak widać, idzie jej to świetnie, gdyż kolejne modele w tym także, a może przede wszystkim limitowane, to typowe "cacuszka", które chyba każdy chciałby mieć w swojej kolekcji. 
A co Ty sądzisz o zegarkach Lacroix? Twoje serce też skradły? Chciałbyś mieć je w swojej kolekcji? Ja bardzo i uważam, z całą stanowczością, że są warte swojej ceny i jeśli mam dokonać wyboru między ML, a innymi producentami swiss made, to ja wybieram manufakturę.