Rodzaje bransolet w zegarkach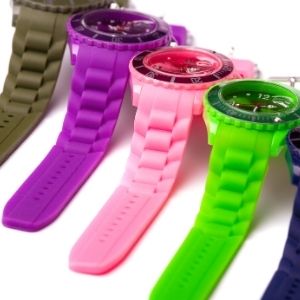 Zegarek jest niezastąpionym elementem biżuterii, można go dopasować do różnych okoliczności. Ciekawą alternatywą dla klasycznych skórzanych pasków jest zegarek na bransolecie. Bransoleta zaraz po kopercie to najbardziej rzucające się w oczy elementy zegarka. Określa styl zegarka, podkreśla charakter użytkownika. Inny rodzaj bransolet stosowany jest w zegarkach sportowych inny do kreacji wyjściowej. Zegarki na bransolecie z powodzeniem sprawdzą się do stylizacji nieformalnych lub wieczorowych. Najchętniej wybierane są bransolety zegarka w kolorze złotym lub w srebrnym. Odpowiednio dobrana bransoleta zegarka będzie świetnym dopełnieniem wielu stylizacji, nie będzie zsuwał się z nadgarstka.
Bransolety są odporne na uszkodzenia, spełniają swoją funkcję przez wiele lat użytkowania. Skórzane paski źle znoszą kontakt z wilgocią, pochłaniają zapachy, odkształcają się.
Materiał bransolety zegarka
Wybierając zegarek na bransolecie, należy wziąć pod uwagę materiał, z jakiego została stworzona. Jest to szczególnie istotne w przypadku osób ze skłonnością do alergii. Dla alergików rekomendowane są bransolety wyprodukowane z tytanu, stali szlachetnej. Posiadają wysoką odporność na korozję. Tytanowy rodzaj bransolet jest bardzo lekki, nie koroduje,  zapewnia wysoki komfort użytkowania.  Bransolety wyprodukowane ze spieku ceramicznego cechuje odporność na zarysowanie, promieniowanie UV. Materiał ten powstaje z proszku ceramicznego, który zostaje scalony pod wpływem dużego ciśnienia i temperatury. Zegarki ze spieku ceramicznego są przyjazne dla skóry, nie powodują alergii. Na tracą swoich walorów estetycznych pomimo upływu lat. Będą stylowym, ponadczasowym dodatkiem do codziennego stroju. Bransolety zegarka produkowane są ze stali szlachetnej, bardzo odpornej na uszkodzenia i zarysowania. Jest ona bezpieczna dla skóry.  Do produkcji zegarków stosowane jest srebro w próbie 925. W zegarkach stosowane jest złoto 14-karatowe oraz 18-karatowe. Tańszą alternatywą dla złotych zegarków są modele pozłacane. Zegarki naręczne są również produkowane z mosiądzu, który jest łatwy w obróbce. Czasomierze z tego materiału są atrakcyjne cenowo.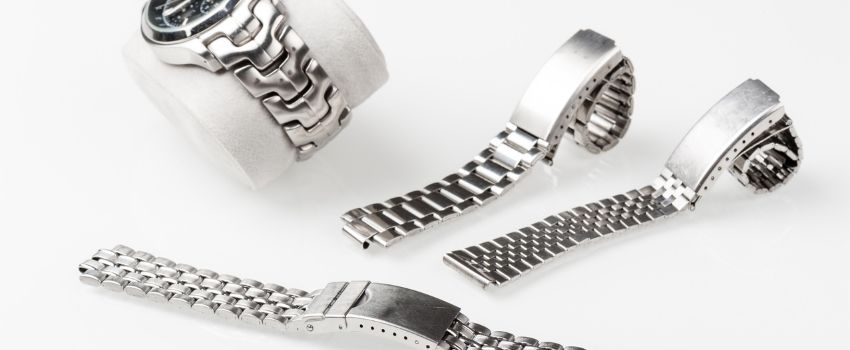 Rodzaje splotów bransolet 
Jeśli wiadomo, jaki materiał zegarka będzie dla nas odpowiedni, należy wybrać splotu, który spełni nasze oczekiwania. Producenci zegarów stale wprowadzają nowe typu bransolet, aby dostarczyć klientom oryginalne i komfortowe rozwiązania. Najbardziej popularny jest splot wykonany z dużych pojedynczych ognisk. Męskie modele zegarków z dużymi ogniskami są bardzo wytrzymałe i stosowane w przypadku zegarków w stylu sportowym lub casualowym. Klasyczne modele zegarków na bransolecie są szczególnie ceniony przez osoby stawiające na elegancję. Tego typu zegarki posiadają zazwyczaj masywne koperty. Pasują do sukni wieczorowych, fraków, garniturów. Czasomierz na bransolecie często stanowi połączenie elegancji w sportowym wydaniu. Zegarki na bransolecie posiadają często dodatkowe wyposażenie takie jak datownik, chronograf. W zegarkach modowych często stosowane są z małych ognisk lub z ognisk mieszanych. Ogniwa mniejsze i większe mogą, być łączone ze sobą w dowolnych kombinacjach co daje dużo możliwości projektantom.  Bransolety meh tworzone są z drobnej plecionki. Stosowane są w wielu modelach zegarków damskich, są subtelne oraz lekkie. Jedną cieszą się zainteresowaniem wśród Panów, którzy poszukują gustownych dodatków do swoich stylizacji. Bransolety typu mes są bardziej odporna na zerwanie niż paski ze skóry naturalnej. Te lekki plecione bransolety nie przycinają skóry, co może się zdarzać w przypadku bransolet z dużymi ogniskami. Bransolety siateczkowa są najczęściej pozłacaną, kolor jest wysoce odporne na zarysowania
Bransolety w stylu biżuteryjne
Bransolety biżuteryjne to zróżnicowana kategoria zegarków. Dostępne są w różnych kolorach i różnych kształtach kopert. Przeznaczone są na specjalne okazje, pozwalają cieszyć się niezwykłym wyglądem. Wywołają wrażenie i podziw u osób z otoczenia. Taki bransoletki występuje w nowoczesnym wydaniu, posiadają ciekawe wzornictwo. Mogą być użytkowane zarówno przez młody kobiety jak i dorosłe Panie. Zegarek na biżuteryjnej bransolecie mogą stanowić niezależny dodatek do ubioru, lub podkreślić charakter kreacji.  Można łączyć również z innymi elementami biżuterii, ważne jest zachowanie spójności i umiaru. Biżuteryjne bransolety czasomierz występują najczęściej w zestawieniu ze mechanizmem kwarcowym oraz wysokiej jakości szkiełkiem. Zapięcie motylkowe inaczej nazywane bransoletowym można łatwo i szybko zapiąć. Dobrze dopasowuje się do nadgarstka. Jest to najbardziej elegancki rodzaj zapięcie wykorzystywany w zegarkach naręcznych.
Kiedy wybrać zegarek na bransolecie?
Zegarki a bransoletą to funkcjonalny i nietuzinkowy element biżuterii. Zegarki na bransolecie to idealna propozycja dla osób, które poszukują efektownego czasomierza. Można je bez problemu dopasować do wielu kreacji bez względu na okazję i sezon. Rodzaj bransolety zegarka powinien pasować do osobowości użytkownika. Bransoleta jest bardzo trwałym elementem zegarka, nigdy nie wychodzi z mody. Zegarek z bransoletą przeznaczony jest dla mężczyzn w każdym wieku. 
Sklep internetowy posiada wyszukiwarkę, która umożliwia dopasowane rodzaju bransolety, rodzaju koperty, mechanizmy do indywidualnych potrzeb i preferencji. Aby rozmiar bransolety zegarka był odpowiednio dopasowany, przed zakupem należy zmierzyć obwód nadgarstka za pomocą centymetra krawieckiego. Najlepiej do pomiaru dodać 1 cm luzu. Producenci zegarka do obwodu zegarka dodają wystarczającą ilość luzu. Obwód nadgarstka może ulec drobnym zmianom pod wpływem temperatury.
Jak dbać o zegarek na bransolecie?
Zegarek ma bezpośredni kontakt ze skórą, dlatego ważne jest jego regularne czyszczenie. Na bransolecie osiada się zabrudzenia oraz baterie. Bransoletę najlepiej przemywać ciepłą wodą. Przestrzeń między ogniskami można wyczyścić przy pomocy mydła i szczoteczki do zębów. W przypadku modeli, które nie są wodoodporne, należy chronić kopertę przez zamoczeniem.
---
Najczęściej czytane teksty ZegarkiCentrum.pl:
Jak skrócić bransoletę w zegarku
Zegarek bez niklu – dla alergików
Czy warto kupić zegarek limitowany?