Go with the flow
Go with the flow
Diesel jako jedna z ostatnich marek świata fashion pokusiła się o stworzenie własnego smartwatcha. Jak można się domyślić, kluczowym elementem, który wyróżnia go na rynku jest niekonwencjonalny design, do którego przyzwyczaił nas ten producent. Jednak czy Diesel ON to tylko wygląd? Czym jeszcze może pochwalić się nowy smart zegarek i jak wypada na tle konkurencji? Sprawdźmy!
Taki zegarek to naprawdę "duża sprawa"!
Jeśli znasz ofertę zegarków Diesel, wiesz, że królują w niej modele o naprawdę dużej kopercie, której średnica może przekraczać nawet 60mm. Nie inaczej jest z modelami typu smart. Koperta Diesel On Full Guard DZT2002 ma wymiary (a właściwie ma mieć, bo premiera jeszcze nie nastąpiła) 48 x 54 mm. Jest to chyba największy smartwatch dostępny na rynku, a na pewno większy od swoich konkurentów jak MK Access czy prowadzący w rankingu najchętniej kupowanych- AppleWatch. Na szczęście, waga smartwatch Diesel odbiega od ciężaru jego analogowych kompanów. Zegarek jest stosunkowo lekki i dobrze układa się na ręku przez co stanowi doskonałe urozmaicenie wielu stylizacji.
Ładny smartwatch
Diesel ON podobnie jak MK Access, Fossil Q czy Skagen Connected daje swoim posiadaczom duże pole manewru jeśli chodzi o możliwości swobodnej zmiany designu zegarka. Duża ilość wizualizacji wyświetlacza czy dostępność wymiennych pasków i bransolet sprawiają, że osoby, dla których moda stoi na pierwszym miejscu bez wątpienia pokuszą się o zakup Diesel ON zamiast wybrać bardziej rozreklamowany i funkcjonalny Apple Watch o designie, który w swej "zwykłości" pozostawia wiele do życzenia.


Codziennie ładujemy smartwatcha?

Taak, takie pytanie możesz zadawać często, jeśli zdecydujesz się na zakup Diesel ON. Ale, ale dzieje się tak nie bez przyczyny! Wyświetlacz tego modelu ma średnicę 3,56cm, a więc większą niż ekran moje ukochanego, "św pamięci" Samsunga z klapką. Taki wyświetlacz chcą c nie chcąc pożera mnóstwo energii, dlatego codzienne ładowanie zegarka jest nieuniknione.


Smart czyli mądry zegarek
Choć Diesel ON the Full Guard nie ma tak wielu funkcji jak Apple Watch i nie może poszczycić się możliwością zainstalowania dużej ilości aplikacji czy takimi opcjami jak chociażby Wallet, który moim zdaniem jest jedną z najbardziej potrzebnych i przydatnych funkcji smartwatcha z jabłuszkiem, ale również może skraść serce swoją funkcjonalnością. Przede wszystkim pracuje na Android Wear i jest kompatybilny z systemem Android oraz iOS, przez co można sparować go z każdym niemal smartphonem. Ponadto podobnie jak w przypadku MK Access czyApple Watch pozwala za pomocą dotykowego wyświetlacza kontrolować muzykę czy własną aktywność (korzystając z Google Fit). Inteligentny system automatycznie aktualizuje godzinę i datę w zależności od tego, w jakiej strefie czasowej się znajdujesz. Dzięki wbudowanemu głośnikowi i mikrofonowi daje możliwość surfowania po internecie, sprawdzania aktualnej pogody czy kalendarza przy użyciu nie tylko dotyku, ale i poleceń głosowych. Diesel ON, podobnie jak Apple Watch, MK Access czy Fossil Q, daje również możliwość odczytywania i odpowiadania na wiadomości sms, email czy połączenia oraz odczytywania powiadomień kalendarza czy dotyczących zainstalowanych aplikacji.
Ważną cechą wspomnianych czasomierzy inteligentnych jest ledowe podświetlenie wyświetlacza, które daje możliwość swobodnego korzystania z zegarka również w ciemności.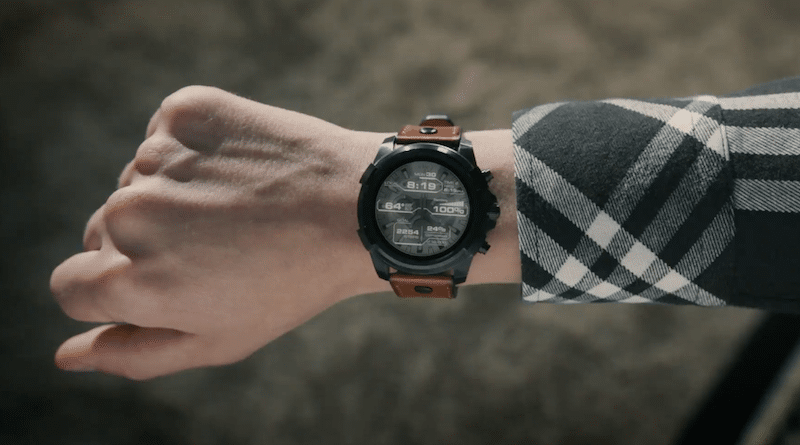 Modele Diesel ON 
No właśnie, poza analizowanym przypadkiem modelu DZT2002, Diesel ma zamiar wprowadzić jeszcze min. 2 wersje inteligentnego zegarka, które różnić się od siebie będą nie tylko wyglądem i funkcjami oraz ceną (165-350$). To doskonałe rozwiązanie, które z pewnością pomoże marce zyskać szersze grono Klientów i dotrzeć do tych fanów mody i nowych technologii, którzy nie wyobrażają sobie wydać na zegarek kwoty, którą trzeba zapłacić za zegarek z jabłuszkiem.
No cóż, do premiery jeszcze trochę czasu, także cierpliwie czekamy i zobaczymy czy Diesel On the Full Guard spotka się z pozytywnym feedbackiem. Ja w skali 1-10 oceniam go na mocne 6, ale kto wie, może zmienię zdanie i dam mu lepszą notę!