Marka amerykańska czy ... szwajcarska? Skąd pochodzą czasomierze od Timexa?
Zastanawiałeś się kiedyś skąd pochodzi jedna z najpopularniejszych marek zegarkowych na świecie? Gdzie produkowane są czasomierze Timex? I dlaczego na najnowszej kolekcji tego producenta widnieje napis "Swiss movement"? Przeczytaj nasz tekst i dowiedz się więcej na temat marki Timex.
Początki marki Timex – Yankee Dollar Watch i inne osiągnięcia
Myśląc o najstarszych markach zegarmistrzowskich na świecie od razu kierujemy się ku szwajcarskim producentom, którzy rozwijali swoje biznesy na górzystych terenach Jury. Niewielu z nas jednak wie, że jedna z najbardziej wiekowych marek świata zegarków powstała wiele tysięcy kilometrów od kraju bankierów – W Stanach Zjednoczonych Ameryki. Timex Corporation założona została w 1854 roku jako Waterbury Clock Company w dolinie Naugatuck Valley w Connecticut. Z początku zajmowała się produkcją zegarów ściennych, zaś z czasem rozszerzyła swoją działalność o produkcję czasomierzy kieszonkowych. Od samego początku firmie przyświecała idea stworzenia produktów w cenie niskiej na tyle, aby praktycznie każdy mógł sobie na nie pozwolić. Standardowo zegary ścienne i kieszonkowe Timexa (choć nie pod tą nazwą) kupić można było już za 6 USD, jednakże w 1900 roku nastąpił przełom, który można było uznać za wydarzenie na skalę światowo. Na rynku pojawił się bowiem pierwszy zegarek kieszonkowy w cenie zaledwie 1$. Yankee Dollar Watch, bo tak nazywał się model stworzony przy współpracy z biznesmenem reprezentującym Ingersoll & Bro. Waterbury Clock Company, został sprzedany aż w 6 milionach egzemplarzy, co było istnym rekordem.
Zapoznaj się:
Zegarki Timex w służbie wojskowej
Niewiele osób zdaje sobie sprawę, że za przeniesieniem czasomierza z kieszeni na nadgarstek stały służby wojskowe. Dokładniej rzecz ujmując powodem stworzenia zegarka naręcznego była potrzeba wykonania modelu, z którego żołnierze służący w armii podczas I wojny światowej mogliby z łatwością korzystać. Wyciąganie czegokolwiek z kieszeni w obliczu ostrzału czy ogromnej presji było bowiem zbyt czasochłonne, a pod drugie niewygodne. Podjęto więc decyzję o przeniesieniu koronki z pozycji na wysokości godziny 12 na 3 i zamocowano pasek skórzany na dwóch skrajnych punktach koperty (na wysokości 12 i 6). Tak oto powstały pierwotypy modeli, które popularne pozostają do dziś.
Oficjalny czasomierz 2 milionów dzieci
Kiedy ustało widmo wojny gospodarka USA starała się wrócić na spokojne tory i ustabilizować swój poziom. W 1929 roku napotkała jednak ogromne utrudnienie w postaci kryzysu ekonomicznego, który zapoczątkował znany z historii Czarny Czwartek. Aby przetrwać trudny czas, Timex postanowił stworzyć coś niezwykłego, co zapewni mu sympatię obecnych i zainteresowanie nowych klientów. Stworzono więc kolekcję zegarków zdobionych motywem popularnej w US Myszki Mickey. Bajkowa mysz pojawiła się na tworzony na mocy licencji Disneya czasomierzach kieszonkowych i naręcznych, których cena wyniosła 1,5-2,75 USD. Zabieg ten okazał się strzałem w 10. Ludzie pokochali modele, w których mysz z topowej kreskówki wskazuje czas przy użyciu własnych rąk zamiast standardowych wskazówek.
Po raz pierwszy…
Choć wspominając historię marki Timex nazwy tej używamy już w odniesieniu do początków funkcjonowania przedsiębiorstwa, w rzeczywistości pierwszy raz użyto jej w 1951 roku. Wraz z Wprowadzeniem nowej, oficjalnej również dziś nazwy, Timex postanowił wprowadzić do swojej firmy innowacyjne rozwiązania. Dotyczyły one zarówno samych zegarków, procesu ich produkcji, ale również dystrybucji i reklamy. Jako że lata 50-te były w USA czasem, kiedy prężnie rozwijały się prace nad emisją spotów reklamowych, władze firmy postanowiły, że nie może zabraknąć tego typu reklamy dla ich produktów. Klienci mogli więc podziwiać czasomierze już wszędzie. W sklepach, na ulicy, a nawet w telewizji. Towarzyszyło im chwytliwe hasło reklamowe stworzone przez Johna Camerona Sweyze'a"It takes a licking and keeps on ticking", które oznaczało, że zegarki Timex nie jest łatwo zniszczyć.
Timex rozwijał swoje skrzydła także w kwestii tworzenia samych czasomierzy. Wykorzystując zmiany społeczne w latach 60' i kierując się popytem na efektowne dodatki modowe, zaczął promować swoje produkty właśnie jako praktyczny, ale i atrakcyjny wizualnie gadżet, który można dopasować do strojów na różne okazje. Było to doskonałe posunięcie, które sprawiło, źe słupki sprzedaży wystrzeliły w górę.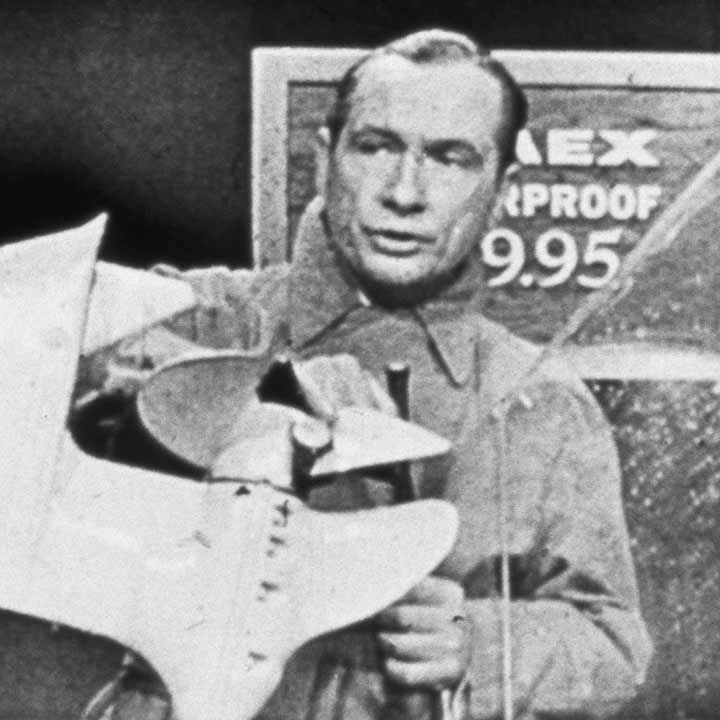 Innowacyjne osiągnięcia Timex
W latach 70 Timex fabryki Timexa wręcz wrzały z powodu nowego produktu jaki miał wyjść na rynek – zegarka z wyświetlaczem ciekłokrystalicznym LCD. Był to wynalazek na skalę światową, który nie tylko Timexowi, ale i jego konkurentom otworzył oczy na nowe możliwości w zegarmistrzostwie, przekonując tym samym klientów, że mogą chcieć i wymagać więcej. Teraz mogli bowiem kupić czasomierz z opcją stopera, alarmu, kalkulatora i mieć przy sobie tylko jedno urządzenie zamiast kilku. Na mocy tego osiągnięcia postanowiono pójść za ciosem i stworzyć zegarek sportowy. Do jego stworzenia wykorzystano opinie i sugestie triathlonowców, którzy zresztą z czasem stali się nie tylko głównymi odbiorcami, ale i "reklamą marki". Sportowa linia nazwana Ironman, na cześć niezłomnych ludzi z żelaza (trenujących triathlon) w mgnieniu oka stała się amerykańskim bestsellerem, a firma mogła odhaczyć na swojej liście kolejny sukces.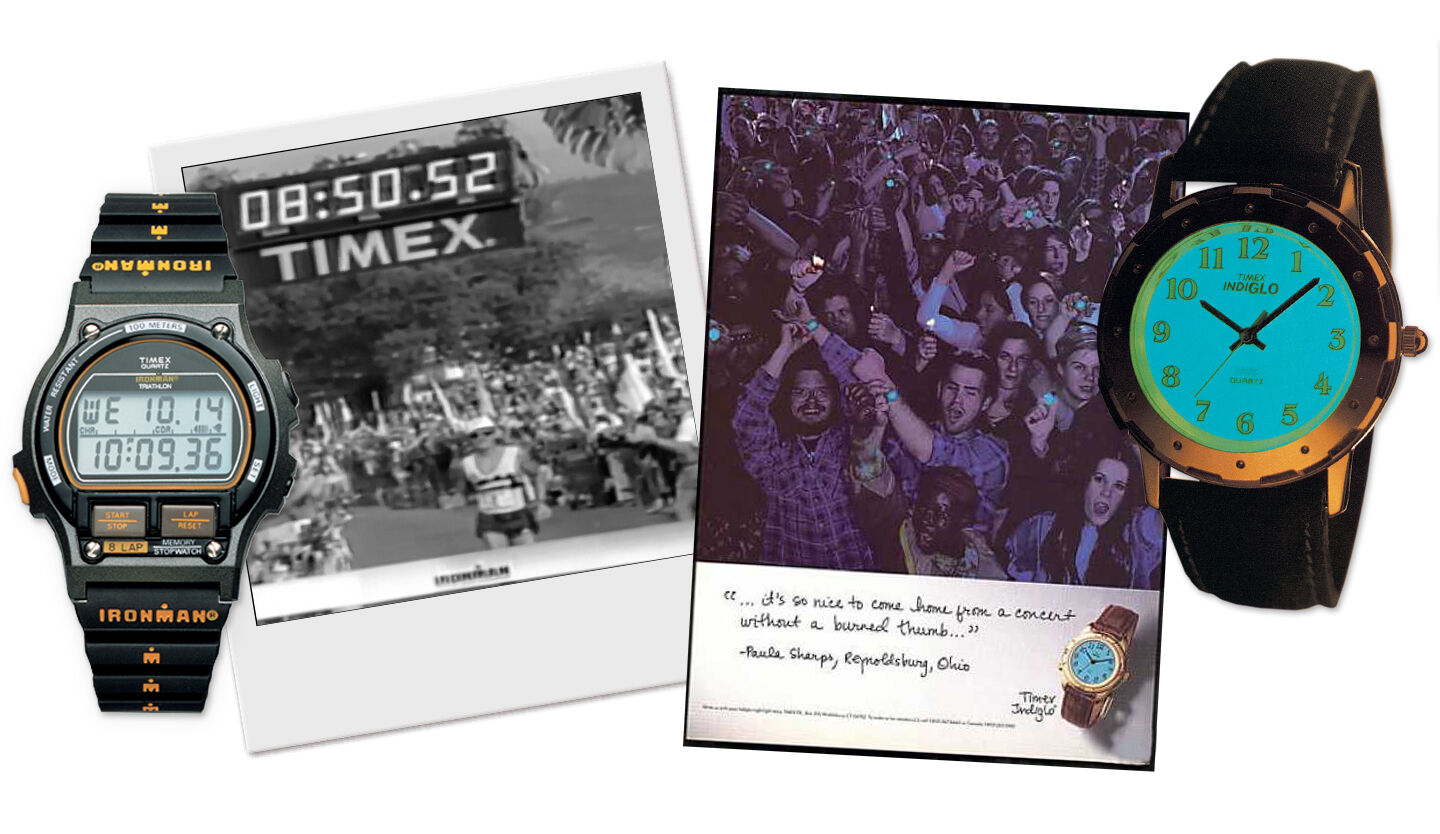 Jak to zwykle bywa, jedno zwycięstwo napędza kolejne. Nie inaczej było w przypadku Timexa. W 1992 roku, wykorzystując zjawisko elektroluminescecji, udało się opracować system podświetlania tarczy o nazwie Indiglo, z którego korzystamy do dziś. Przyciskając koronkę czasomierza uruchamiamy podświetlenie w niebieskawo-zielonym kolorze, którego barwa i nasycenie zmieniają się w zależności od koloru cyferblatu.
Współpracując z wieloma potężnymi firmami, Timex stworzył szereg linii, które do dziś cieszą się ogromnym powodzeniem. Ogromne brawa marka zebrała za opracowanie stworzonego w 1995 roku na bazie współpracy z marką Microsoft modelu Timex Data Link, który w prosty sposób umożliwiał przekazanie danych z komputera do systemu zegarka.
Jak radzi sobie firma Timex w obecnych czasach?
Obecnie Timex jest jedną z najpopularniejszych marek na świecie zajmujących rynek zegarków w kategorii cenowej niskiej/średniej. Zgodnie z pierwotnymi założeniami trafia do każdego niemal klienta, przedstawiając mu ofertę zróżnicowaną pod kątem funkcji oferowanych modeli jak i ich designu. Timex tworzy ciekawe, autorskie rozwiązania, które często bazują na modelach cieszących się uznaniem we wczesnych etapach działania firmy. Dzięki temu nasze nadgarstki zdobić mogą linie nawiązujące do czasomierzy stworzonych dla potrzeb amerykańskiej armii – kolekcje MK1 czy Welton oraz inspirowany modelami mechanicznymi i automatycznymi z lat 60 – Marlin.
Poza modelami inspirowanymi przeszłością, amerykański producent jest bardzo otwarty na to, co nowe. Czasomierzom sygnowanym jego logo nie sposób odmówić innowacyjności, a projektantom kreatywności. Ofertę marki poszerzają nieustannie nowe modele, które różnią się od siebie tak bardzo, że potrafią wpasować się w gust najróżniejszych osób. Wystarczy spojrzeć na kolekcję Weekender – sama w sobie najlepiej wyraża dywersyfikację produktów okiem Timexa.
Gdzie produkowane są zegarki Timex?
10 błędów użytkowania zegarka
Tani zegarek może być dobry!