Tani zegarek może być dobry!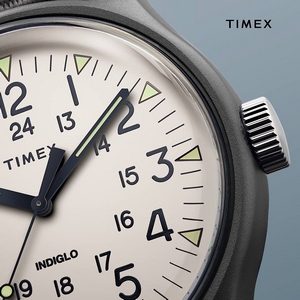 Czy tani zegarek może być dobry? A no może! Przykładem tego są zegarki Timex. Dlaczego są takie dobre mimo, że kosztują niewiele? Sprawdźmy…
Tanie zegarki dla każdego
Ogromną zaletą Timexów jest ich bardzo wysoka dywersyfikacja, która sprawia, że trafiają w oczekiwania praktycznie każdego. Prezentują różne style, dzięki czemu dopasować je można do potrzeb osób w każdym wieku, lubiących zupełnie różne sposoby ubierania. Jakie linie szczególnie zwracają uwagę pań i panów? Przekonajmy się!
Eleganckie i klasyczne czasomierze
Dużą część oferty produktowej Timexa stanowią damskie i męskie zegarki eleganckie, które prezentują klasyczne wzornictwo. Opierają się one na sprawdzonych materiałach wykonania zachowanych w stonowanych kolorach. Przeważają tu czarne i brązowe paski skórzane wyposażone w klasyczne sprzączki lub zamiennie stalowe bransolety o klasycznych ogniwach. Koperty okrągłe, wykonane z antyalergicznej stali szlachetnej 316l kryją mechanizmy japońskie zasilane baterią. Na analogowych tarczach widzimy arabskie cyfry lub indeksy godzinowe jak również logo marki i informację o zastosowanym podświetleniu Indiglo, które jest opatentowanym tworem Timexa. Modele te zaczynają się od bardzo niskiej kwoty, bo już od 89zł, a sami przyznacie, że jest to kwota jaka zdecydowanie nie przeraża jeśli chodzi o zakup czasomierza.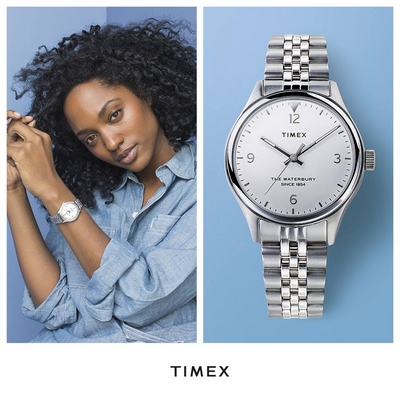 Casualowe i sportowo-eleganckie modele dla niej i dla niego
To kolejny dział oferty Timexa, który zasługuje za uwagę. Znajdziemy w nim damskie i męskie zegarki, które prezentują tzw styl codzienny. To już nie tylko skórzane, ale również materiałowe paski w różnych odcieniach, często dobieranych tak, aby przedstawiać niestandardowe zestawienie kolorystyczne. To cyferblaty, które oprócz standardowych oznaczeń, przedstawiają również dodatkowe tarcze stopera (chronografu) czy multifunkcyjnego datownika. To w końcu bransolety meszowe czyli takie, które wykonane są nie z typowych ogniw, ale ze stalowej siateczki, która zdaniem niektórych przypomina bardziej pasek niż bransoletę. 
To chyba mój ulubiony dział zegarków Timexa. Mają wszystko to, czego oczekuję od zegarka – niską cenę, wysoką jakość, dużą funkcjonalność i świetny design. Ponieważ sportowe zegarki Timex są niejako wizytówką ich marki i wiążą się także z ich marketingiem (imprezy triathlonowe Ironman) sa maksymalnie dopieszczone. To modele wykonane głównie z tworzywa sztucznego, które sprawia, że są lekkie i wygodne w użytkowaniu. Posiadają cyfrowe wyświetlacze, na których widać nie tylko aktualną godzinę, ale również pomiary wskazywane przez funkcje takie jak stoper, licznik okrążeń, kalorii, krokomierz, termometr itd. To także dotykowe tarcze w kolekcjach tap screen, które pozwalają na sterowanie funkcjami zegarka przy użyciu palca. Sportowe zegarki Timex mają nawet opcję shock resistant, która podobnie jak w przypadku G-shocków chroni je przed uszkodzeniem w wyniku wstrząsów. Patrząc na cenę sportowych Timexów, która zaczyna się od 99zł nie sposób nie docenić tej marki!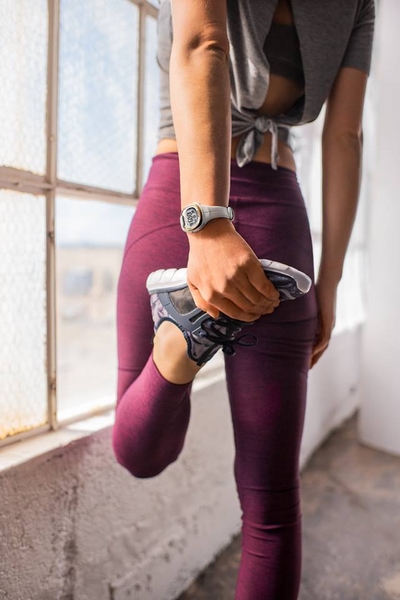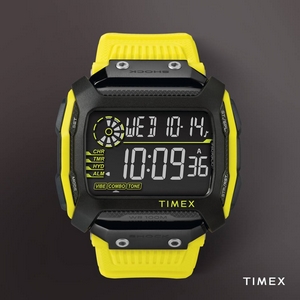 Jak widać tanie zegarki też mogą być dobre i okazuje się, że wcale nie trzeba płacić kolosalnych kwot, żeby zakupić produkt, który będzie nam służył przez długie lata. A jakie jest Twoje zdanie? Czy wysoka cena zawsze idzie w parze z jakością? A może bywa tak, że tańsze zegarki są lepsze niż drogie? Podzielcie się z nami swoją opinią w komentarzu i dajcie łapkę w górę, jeśli też lubicie modele Timex.