Fossil automatyczny
Automatyczne zegarki Fossil
Jeśli do tej pory myślałeś, że Fossile to tylko zwykłe, analogowe modele kwarcowe, to muszę Cię rozczarować. Byliście w błędzie! I to poważnym, bo Fossile to także modele multifunkcyjne i … automatyczne!
Co to są zegarki automatyczne?
Określenie to tyczy się określonego rodzaju modeli, a wynika z zastosowania w nich konkretnego typu mechanizmu jaki opisuje się mianem automatyczny. Oznacza to, że działa on automatycznie czyli inaczej mówiąc – samoistnie. No… prawie. Bo, aby działać potrzebuje np. ruchu Twojej ręki! W wyniku ruchu ręki rotor, który inaczej nazywamy wahnikiem, obraca się i w tym czasie naciąga sprężynę napędową zegarka. Taki ciąg zdarzeń sprawia, że model, który systematycznie nosimy pracuje praktycznie bez zarzutu i jedynie od czasu do czasu potrzebuje delikatnej, kosmetycznej korekty wskazań. Zegarki tego typu posiadają również tzw. rezerwę chodu, która sprawia, że czasomierz, np. zegarek automatyczny Fossil, pracuje prawidłowo przez około 40 godzin od zdjęcia go z nadgarstka (40 godzin to standardowa długość rezerwy chody, jednak istnieją wyjątkowe modele jak Powermatic 80,  które mają dużo wyższą rezerwę-czytaj więcej tutaj). Zdaniem wielu osób modele automatyczne są zdecydowanie lepsze niż odpowiedniki kwarcowe zasilane baterią, szczególnie, że odchylenia ich wskazań to -10/+25 sekund na dobę, a nie jak przy standardowym kwarcu (+/-20sekund na dobę)
Fossile automatyczne?
Idąc na przeciw oczekiwaniom klientów, marka Fossil postanowiła poszerzyć swoją ofertę o modele wyposażone w mechanizmy automatyczne. Pierwsze takie modele pojawiły się już przeszło 5 lat temu, ale dopiero niedawno nabrały one popularności, a gama tych produktów zdecydowanie się poszerzyła. Zauważ, że są to produkty skierowane zarówno do Pań i Panów, jednak zdecydowana większość to modele męskie. Na polskim rynku dostępne są właściwie tylko czasomierze Fossil automatyczne dla mężczyzn i takie też znajdują się w naszej ofercie.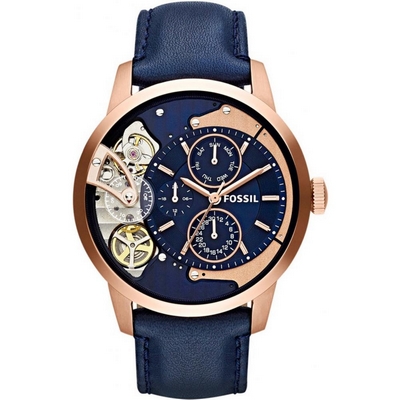 Kolekcje zegarków Fossil automatycznych
Szeroki wybór modeli Fossil automatycznych wynika z wysokiego zróżnicowania produktów pod kątem wizualnym, ale również rodzaju stosowanych mechanizmów. W zależności od linii możemy spotkać japońskie mechanizmy automatyczne o 21 i 22 kamieniach lub chińskie werki o liczbie kamieni wynoszącej 20. Każda z kolekcji – Townsman, Commuter czy Grant charakteryzuje się duża dywersyfikacją pod względem kolorystycznym – granatowe, czarne, brązowe czy jasne tarcze i koperty jak również skórzane paski i bransolety w różnych odcieniach. Tarcze typu open heart posiadają różne kompilacje przez co czasomierze automatyczne Fossil przyciągają wzrok swoim designem i dają duże pole manewru przy dokonywaniu wyboru tego, który najbardziej nas interesuje.
Cena automatów Fossil
Zegarki automatyczne Fossila są modelami droższymi niż ich kwarcowe odpowiedniki. Taki stan rzeczy nie jest niczym wyjątkowym, gdyż powtarza się w każdej praktycznie marce i wynika to z kosztu samego mechanizmu. W przypadku Fossila ceny zaczynają się od około 600zł i dochodzą do 1200zł w zależności od modelu.
Fossile automatyczne to z pewnością idealne rozwiązanie dla tych, którzy chcą mieć nietuzinkowy czasomierz zachowany w dobrym stylu, zgodnym z obowiązującymi trendami. Czy jednak można w jakikolwiek sposób porównywać je do innych, popularnych automatów w tej klasie cenowej jak chociażby Orient? Jakie jest Wasze zdanie? Opowiedzcie nam o tym w komentarzu. Jesteśmy bardzo ciekawi, czy automatyczne Fossile mają więcej fanów czy raczej przeciwników 😉