Zestawy upominkowe Tommy Hilfiger (Zegarek + Biżuteria TH)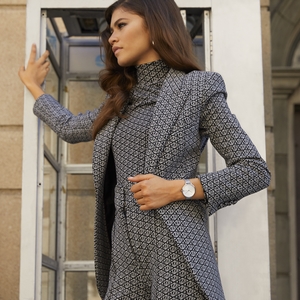 Zestawy upominkowe Tommy Hilfiger – Zegarek + Biżuteria TH
Marka Tommy Hilfiger to wiodący producent  odzieży, dodatków, a także perfum, który rozpoznawany jest na całym świecie. Nie ma kontynentu, na którym nie można byłoby znaleźć produktów sygnowanych logo tego amerykańskiego projektanta. I pomyśleć, że wszystko zaczęło się od marzeń nastolatka, którego pasją była moda… (więcej o historii marki Tommy Hilfiger przeczytasz tutaj)
Portfolio marki TH, choć silnie rozbudowane, nieustannie się powiększa. W każdym sezonie nasze oczy cieszą kolejne projekty ubrań, galanterii, biżuterii i zegarków, po które kobiety i mężczyźni na całym świecie sięgają z ogromnym entuzjazmem. Imponować może gama produktowa jako całość, jak również każdy model indywidualnie, gdyż firma dba o to, aby można było wybierać spośród licznych wariantów kolorystycznych. Tak duża dywersyfikacja wzmaga zainteresowanie ze strony klientów i pomaga dotrzeć do osób w różnym wieku.
Choć najbardziej rozpoznawalne i najczęściej kupowane są produkty z działu odzież, co raz większym powodzeniem cieszą się zegarki i biżuteria Tommy Hilfiger. Rosnąca popularność tej kategorii produktów sprawia, że producent stara się wychodzić na przeciw oczekiwaniom klientów łącząc czasomierze i biżuterię w zestawy upominkowe, które szczególnie w okresie świątecznym zdają się być absolutnym hitem.
Zestawy upominkowe Hilfigera – co kupujesz w zestawie?
W naszym sklepie nie może zabraknąć zestawów upominkowych Tommy Hilfiger. Choć w ofercie marki pojawiają się systematycznie już od kilku sezonów, okres zimowy szczególnie sprzyja wprowadzaniu do oferty kolejnych wariantów. Ponieważ zestawy te komponowane są przez producenta z nakierowaniem na płeć, zawierają zegarek damski lub męski i odpowiednią biżuterię. W przypadku opcji dedykowanych mężczyznom, producent oferuje kompozycje złożone z czasomierza oraz spinek do mankietów lub w drugim wariancie – bransoletki męskiej. Oba elementy dopasowane są do siebie pod kątem wizualnym tak, aby stanowiły spójną całość i mogły razem dopełniać męskie stylizacje. Z myślą o kobietach przygotowano komplety składające się z zegarka Tommy Hilfiger damskiego oraz kolczyków lub w alternatywie – bransoletki. Tak jak w opcjach dedykowanych mężczyznom, zauważalna jest tu wysoka spójność między designem czasomierza a dołączonej do niego biżuterii. Zabieg ten sprawia, że kupując zestaw możemy mieć gwarancję posiadania idealnie dobranej pary dodatków, która przełoży się na sukces naszej stylizacji.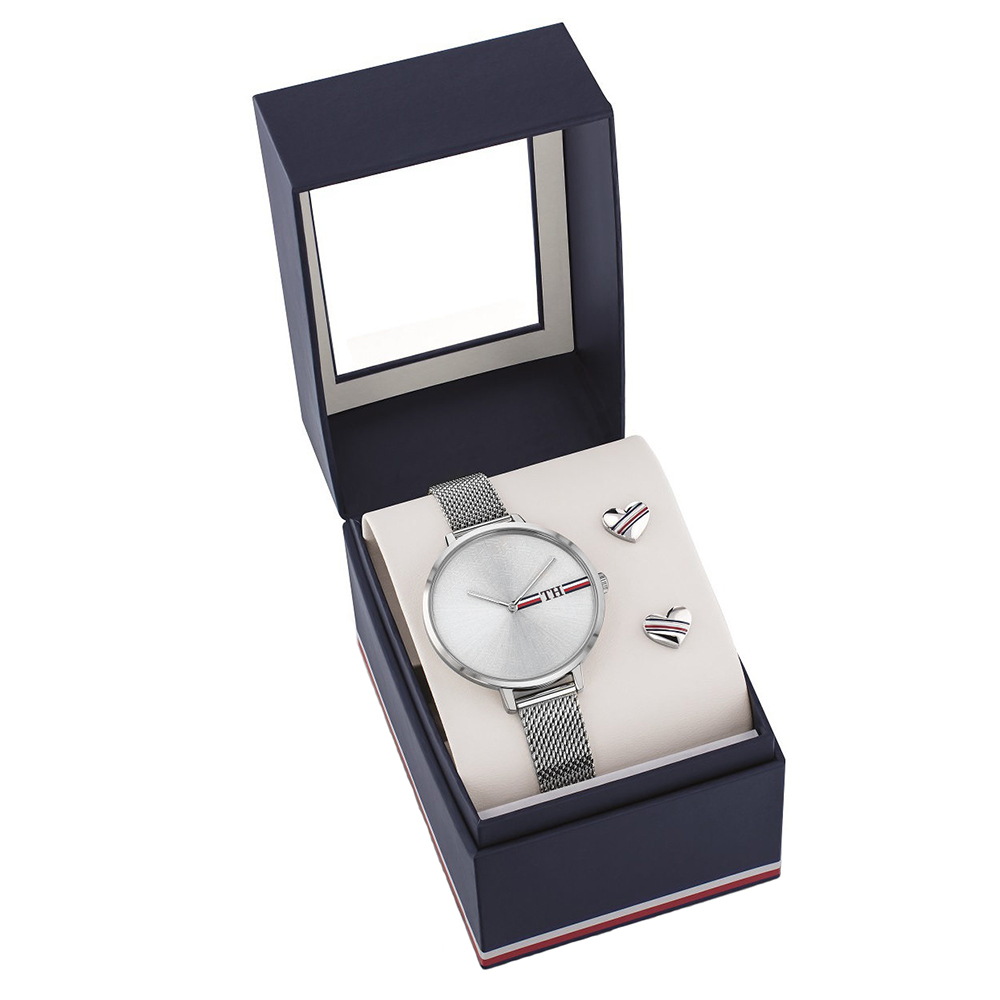 Ile kosztują zestawy upominkowe Tommy Hilfiger
Marka Tommy Hilfiger to firma, której produkty znajdują się w klasie cenowej określanej mianem średniej/wyżej. Jej ceny odzieży balansując wokół kwot od 300zł do tysiąca i więcej. Jeśli chodzi o zegarki, można porównać je do innych marek świata mody jak Fossil, Armani Exchange czy Timberland, których ceny rozpoczynają się od kwoty 300-400zł i dochodzą do sumy zbliżonej do kwoty 800zł. Zestawy upominkowe TH również mieszczą się w podanym przedziale cenowym czym zyskują sobie wzmożoną atencję klientów. Dzięki połączeniu produktów z dwóch zbliżonych kategorii i utrzymaniu atrakcyjnej ceny, otrzymujemy zestawy, obok których nie można przejść obojętnie. 
Dlaczego warto kupić zestaw upominkowy Tommy Hilfiger (zegarek + biżuteria) na prezent?
Przede wszystkim dlatego, że jest to niezwykle wygodne a jednocześnie efektowne rozwiązanie. Już na pierwszy rzut oka zauważamy estetyczne opakowanie w kolorach nawiązujących do logo marki. Po jego otwarciu widzimy nie jeden, a dwa produkty, co sprawia, że od razu rośnie pozytywny wydźwięk podarowanego prezentu – w końcu dajemy bliskiej osobie "coś więcej". Wreszcie uwagę przykuwa design i logo producenta, które u większości osób interesujących się modą wywołują entuzjazm. W końcu Tommy Hilfiger cieszy się doskonałą opinią fanek i fanów świata fashion. Zestawiając wszystkie te elementy otrzymujemy prezent idealny z perspektywy osoby obdarowanej, a kiedy dołożymy do tego cegiełkę w postaci niewygórowanej ceny, mamy powód do radości także jako kupujący.
A co z samymi zegarkami Tommy Hilfiger?
Jeśli nie znajdujesz nic dla siebie ani bliskich wśród zestawów upominkowych TH nie musisz zwieszać głowy. Zegarki sygnowane logo tego producenta to naprawdę doskonałe produkty, które gwarantują satysfakcję z użytkowania. Posiadają japońskie mechanizmy Miyota zasilane baterią, które z powodzeniem odmierzają czas nawet przez wiele lat. Ich design balansujący na granicy elegancji i sportowego ducha sprzyja noszeniu czasomierzy damskich i męskich Tommy Hilfiger od święta jak i na co dzień. Modele te są wysoce efektowne, a jednocześnie nie zaburzają wizji tworzonej przez nas stylizacji. Współgrają z innymi dodatkami i dopełniają nasz "look" czyniąc go mniej lub bardziej oficjalnym. Nie da się ukryć, że są to produkty, obok których nie sposób przejść obojętnie.
Poznaj już dziś wszystkie produkty marki TOMMY HILFIGER