Jaki smartwatch dla pań? Najlepsze damskie smartwatche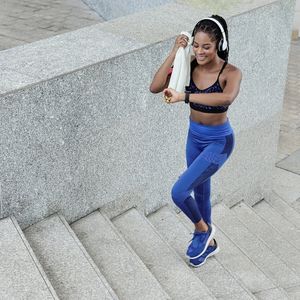 Smartwatche to wielofunkcyjne gadżety, a panie sięgają po nie coraz częściej. Dostępne na rynku urządzenia są funkcjonalne i piękne. Specjalnie dla Ciebie przygotowaliśmy zestawienie najważniejszych informacji. Jeśli zastanawiasz się, jaki smartwatch dla pań kupić, przeczytaj i dowiedz się więcej. Wyjaśniamy, jaki kształt wyświetlacza wybrać, czy pasek jest lepszy niż bransoleta oraz jakie są najpopularniejsze modele w 2022 roku.
Jaki smartwatch dla pań – czym powinien się charakteryzować dobry damski zegarek?
Kobiety podchodzą do zakupu zegarka zupełnie inaczej niż mężczyźni. Oczywiście zwracają uwagę na funkcjonalność, ale nie tylko. Dobry smartwatch dla pań musi przede wszystkim stanowić gustowny i stylowy dodatek. Istotne jest przy tym uwzględnienie osobistych upodobań. Na szczęście producenci czasomierzy wychodzą naprzeciw tym oczekiwaniom. Tworzą modele, które świetnie się prezentują, a jednocześnie są naprawdę praktyczne. Przyglądamy się temu, czym charakteryzują się najlepsze smartwatche dla pań.
Jeśli design, to atrakcyjny
Wybierając, jaki smartwatch dla pań kupić, w pierwszej kolejności trzeba wziąć pod uwagę jego stylistykę. Musi odpowiadać oczekiwaniom właścicielki i być być atrakcyjna. Część klientek woli elegancki, stonowany design. Inne stawiają na mocne, wyraziste linie, które podkreślą ich charakter. Lwią część sprzedaży stanowią również zegarki sportowe. Taki smartwatch dla kobiety jest nie tylko praktyczny, ale również bardzo funkcjonalny. Bezpieczną opcją jest zakup na prezent smartwatcha, który można personalizować. Szczególnie wtedy, gdy producent zapewnia wiele rodzajów wymiennych akcesoriów.
Ekran musi być czytelny
Wybierając jaki smartwatch dla dziewczyny kupić, powinieneś sprawdzić, jak wygląda wyświetlacz. Chodzi nie tyle o design, co o czytelność wskazań i powiadomień. Kształt często jest kwestią gustu, ale wyświetlacz musi być wysokiej jakości. Jednymi z najpopularniejszych są wydajne ekrany AMOLED. Niektóre modele mają wbudowane czujniki, które dostosowują poziom jasności do pory dnia. To użyteczna funkcja, dzięki której oszczędza się energię. 
Bezproblemowa łączność z telefonem
Dobry smartwatch damski musi szybko i bezproblemowo łączyć się ze smartfonem. Chodzi przede wszystkim o to, by smartwatch dla dziewczyn współpracował z systemami Android lub iOS. Przeważająca większość producentów dostarcza rozwiązania, które działają z każdym smartfonem, ale mogą zdarzyć się wyjątki. Niekiedy producenci zaznaczają, że oferują wyłącznie smartwatch Android damski. Inni gwarantują kompatybilność z każdym telefonem.
Dla posiadaczki produktów Apple, iWatch uważany jest za najlepszy smartwatch damski do iPhone. Współpraca między tymi urządzeniami jest bardzo płynna. Obecnie coraz częściej producenci próbują pogodzić ze sobą dwa światy, dlatego wiele smartfonów obsługuje zarówno iPhony, jak i telefony z Androidem.
To, czy wybrany damski smartwatch jest dostosowany do wybranego systemu sprawdzisz, zaglądając do jego specyfikacji technicznej. Szczegółowych informacji poszukaj też w internecie. Przeczytaj wypowiedzi klientów, którzy już korzystają z danego modelu. Dzięki temu unikniesz irytujących problemów w połączeniu na lini smartfon – smartwatch.
Niewielka waga smartbandów
Dobry smartband damski powinien mieć optymalną wagę. Gdyby był zbyt ciężki, zacząłby przeszkadzać w codziennych czynnościach. Co więcej, panie mają zwykle szczupłe nadgarstki, więc duży i ciężki smartband wyglądałby nienaturalnie. Decydując, jaki smartband dla pań kupić, weź pod uwagę ten parametr.
Przypadkowe zachlapania, czyli wodoszczelność
Wypadki chodzą po ludziach, a zachlapania i zalania mogą zdarzyć się każdemu. Wysoki poziom wodoszczelności to atut, który mają najlepsze produkty. Odporność na wodę jest oczywistym kryterium, jeśli zegarek ma służyć na treningach. Smartwatch damski sportowy musi mieć optymalny poziom ochrony przed wodą. Dzięki temu właścicielka będzie mogła bez skrępowania pływać z nim w basenie.
W dzisiejszych czasach wielu producentów zapewnia smartwatche dla pań o świetnym poziomie wodoszczelności oraz ochrony przed ciałami stałymi (kurz, pył, itp.). Polecamy szczególnie modele posiadające certyfikaty:
IP 67. Wytrzymają zanurzenie w wodzie stojącej na głębokość 1 metra przez 30 minut, co wystarczy kobietom, które nie chcą rozstawać się z zegarkiem na czas kąpieli lub okazjonalnego pływania w basenie.
IP 68. Przystosowane do noszenia w czasie pływania i nurkowania w trybie ciągłym, przy czym producenci zazwyczaj za kryterium biorą pełne zanurzenie sprzętu przez 60 minut
Ile trzyma bateria?
Najlepsze smartwatche damskie mają mocne akumulatorki, które wytrzymują do kilku dni na jednym ładowaniu. Chociaż za dobrą baterię trzeba zapłacić więcej, warto to zrobić. Nie ma nic bardziej irytującego, jak częste oglądanie wskaźnika naładowania – nie lubią tego ani kobiety, ani mężczyźni. Wybierając damski smartwatch, ranking pokazuje między innymi pojemność baterii. Dobrze jest zwracać na to uwagę.
Ogromną zaletą okaże się opcja ładowania bezprzewodowego, indukcyjnego. Zdecydowanie ułatwi codzienne użytkowanie, zapewniając duży komfort. Szczegóły dotyczące czasu pracy na baterii oraz opcji ładowania, zawsze są podawane przez producenta w przybliżeniu. Na faktyczny czas działania na jednym ładowaniu wpływa to, jak intensywnie smartwatch jest wykorzystywany.

Smartwatch dla pań – wielkość damskich zegarków
Jeśli zastanawiasz się, jaki smartwatch dla pań kupić, dobrze przemyśl jego wielkość. Kobiety mają na ogół drobniejszą budowę ciała niż mężczyźni. To definiuje rozmiary biżuterii i akcesoriów. Wiele pań uważa, że na ich nadgarstkach lepiej prezentują się niezbyt duże zegarki.
Dla wielu kobiet optymalne wymiary koperty oscylują w pobliżu 40 mm, czyli około 1,6 cala. Taki rozmiar pozwala na czytelny odczyt godziny i wszystkich powiadomień. Jednocześnie,  smartwatch damski mały nadal wygląda delikatnie i elegancko.
Z drugiej strony, jeśli kobieta chce mieć do dyspozycji większy wyświetlacz, nie stanowi to problemu. Wielu producentów dostarcza świetne smartwatche damskie, które mają rozmiary przekraczające 40 mm. Im większy ekran, tym łatwiej odczytać wszystkie powiadomienia. Można więc założyć, że wszystko zależy od osobistych preferencji.
Kompromisem mogą okazać się modele unisex, które mają uniwersalne rozmiary i wygląd. Są one starannie zaprojektowane, tak by pasować jako zegarek dla kobiety lub mężczyzny. Ewentualna personalizacja obejmuje zmianę paska i wyświetlanej tarczy.
Smartwatch dla pań – pasek czy bransoletka. Na co się zdecydować?
Damskie smartwatche oferowane są w różnych konfiguracjach, na pasku lub bransolecie. Niekiedy niełatwo podjąć decyzję, które rozwiązanie będzie najlepsze. Wiele zależy od osobistych preferencji, choć każde zapięcie ma swoje wady i zalety. Żeby wiedzieć, jaki smartwatch damski wybrać, przeczytaj poniżej informacje o paskach i bransoletach. 
Smartwatch na bransolecie – czym się wyróżnia?
Najlepsze smartwatche dla kobiet na bransolecie łączą w sobie funkcjonalność i elegancki wygląd. Mogą służyć za element codziennej biżuterii, ponieważ ogniwa bransolet często są srebrne lub złote. Co więcej, bransoleta sprawia, że smartwatch nabiera sportowego zacięcia.
Dostępne są różne rozwiązania, dlatego tak ważne jest dostosowanie smartwatcha do osobistych upodobań. Szersza bransoleta jest masywna i może podkreślać siłę charakteru kobiety. Z drugiej strony mniejsza bransoletka to jest optycznie lżejsza i zwiewna. Mają ją eleganckie smartwatche damskie.
Obecnie dostępne są różne rodzaje bransolet dla smartwatchy:
Bransolety z dużych i średnich ogniw są mocne i masywne. Polecamy je przede wszystkim paniom o silnym, dominującym charakterze, które chcą go podkreślić
Bransolety mesh powstają z drobno splecionych elementów stalowych. To zarazem najczęściej spotykane bransoletki. Świetnie wyglądają i nie podrażniają skóry
Bransolety biżuteryjne, których głównym zadaniem jest ozdabiać nadgarstek właścicielki. Nierzadko pojawiają się na nich złoto, srebro czy kryształki. Wykończenie takie charakteryzuje smartwatch damski top, produkt segmentu premium.
Smartwatch na bransolecie będzie trwały, ponieważ stal jest odporna na działanie wilgoci. Ponieważ bransoletka wykonuje się z wysokiej jakości materiałów, nie wywołuje reakcji alergicznych. Oprócz tego, nie uwiera i nie powoduje dyskomfortu. To sprawdzony wybór na lata.
Smartwatche dla pań na pasku – kiedy je wybrać?
Drugą popularną opcją jest smartwatch dla kobiety na pasku. To cała rodzina produktów, obejmująca szeroki wachlarz możliwości. Paski pozwalają na niemal nieograniczone możliwości personalizacji. Mogą przybierać różne formy, a nawet prezentować zdobienia 3D. Niektóre paski posiadają perforacje do odprowadzania ze skóry wilgoci czy potu. Ponadto, szeroka gama kolorystyczna dostępnych na rynku pasków, potrafi wprawić w zachwyt każdą kobietę.
Najpopularniejsze smartwatche mają paski wykonane z jednego z trzech materiałów:
Paski silikonowe, tworzone są głownie z myślą o osobach aktywnych. Wyróżnia je wysoka wytrzymałość, całkowita wodoszczelność i nieskończona gamą dostępnych kolorów. Łatwo utrzymać je w czystości i dobrze leżą na nadgarstku
Paski nylonowe są z każdym rokiem coraz popularniejsze. Miękkie i wytrzymałe, gwarantują odporność na wilgoć. Wybierają je panie, które chcą nosić smartwatch do strojów casualowych
Paski ze skóry naturalnej to przede wszystkim domena kobiet, które szukają zegarka do eleganckich kreacji. Skóra jest niezwykle miękka i przyjemna w dotyku, ale wymaga pielęgnacji i może pękać lub przebarwiać się pod wpływem wilgoci
Kolorystyka i stylistyka – jaki smartwatch dla pań wybrać?
Decydując, jaki kupić smartwatch damski, kolory i stylistyka grają pierwsze skrzypce. Panie zwracają uwagę na wygląd, nawet na pozornie nic nieznaczące detale. Dlatego najlepsze smartwatche dla kobiet są perfekcyjnie wykończone. 
Część pań kocha tył glamour i efektowne zdobienia. w takim przypadku smartwatch dla kobiety powinien przykuwać wzrok. Dobrze widziane są elementy w kolorze srebra lub złota albo efektowne paski. Warto zwrócić uwagę na jakość użytych do produkcji materiałów, a także ozdobników.
Z drugiej strony, niektóre kobiety wolą bardziej agresywną, sportową stylistykę. Inne stawiają na klasykę, czyli czerń, biel, ewentualnie srebrne dodatki. Ponieważ zegarek ma podobać się przede wszystkim właścicielce, kupując smartwatch damski na prezent, warto wziąć pod uwagę charakter i upodobania obdarowanej. Pozwoli na na uniknięcie nietrafionego zakupu.
Kameleon, czyli możliwość personalizacji
Pewnego rodzaju wybawieniem w kwestii wyglądu jest oferować możliwość personalizacji. Niejeden smartwatch damski można dowolnie dostosować do swoich oczekiwań. Ogromnym atutem jest opcja zmiany wyglądu tarczy lub wymiany paska. Dzięki temu panie mogą szybko dopasować smartwatch do aktualnej kreacji lub swojego samopoczucia. Personalizacja to najtańsza opcja na błyskawiczną zmianę stylu. Pomaga dopasować smartwatch dla kobiety do posiadanej kreacji.
Tarcza smartwatcha dla pań – okrągła czy prostokątna?
Na rynku smartwatchy dominujące są dwa formaty wyświetlaczy. Panie mogą wybierać między ekranami okrągłymi i prostokątnymi (czy raczej kwadratowymi). Każde rozwiązanie ma swoich przedstawicieli, choć niektóre firmy (np. Apple) decydują się zostać wyłącznie przy tarczach kwadratowych. Podejmując decyzję: okrągła czy prostokątna, warto wziąć pod uwagę kilka czynników.
Stylistyka
To mocno subiektywna dziedzina, ponieważ każdej kobiecie może podobać się coś innego. Mimo wszystko, smartwatch damski okrągły wyglądem przypomina swoich klasycznych odpowiedników, czyli zegarki analogowe. Właśnie tego szuka część pań. Z drugiej strony, smartwatch damski kwadratowy intryguje czymś nowym. A podążanie za trendami jest wpisane w kobiecą naturę.
Ze stylistyką nieodłącznie wiąże się kwestia wymiennych tarcz. W przypadku wyświetlaczy prostokątnych, zaimportowanie tarczy przypominającej klasyczny, analogowy zegarek, wyglada bardzo nowocześnie, wręcz futurystyczne. Na pewno spodoba się kobietom energicznym, odważnym, które chcą tworzyć niebanalne kreacje. Jeśli chodzi o tarcze okrągłe, pozwalają one nieco bardziej zbliżyć się do klasycznej formy. Często wybierają je klientki, które chcą mieć elegancki smartwatch damski.
Czytelność aplikacji
Jedną z aplikacji, która często jest porównywana miedzy modelami o ekranach okrągłych i prostokątnych, jest nawigacja. Trzeba przyznać, że na czworokątnych wyświetlaczach wygląda zdecydowanie najlepiej, głownie ze względu na powierzchnię, na której wyświetlają się mapy. Oczywiście mając smartwatch damski okrągły, nawigacja też będzie prezentować się dobrze.
Jeśli masz swoje ulubione aplikacje, jeszcze przed zakupem sprawdź, jak wyglądają na upatrzonym modelu. Dzięki temu łatwiej będzie wybrać między kołem a kwadratem.
Kształt ekranu a płeć
Kobiety najczęściej szukają nieco mniejszych zegarków, z uwagi na smuklejsze dłonie. Niejednokrotnie wybierają okrągłe koperty. Wielu producentów wprowadziło do swojej oferty wyświetlacze prostokątne o mniejszych rozmiarach. Ergonomiczne kształty z pewnością będą odpowiednim wyborem dla pań. Decydując, jaki smartwatch dla pań kupić, poświęć czas na spokojne przymiarki. Zobacz, czy dobrze prezentuje się na nadgarstku. Bez względu na to, czy wybierzesz smartwatch damski kwadratowy, czy okrągły, ważne jest dobre samopoczucie w czasie jego użytkowania.

Jaki smartwatch dla pań – zastosowanie zegarka
Chociaż smartwatch jest postrzegany także jako element codziennego outfitu lub biżuterii, jednym z kluczowych aspektów jest jego funkcjonalność. Dobry smartwatch powinien maksymalnie ułatwiać życie i pozwalać na multizadaniowosć, która tak bardzo kochają kobiety. Poniżej wymieniamy jedynie najważniejsze funkcje, które powinien mieć smartwatch damski top:
Pełna kompatybilność ze smartfonem za pomocą Bluetooth
Odbieranie i wykonywanie połączeń głosowych bezpośrednio z poziomu zegarka
Odczytywanie powiadomień z różnych aplikacji na wyświetlaczu smartwatcha
Opcja odpisywania na wiadomości i e-maile z wykorzystaniem poleceń głosowych i dyktowania
Planowanie zadań w kalendarzu, obsługa przypomnień i alertów
Opcja zarządzania muzyką zapisaną na smartfonie
Śledzenie funkcji życiowych organizmu (tętna, pulsu, poziomu stresu czy informacji o cyklu menstruacyjnym)
Dostęp do pulsoksymetra i ciśnieniomierza
Obsługa płatności zbliżeniowych NFC
Wbudowany moduł GPS dla sprawnej nawigacji w czasie jazdy autem, pieszych lub rowerowych wycieczek
Pamięć lokalna, na którą można zapisać ulubione utwory lub pliki
Przegląd najpopularniejszych modeli smartwatchy dla pań
Huawei Watch GT 2 Pro
Pierwszy w naszym zestawieniu jest nowoczesny smartwatch damski od Huawei może pełnić rolę osobistego asystenta. Jego zaletą jest wielofunkcyjność. Pozwala zorganizować pracę, zaplanować zadania czy ustawić alerty. Oprócz tego, pomoże w określeniu planu treningowego i będzie na bieżąco śledzić funkcje życiowe organizmu, w tym cykl menstruacyjny. Dostępna jest też aktualna prognoza pogody i szybki dostęp do wyszukiwarki Google.
Jeśli chodzi o wytrzymałość, to bardzo dobry smartwatch damski wodoszczelny. Liczne opcje personalizacji z pewnością przypadną do gustu kobietom, które często zmieniają stylizację. Wbudowany mikrofon i głośnik sprawiają, że jest to smartwatch damski z funkcją rozmowy.
Garret Naomi
Propozycja od Garret to elegancki smartwatch damski. Jego design jest starannie przemyślany i przypadnie do gustu kobietom, które na co dzień ubierają się modnie i z klasą. Podstawa gamą produktów to smartwatch damski czarny oraz kremową biel. Co więcej, Garret nie zapomniał o funkcjonalności. Zapewnia pulsometr, ciśnieniomierz, pulsoksymetr oraz krokomierz. Do tego liczne tryby sportowe, odbieranie powiadomień z telefonu i wymienne paski. Panie, które są aktywne, również nie muszą się martwić. Ten damski smartwatch ma wodoodporność na najwyższym poziomie (IP68).
iWatch
Propozycja od Apple to smartwatch iPhone damski . Nie trzeba przypominać, że jest on w pełni kompatybilny z systemem iOS – ta para jest dla siebie stworzona. Produkt z logo nadgryzionego jabłka to propozycja z wyższej półki. Ma moduł GPS, który przyda się w czasie outdooru. Dzięki NFC, posiadaczka zegarka nie musi nosić ze sobą portfela. Wodoodporność sięga 50 metrów. Co ciekawe, Apple montuje w swoich urządzeniach systemy, które wykrywają groźny upadek – jeśli posiadacz pozostaje w bezruchu, zegarek zawiadamia wskazane wcześniej osoby.
Dużą zaletą zegarów od Apple są możliwości personalizacji. Wymienne paski i bransolety oraz mnóstwo tarcz do wyboru sprawiają, że niejedna kobieta chce mieć taki gadżet. Jeśli zastanawiasz się, jaki smartwatch dla pań kupić, iWatch z pewnością warto wziąć pod uwagę.
Amazift GTS 2
Chiński gigant Xiaomi ma w swojej ofercie ciekawy gadżet – zegarek Amazfit GTS 2. To smartwatch damski sportowy. Ma aluminiową kopertę i wyposażony jest w czytelny ekran AMOLED. Co więcej, do dyspozycji klientek pozostaje szereg różnych wariantów kolorystycznych.
Zegarki od Xiaomi stawiają na aktywność fizyczną. Ponad 70 trybów sportowych i funkcji monitorowania pracy organizmu to więcej niż u konkurencji. Ten smartwatch damski GPS mierzy na przykład tętno w czasie spoczynku, ocenia stan zdrowia według normy PAI oraz porównuje wyniki treningów. W obsłudze smartwatcha pomaga dedykowana aplikacja Zepp.
Samsung Galaxy Watch 3
Jeśli chodzi o to, jaki smartwatch dla pań kupić na prezent, ciekawą propozycję ma firma Samsung. Paniom oferuje smartwatch okrągły damski Galaxy Watch 3. Liczne opcje personalizacji sprawiają, że posiadaczka szybko dostosuje go do własnych upodobań. Dostępne są paski i bransoletki w różnych kolorach. Podobnie jak inne modele w zestawieniu, zegarek Samsung pozwala na odczyt powiadomień z telefonu za pomocą Bluetooth i monitoruje wszystkie podstawowe parametry organizmu. Przyda się w czasie codziennych zajęć i na treningach.
Garmin Fenix
Garmin to smartwatch damski top, produkt z najwyższej półki. Polecany jest szczególnie paniom, które kochają aktywność fizyczną. Ma różne tryby monitorujące bieganie, fitness, jazdę na rowerze i inne dyscypliny. Zapewnia łączność Bluetooth oraz WiFi. Przy normalnym użytkowaniu, bateria spokojnie wytrzymuje kilka dni.
Jeśli chodzi o jego wygląd, to stricte zegarek sportowy. Posiadaczka może zmienić wygląd tarczy oraz paski, dzięki czemu dopasuje kolory do własnych upodobań. Liczne funkcjonalności obejmują również prognozę pogody, moduł GPS, opcje płatności zbliżeniowych i wiele innych.
---
Najczęściej czytane teksty ZegarkiCentrum.pl:
Jaki smartwatch dla dziecka, czyli wybieramy pierwszy smartwatch!
Jaki smartwatch z EKG wybrać? Najlepsze zegarki medyczne
Jaki smartwatch dla dziecka wybrać? Najlepsze propozycje
Smartwatch z funkcja dzwonienia