Timex Indiglo
Timex Indiglo
Potrzebujesz zegarka na co dzień, który będzie miał funkcję podświetlenia, ale nie chcesz kolejnego modelu z fluorescencyjnymi wskazówkami? Sprawdź Timex z systemem Indiglo, a na pewno trafisz w 10!
Timex Indiglo alternatywą dla Neobrite
Większość modeli casualowych, które opisywane są szumnie jako podświetlane to tak naprawdę zegarki z podświetleniem Neobrite czyli niczym innym jak warstwą luminescencyjną, która aby świecić w ciemności musi być dobrze nasłoneczniona w dzień. Warstwą tą pokrywane są wskazówki, indeksy godzinowe jak również np dodatkowe tarcze chronografu. Podświetlenie to jest samoistne i nie uruchamia się go żadnym przyciskiem, dlatego mino silnego nasłonecznienia w dzień, nie jest trwałe w nocy i stosunkowo szybko staje się "blade". Indiglo działa zupełnie inaczej. Podświetla cała tarczę kiedy chcesz i na jak długo chcesz, a całość kontrolujesz wciśnięciem i przytrzymaniem koronki.
Historia Timex Indiglo
Elektroluminescencyjna technologia Indiglo pojawiła się na rynku pierwszy raz w 1992 roku jako autorskie, całkowicie pionierskie rozwiązanie Timexa, które marka niezwłocznie opatentowała. Szybko okazało się, że możliwość podświetlenia całej tarczy bardzo spodobała się klientom, którzy polubili błękitno-zielony odcień, który światło emitowało na tarczy zegarków po przyciśnięciu koronki zegarka.
Jak działa system Timex Indiglo?
Jak już wspomniałam do uruchomienia autorskiego podświetlenia Timexa wystarczy koronka zegarka, którą trzeba przycisnąć. Czy w takim razie jest jakiś specjalny mechanizm, który je zasila? Nie, system ten działa dzięki kwarcowemu werkowi, jaki posiada dany czasomierz. Jest jednak pewna rzecz, o której z tego powodu trzeba pamiętać… Ponieważ Timex Indiglo energię do funkcjonowania czerpie z tej samej baterii, która zasila wmontowany w czasomierzu mechanizm kwarcowy, podczas wyczerpywania się baterii zdarza się, że podświetlenie nie działa lub jest niewyraźne. To znak, że czas wymienić baterię. Po tym zabiegi wszystko wróci do normy. System Timex Indiglo wprowadzony został praktycznie do każdej kolekcji tego producenta. Modele klasyczne jak i te z linii Easy Reader, Weekender, Expedition, a nawet zachowane w stylu retro czasomierze Waterbury, posiadają na swoich tarczach naniesioną nazwę technologii, która informuje o opcji podświetlania. Także typowo sportowe modele Ironman posiadają system Indiglo, który jednak działa tu nieco inaczej, ze względu na fakt, że mamy tu do czynienia z wyświetlaczem cyfrowym. W tym wypadku podświetlane są jedynie liczby, a system ten włącza się nie koronką, a specjalnym przyciskiem.
Supernova i inne rodzaje Timex Indiglo
Do tej pory, poza tradycyjnym podświetleniem Indiglo, Timex stosował pewnego rodzaju urozmaicenia, które mają swoje własne nazewnictwo. System Indiglo Night Mode to rozwiązanie dla nocnych marków. Istnieje w modelach oznakowanych ikonką księżyca umieszczoną na tarczy. Zasada działania tego systemu różni się od tradycyjnego rozwiązania, które sprawia, że po przyciśnięciu koronki tarcza pozostaje jasna przez około 3 sekundy. Aby uruchomić Night Mode należy przytrzymać wciśniętą koronkę zegarka przez 4 sekundy. Dzięki temu tarcza świecić będzie nieustannie przez 8 godzin lub do wyłączenia opcji poprzez ponowne przytrzymanie wciśniętej koronki w czasie 4 sekund. O włączonym systemie Night Mode informuje podświetlona ikonka księżyca, o której wcześniej wspomniałam. Innym systemem jest tzw. Flix, który działa automatycznie, a uruchamiany jest ruchem ręki. Jest to bardzo wygodna opcja, która wyklucza konieczność używania jakiegokolwiek przycisku. Czy to rozwiązanie z czymś Ci sję kojarzy? Pewnie! Na pewno wydaje Ci się analogiczne ze sportowymi zegarkami Casio G-shock. Tam również podświetlenie (stosowane podświetlenie Led) włącza się, gdy obrócimy rękę w kierunku twarzy. Zupełnie nowym rozwiązaniem pozostaje Supernova! Modele Timex Supernova Fairfield Chrono prezentują zupełnie inny, wyjątkowy efekt wizualny. Dzięki specjalnej perforacji tarczy uzyskanej laserowym cięciem, możemy cieszyć się zegarkiem, jakiego jeszcze nie było. Technologia Timex Indiglo nabiera zupełnie tu zupełnie innego wymiaru i sprawia, że czasomierz wygląda niezwykle efektownie i zjawiskowo.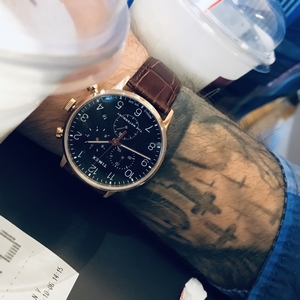 Czy zegarki z systemem Timex Indiglo kosztują więcej?
Nie. System ten jest integralną częścią zegarków tego producenta, które sami przyznacie nie kosztują dużo. Zabieg ten sprawia, że bez konieczności płacenia wysokiej ceny, możecie cieszyć się czasomierzem z niezwykle przydatną i wygodną w użytkowaniu funkcją podświetlenia Timex Indiglo.
Wg nas opcja podświetlenia Indiglo to super rozwiązanie i cieszymy się, że ponad 15 lat temu Timex zdecydował się je wprowadzić. A co Wy o tym sądzicie? Macie taki model w swojej kolekcji? A może wolicie inne rozwiązania? Dajcie znać w komentarzu, a jeżeli tekst przypadł Wam do gustu to dajcie też kciuka w górę 😉