Design damskich modeli kultowej marki Timex
Kupiłam Timexa
To było silniejsze ode mnie. Nie umiałam się powstrzymać. Patrzyłam na niego, a on wręcz krzyczał, że muszę to zrobić. No i stało się. Kupiłam mój pierwszy zegarek, mój pierwszy zegarek Timex…
Siła designu damskich czasomierzy Timex
Kiedy zaraz po maturze zaczynałam swoją pracę w ZegarkiCentrum.pl blisko 10 lat temu, już pierwszego dnia pracy kupiłam sobie zegarek, "na krechę". Może nie byłoby w tym nic dziwnego, gdybym kochała zegarki i miała takie "uzależnienie", jednak do tamtej pory, czasomierze były dla mnie odległym tematem. Kiedy wstawiałam produkty na stronę ucząc się dopiero, co to są koperta, teleskopy czy zapięcie motylkowe, pewna marka wręcz wryła mnie w ziemię, a był to … Timex! Piękne, damskie zegarki, o ciekawym wzornictwie uśmiechały się do mnie z ekranu mojego monitora. Kusiły różnokolorowymi paskami skórzanymi i zdobnymi tarczami pokrytymi gradientem czy warstwą masy perłowej. Stalowe koperty, również te pozłacane metodą galwaniczną, połyskiwały pięknie na białym tle zdjęć katalogowych. Nic tylko brać… no cóż, ale nie ma nic za darmo, a za wszystko co ładne i wyjątkowe trzeba zapłacić o to zazwyczaj słono…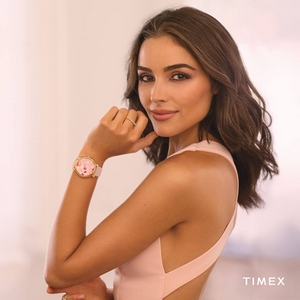 Cena damskich zegarków Timex
Zaczęłam przeglądać tabelki Excela spodziewając się, że nie znajdę tam liczby trzycyfrowej, która na początku będzie mieć niższą cyfrę niż 5, a tu… NIESPODZIANKA! 1, 2, 3 i tylko parę czwórek. Idealnie! Nie spodziewałam się, że tak piękne zegarki damskie Timex mogą być stosunkowo tanie. Ok, czas wybrać najładniejszy (nie powiem, że szybko mi to poszło, ale przecież i tak musiałam "zapoznać się z towarem, który chcę sprzedać") i bach! Jest! Za 349zł. Baaaajka. Wezmę na konto wypłaty – pomyślałam. Chyba nie wywalą mnie, zanim tyle zarobie…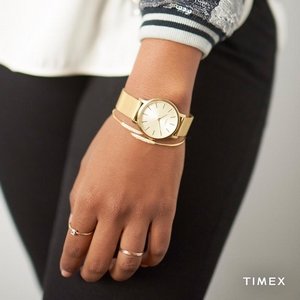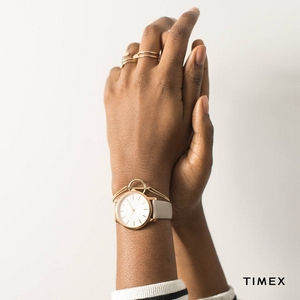 Ponadczasowy charakter Timexów dla kobiet 
No i nie wywalili 🙂 i pracuję tu już ponad 9 lat, a mój Timex ciągle żyje i ma się świetnie. Jedynym jego mankamentem jest brakujący kryształek Swarovskiego, który odpadł z ringu koperty podczas sylwestra 3 lata temu, gdy pożyczyłam go mamie. Paski wymieniam regularnie, aby zawsze zachował świeży wygląd, a że rozstaw teleskopów ma typowy dla modeli damskich – 18mm, kupuję je w autoryzowanym serwisie Timex, gdzie ceny są naprawdę przystępne (ok 50zł), a żywotność wręcz książkowa (1,5 roku bez widocznych zniszczeń mimo użytkowania). Chociaż mój Timex zbliża się do dekady, nadal uważam, że jest piękny i wart każdej złotówki jaką wydałam na jego zakup. Od tamtej pory "rodzina Timexów" w moim domu znacznie się też poszerzyła, a modele tej marki z powodzeniem noszą mama, tata, bratowa oraz siostra. Zadowoleni z tego, że mają zegarki, które świetnie wyglądają przez długie lata.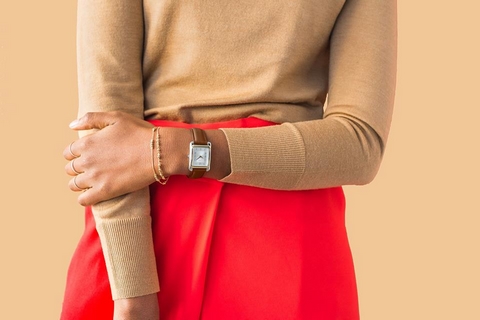 3 letnia gwarancja na zegarki Timex dla kobiet
Wiecie dlaczego jeszcze postanowiłam, że mojej rodzinie polecę Timexa? Bo choć kosztuje stosunkowo niewiele i wygląda świetnie, to ma jeszcze jedną, bardzo ważną zaletę. Posiada 3 letnią gwarancję producenta. I nie chodzi tu tylko o zabezpieczenie jakie mam po zakupie, ale o jakość, którą prezentują te damskie zegarki, bo który producent da tak długą gwarancję na coś co jest mówiąc prosto z mostu "lipą"? Żaden! Chyba, że bankrut z zamiłowania, którego celem życiowym jest stracić wszystko co ma w mgnieniu oka. Timexy damskie i męskie są naprawdę bardzo dobre jakościowo i mogę poświadczyć to, jako zadowolona, wieloletnie użytkowniczka jednego z nich.
Jeśli szukasz dla siebie pięknego, damskiego zegarka w przystępnej cenie, zwróć koniecznie uwagę na Timexy dla kobiet. Myślę, że skradnie Ci serce, podczas gdy w spokoju pozostawi portfel. Idealnie… będzie to bez wątpienia związek na długie lata!
A może potrzebujesz pomocy w wyborze zegarka lub też masz swojego ukochanego damskiego Timexa? Daj znać w komentarzu, co myślisz na ten temat. Aaa… no i daj łapkę w górę dla mnie i Timexa. Liczymy na Ciebie 🙂