Szwajcarskie zegarki - historia
Szwajcarskie zegarki – historia
Początki zegarmistrzostwa szwajcarskiego sięgają XVI w. Wówczas w wyniku reformy Jana Kalwina i uznaniu noszenia biżuterii za zabronione, złotnicy genewscy stanęli przed koniecznością wyspecjalizowania się w nowym rzemiośle. Można by rzec, iż zrobili to znakomicie, gdyż w krótkim czasie zegarki genewskie zyskały renomę towarów o niezwykle wysokiej jakości, co zaowocowało założeniem pierwszego cechu zegarmistrzowskiego już w 1601 r. Od momentu założenia Genewskiego Cechu Zegarmistrzowskiego branża ta zaczęła rozszerzać się na pozostałe części Szwajcarii, głównie wzdłuż Masywu Jurajskiego z siedzibami już nie tylko w Genewie, ale i Valee de Joux, Le Chaux-da-Fonds, Bienne, Grenchen, Neuchatel i Schaffhausen.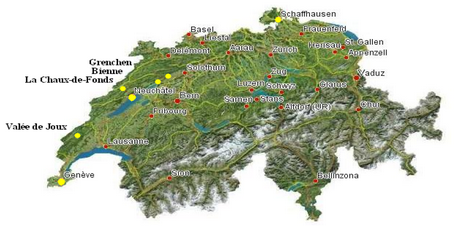 Główne ośrodki (wyszczególnione na żółto) szwajcarskiego zegarmistrzostwa
Źródło: M. Chabierski, Gospodarka Szwajcarii, Ministerstwo Gospodarki, Warszawa 2009, s. 30.
Początki produkcji szwajcarskich zegarków naręcznych
Mimo iż, początki szwajcarskiego zegarmistrzostwa sięgają już XVI w., największy jego rozwój nastąpił dopiero w XX w. Wówczas produkcja masowa i standaryzacja szwajcarskich zegarków nabrały nieprawdopodobnego tempa czyniąc tę branżę nie tylko światowym liderem, ale i pewnego rodzaju sztuką. To właśnie dzięki estetyce oraz pragnieniu połączenia tego co piękne z praktycznym, zegarki szwajcarskie przestały być jedynie drewnianym kolosem z kukułką, a stał się ozdobą dłoni. XX wieczny rozwój branży zegarmistrzowskiej wygenerował takie dzieła jak zegarki wodoszczelne i kwarcowe, dopasowane do gustów najbardziej wymagającej klienteli. Uczynił z zegarka część garderoby, w zależności od modelu, dopasowanej do płci i charakteru posiadacza oraz sprawił, iż producenci zaczęli ścigać się w tworzeniu coraz bardziej funkcjonalnych modeli (np. najcieńszy zegarek świata).
Kryzys zegarków szwajcarskich

Erę świetności szwajcarskiego zegarmistrzostwa przerwały lata 70., kiedy to dziedzina ta stanęła w obliczu kryzysu. Napływ zegarków z Japonii oraz rosnąca popularność modeli kwarcowych sprawiły, iż niedoścignieni do tej pory Szwajcarzy przestali wieść prym wśród wytwórców zegarków naręcznych. Uzależniona w dużym stopniu właśnie od branży zegarmistrzowskiej gospodarka Szwajcarii mocno się zachwiała. Udziały firm szwajcarskich w produkcji czasomierzy skurczyły się bowiem z 70 do zaledwie 10% w skali rynku światowego. Zaczęto rozważać przeniesienie produkcji na rynki wschodnie oraz obniżanie jakości do tej pory niemalże doskonałych modeli swiss made. Przełom, a zarazem stopniową poprawę sytuacji przyniósł innowacyjny pomysł Nicolasa Hayeka. Dzięki jego oryginalnej koncepcji zegarka, łączącej w sobie dobrą jakość za przystępną cenę oraz innowacyjną prostotę, udało się wprowadzić nową metodę produkcji. Stworzono 2-milimetrowy model Delirium Tremens i rozpoczęto tak zwaną "Erę Swatcha". Zaledwie w ciągu jednego roku sprzedano przeszło 1 mln egzemplarzy zegarków o nowym, ciekawym wyglądzie, przyciągającym wzrok dzięki żywym kolorom i bogatemu wzornictwu.
żródło: https://www.breguet.com/en/house-breguet/personalities/nicolas-g-hayek
Zegarki szwajcarskie w XXI wieku

Dzięki doskonałemu posunięciu Hayeka nie tylko udało się uratować szwajcarskie zegarmistrzostwo przed narastającym kryzysem, ale i nadać mu nowy charakter. Dziś Szwajcaria jest siedzibą przeszło 600 producentów zegarków, z których najbardziej znanymi są Rollex, Maurice Lacroix, Longines, TAG Heuer, Tissot, Certina, Swatch itd., zaś większość z nich jest częścią największego koncernu zegarmistrzowskiego The Swatch Group. Na rynku pojawiają się kolejne firmy, które mogą poszczycić się prestiżowym znakiem swiss made czym zyskują zaufanie klientów. Niestety wiąże się to również z napływem podróbek, które oszuści pięknie nazywają replikami, wprowadzając kupujących w błąd i narażając ich na koszta związane z naprawami czy zakupem nowych modeli.

Znaczenie zegarmistrzostwa dla sytuacji ekonomicznej Szwajcarii jest niezaprzeczalne, a same zegarki obok banków są symbolem dobrobytu panującego w tymże kraju. Mimo iż, Szwajcaria nie zajmuje pierwszej pozycji na świecie pod względem liczby wyprodukowanych zegarków, to ze względu na ich cenę, pozostaje liderem w tej branży.