10 ciekawostek o zegarkach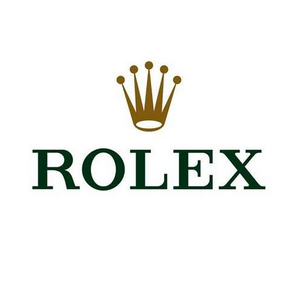 Myślisz, że wiesz wszystko o zegarkach? Nic Cię już nie zaskoczy? Na pewno? A może chciałbyś poznać kilka mało znanych faktów o zegarkach naręcznych? Przeczytaj ten tekst i przekonaj się sam, że zegarki naprawdę mogą być interesujące!
Ciekawostki o zegarkach!
Wielu osobom wydaje się, że zegarki "po prostu są". Po prostu mierzą czas, po prostu dobrze wyglądają, po prostu są wpisane w nasz każdy dzień, bo bez nich nie moglibyśmy funkcjonować w świecie jaki sami stworzyliśmy, gdzie każda minuta jest na wagę złota i to dosłownie. Ale czy zastanawiałeś się kiedyś, skąd wzięły się zegarki naręczne i jakie historie są z nimi związane? Poniżej przedstawimy Ci kilka faktów, które pomogą Ci spojrzeć na zegarki z nieco innej strony.
1. Dla kogo i gdzie wynalezione zostały zegarki naręczne?
Mówi się, że charakter faceta poznasz po butach, samochodzie i zegarku, jednak choć wielu osobom wyda się to dziwne, czasomierze naręczne wcale nie zostały stworzone z myślą o mężczyznach! Mało tego, nie zostały one wynalezione w Szwajcarii, która uchodzi za kolebkę tego rzemiosła. Pierwszy model naręcznego czasomierza został stworzony w XVI wiecznej Anglii przez Roberta Dudleya dla królowej Elżbiety I. Była to nie lada gratka, gdyż połączył on w ten sposób kunszt klasycznej biżuterii i zegarka, który do tej pory występując w wersji kieszonkowej był atrybutem mężczyzn.
Dlaczego ta informacja jest tak zaskakująca? Ponieważ większość źródeł datuje powstanie pierwszego zegarka naręcznego na rok 1868, a odkrycie to przypisuje firmie Patek Philippe (lub rzadziej marce Breguet w 1810 roku). Odkrycie, iż pierwszy czasomierz naręczny pojawił się na świecie 3 stulecia wcześniej znacznie zmienia postać rzeczy i daje podstawę do kolejnych badań w tej dziedzinie.
źródło: https://polskieradio24.pl/39/247/Artykul/1272493,Henryk-VIII-Tudor-%E2%80%93-kobiety-Kosciol-i-krew
2. Dlaczego zegarki naręczne na wystawach sklepowych ustawiane są na godzinę 10:10?
Słyszeliście kiedyś o pojęciu "happy time"? Jest to określenie, które dotyczy ułożenia wskazówek zegarka na tarczy. Ustawienie czasu na 10:10 lub 13:50 ma na celu zbudowanie obrazu przypominającego uśmiechniętą buźkę. Ma to stworzyć w świadomości klienta pozytywny wizerunek czasomierza, a tym samym skłonić go do zakupu. Podobny zabieg stosuje się również w zegarkach "atrapach", które umieszczane są w oknach kamienic ośrodków turystycznych. Zabiegi te szczególnie popularne są na Wyspach. Podobno to właśnie Brytyjczycy przywiązują największą wagę do tych kwestii. Wszystko po to, aby patrzący odwdzięczyli "uśmiech zegarka".
Jest jeszcze inna teoria dotycząca tego właśnie ułożenia wskazówek i muszę przyznać, że z perspektywy sprzedawcy, bardziej sensowna. Ustawienie zegarka na godzinę 10:10 czy 13:50 uwidacznia logo marki, które zazwyczaj umiejscowione jest na wysokości godziny 12. Wskazówki "odcinają tarczę" w taki sposób, że znak fabryczny jest wręcz podkreślony. Sprawia to, ze oglądając czasomierz, praktycznie od razu wiemy, z jaką firmą mamy do czynienia.
3. Jaki był pierwszy zegarek zrobiony z kamienia?
Pierwszym zegarkiem stworzonym z kamienia był tzw. Rock Watch, wyprodukowany w Szwajcarii przez Tissota. Na rynku pojawił się w 1985 roku i niemal jednocześnie zaczął podbijać rynek szwajcarski i amerykański. Wykonano go, a konkretnie jego kopertę, z naturalnego kamienia określanego jako granit alpejski, jaki znaleźć można w takich kantonach Szwajcarii jak Grisons, Ticino i Valais. Kopertę z kamienia producent zdecydował się połączyć ze skórzanym paskiem za pomocą stalowego dekla o nietypowym kształcie, do końców którego przymocowano na stałe elementy paska.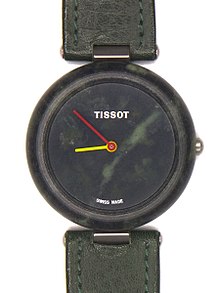 4. Jaki jest najcieńszy, mechaniczny zegarek naręczny?
Firmy zegarmistrzowskie prześcigają się w tworzeniu modeli, które określić można jako "naj". I nie chodzi tu tylko o samo "najlepszy", ale wyróżnienie się konkretną cechą, jakiej nie ma nikt inny. Jedną z takich cech jest grubość zegarka. Kwestia niezwykle ważna jeśli chodzi o komfort użytkowania jak również kluczowa dla osadzenia mechanizmu napędzającego dany czasomierz. Stworzenie dobrego, niezawodnego, a jednocześnie ultra-cienkiego chronometru jest więc niezwykle trudne, a co za tym idzie, zdobycie tego tytułu niesie nie lada prestiż. Obecnie najcieńszym zegarkiem mechanicznym jest Piaget Altiplano 900P, którego grubość koperty szacuje się na… 3,65mm! Jest to naprawdę niezwykłe, ponieważ większość mechanizmów jest dużo grubszych niż cała koperta tego modelu. Nic dziwnego, że za taki "rarytas" trzeba zapłacić przeszło 26 tysięcy $.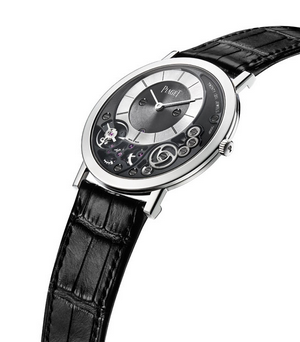 5. Jaki jest najcieńszy zegarek solar-powered?
Bicie rekordów jest nie lada gratką dla każdej marki i tyczy się zarówno zegarków mechanicznych jak i kwarcowych. Najcieńszym zegarkiem zasilanym energią słoneczną jest Citizen Eco-Drive One. Posiada mechanizm Caliber 8826 o grubości 1mm, który zamknięto w kopercie o wysokości zaledwie 2,98mm. Citizen nie dość, że do maksimum zmniejszył grubość mechanizmu, to zwiększył również jego wydajność dzięki czemu, na w pełni naładowanej baterii czasomierz pracować może nawet 10 miesięcy. 
6. Najdroższy zegarek naręczny na świecie
Kwoty, jakie niektórzy są skłonni zapłacić za zegarek naprawdę przekraczają moje najśmielsze oczekiwania. Jeśli jednak ich na to stać, czemu nie? Wśród zatrważająco drogich czasomierzy prym wiedzie zegarek, który sam w sobie nie budzi większych emocji, jednak ze względu na to, że nosił go sam Paul Newman, stał się najdroższym zegarkiem naręcznym na świecie. Rolex Daytona z wygrawerowanym tekstem "Drive Carefully" sprzedany został na aukcji za kwotę… 13,5 mln funtów!!! Co odpowiada wartości 9 tys nowych egzemplarzy tego modelu.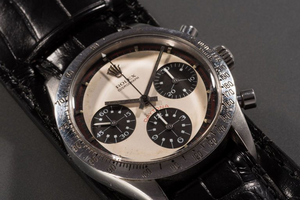 7. Jak po raz pierwszy sprawdzono wytrzymałość G-Shocka?
Cechą kluczową zegarków G-shock jest ich odporność na wstrząsy. Są to czasomierze, które zdecydowanie odbiegają od konkurencji swoją wytrzymałością w przypadku upadku czy uderzenia. W jaki sposób producent sprawdził skuteczność zastosowanej technologii i jak sprawdził, że wprowadzone rozwiązania są odpowiednie? Cóż… bardzo prosto! Pierwszy G-Shock w ramach testów został wyrzucony z okna na wysokości 4 metrów.
8. Jaki był pierwszy, niskobudżetowy, szwajcarski zegarek naręczny?
Modele szwajcarskie słynęły z wysokiej jakości, ale i ceny. To właśnie przez to, w latach 70′ XX wieku tak bardzo odczuły napływ konkurencji ze strony japońskich producentów. Nacisk ze strony Azjatów był tak silny, że konieczna była reforma szwajcarskiego zegarmistrzostwa, którą wprowadził N. Hayek! To w myśl jego koncepcji stworzono pierwszy, niskobudżetowy zegarek szwajcarski, a jego producentem był Swatch. Rozwiązanie to w mgnieniu oka rozpowszechniło się po świecie, a Szwajcarzy odzyskali spokój zwiększając zróżnicowanie portfela marek z rodzimego podwórka.
9. Jaki zegarek był najwięcej razy w Kosmosie?
Zdecydowanie Omega Speedmaster. Astronauci NASA używali tych czasomierzy podczas wyprawy na Księżyc. Na pokładzie Apollo było ich 7 i każdy z nich używał właśnie Omegi. Można więc rzec, że Omega Speedmaster to iście kosmiczny model 😉
10. Czy Rolexa założono w Szwajcarii?
Otóż nie… okazuje się, że flagowa marka swiss made nie została założona na terenie Szwajcarii. Powstała w 1905 roku w Wielkiej Brytanii, w Londynie. Do Szwajcarii Rolex przeniósł się dopiero w 1912 roku, a rejestrację firmy datuje się nawet na 1915 rok! Obecnie siedziba marki znajduje się w Genewie i tam też odbywa się produkcja jednych z najlepszych czasomierzy na świecie. 
I jak? Udało mi się Cię zainteresować? Czy choć kilka z tych faktów było Ci znanych? A może znasz inne ciekawe historie dotyczące zegarków naręcznych i chcesz się z nami nimi podzielić? Jeśli tak, skomentuj ten post i daj nam znać 🙂