Tourbillon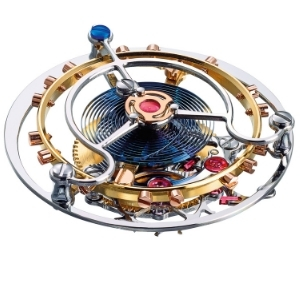 Zegarki są dzisiaj jedną z najczęściej pojawiających się w stylizacji ozdób zarówno w u kobiet, jak i mężczyzn. Aby dość małych rozmiarów mechanizm, umieszczony w ich wnętrzu mógł działać poprawnie, potrzebna jest ogromna wiedza i umiejętności inżynierów, którzy starają się projektować coraz to lepsze rozwiązania, zapewniające jak najdokładniejszą możliwość ich dobrego funkcjonowania. Takim rozwiązaniem jest, chociażby tourbillon, któremu warto poświęcić więcej uwagi.
Breguet, prawa fizyki i co to jest tourbillon w zegarku?
Tourbillon najprościej mówiąc, jest regulatorem, który odpowiada z niwelowanie oddziałującej na zegar siły grawitacji, mogącej uszkodzić cały mechanizm, odpowiadający za jego poprawne działanie.
Tourbillon został skonstruowany przez jednego z najwybitniejszych zegarmistrzów na świecie – Abrahama Louisa Bregueta. Jego powstanie szacowane jest na rok 1801, gdy Breguet po raz pierwszy złożył podanie na swój wynalazek do urzędu patentowego.
Oczywiście dzisiejsze tourbillony zostały znacznie ulepszone, względem swojej pierwotnej wersji, jednakże należy przyjrzeć się bardziej krótkiej historii, która doprowadziła do jego odkrycia.
Mechanizmy podatne na grawitacje  ale nie tourbillon
Przed powstaniem tourbillonu zegarki (szczególnie kieszonkowe) podczas codziennego użytkowania narażone były na odziaływania zewnętrzne, które bardzo szybko prowadziły do psucia się części w środku, co w konsekwencji prowadziło do szybszego rozregulowania się wskazówek i podawania błędnej godziny.
Obserwacja ta nie umknęła wspomnianemu wcześniej Breguetowi, jednemu z najwybitniejszych wynalazców, jeżeli chodzi o sztukę projektowania mikromechaniki dla różnego typu zegarków.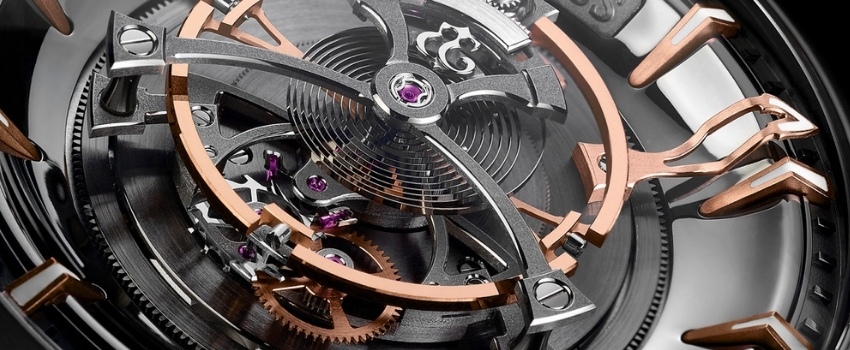 Breguet już wcześniej słynął z innych, rewolucyjnych rozwiązań, z których do dzisiaj korzysta cała branża zegarmistrzowska. Udało mu się zaprojektować, chociażby pierwszy samo nakręcający się mechanizmy w historii, pierwszy system antywstrząsowy oraz oczywiście pierwszy zegarek, który można było założyć na rękę.
Zegarmistrz bardzo dobrze rozumiejąc wtedy już odkryte prawa, rządzące fizyką, zdawał sobie sprawę, iż obecne urządzenia są zbyt mocno narażone na oddziałujące siły przyciągania, których nie da się zbyt łatwo zneutralizować. Obserwując podatność dostępnych ówcześnie zegarów, zaczął zastanawiać się, co mógłby dodać do aktualnych urządzeń, by te zachowywały większą trwałość.
Komplikacja
tourbillon pozwoliła o

kiełznać naturę

Breguet zdawał sobie sprawę, że grawitacji nie można całkowicie wyeliminować. Wobec tego wynalazca musiał zastanowić się nad tym, jak skompensować dostarczaną do zegarka energię i tak rozpoczął tworzenie swojego projektu.

W konstrukcji znajdowała się ruchoma klatka, wykonująca pełny obrót wokół własnej osi raz na minutę, w środku której znajdowała się kotwica i koło wychwytowe. Dzięki temu rozwiązaniu za każdym razem, gdy na mechanizm wpłynie siła niewyważonego balansu, poprzez tourbillon cała konstrukcja wyrównuje znajdujące się w środku siły. Dzięki zastosowanemu przez mechanizm balansowi zegarek posiadający urządzenie potrafił z o wiele większą dokładnością odmierzać wprowadzony do niego czas.
Patent i prezentacja
Zegarmistrz po raz kolejny miał zrewolucjonizować dotychczasowe postrzeganie produkcji zegarków. Swoją konstrukcję ze względu na dosyć obrotowy kształt całego urządzenia nazwał tourbillon, które pochodziło od francuskiego słowa i miało oznaczać trąbę powietrzną.
Breguet zgłosił ówczesny prototyp z dokładnym projektem działania mechanizmu i już w 1801 roku francuski minister spraw wewnętrznych przyznał mu pełne prawa do produkcji zegarów z jego działaniem na pierwsze 10 lat.
Ze względu na naprawdę skomplikowaną budowę całego urządzenia, nim ostateczna wersja została ukończona, na budowę i zaimplementowanie wszystkiego Breguet musiał poświęcić cztery lata.
W końcu, we wrześniu 1806 roku pierwszy zegar z w pełni działającym tourbillonem został zaprezentowany na wystawie krajowej produktów przemysłowych w Paryżu.
Do śmierci Bregueta udało się wyprodukować i sprzedać 35 tourbilonów, które stały się jednym z najbardziej skomplikowanych urządzeń na świecie, a ich budowa oraz działanie już na zawsze zrewolucjonizowały dzisiejszy przemysł zgarniaczy.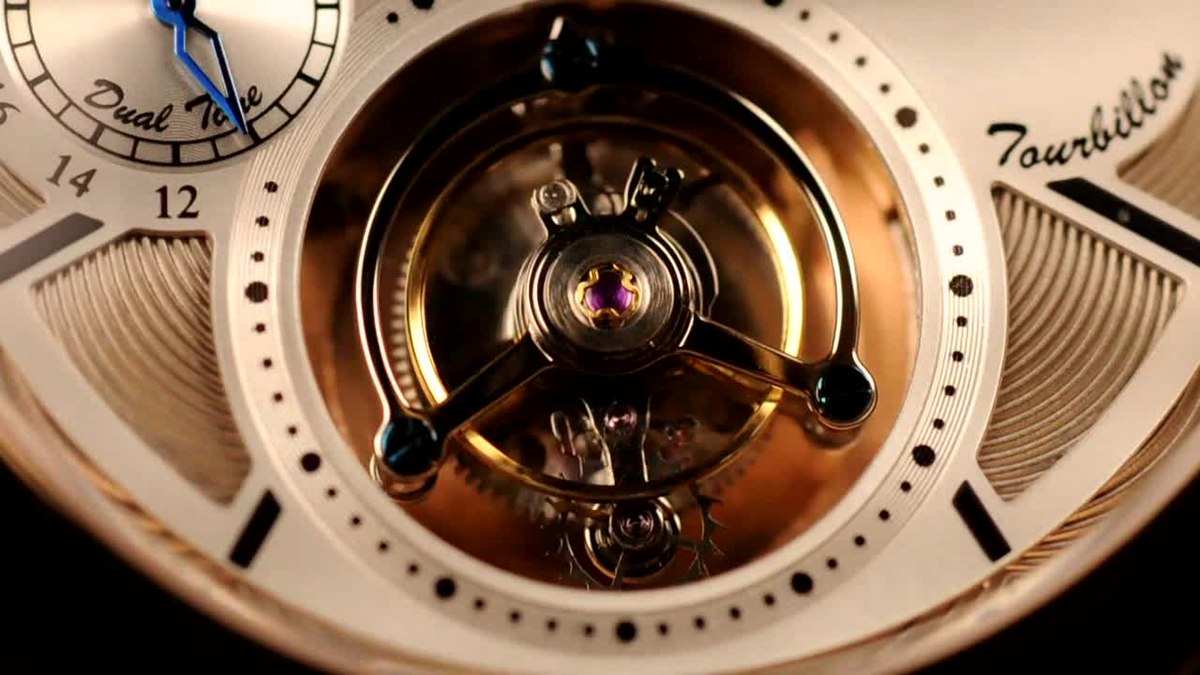 Tourbillony obecnie
Wynalazca niestety nie doczekał się wprowadzenia tourbillonu do stworzonego przez siebie wcześniej zegarka na rękę. W jego czasach ze względu na wciąż prymitywne warunki inżynierskie nie udało się przekształcić mechanizmu w odpowiednio małą strukturę, zdolną do umiejscowienia w konstrukcje zegarków. Zanim tego dokonano, wynalazek musiał przejść jeszcze wiele ulepszeń.
Pierwsza znacząca modyfikacja działania urządzenia nastąpiła dopiero w wieku XX, kiedy Alfred Helwig w 1920 roku postanowił odświeżyć zaprojektowany wstępnie projekt Bregeta, a jego nowa wersja zyskała nazwę Flying-tourbillon. 
Jak się później okazało, 16 lat wcześniej w innym kraju Robert Benson North dokonał podobnego odświeżenia, którego niestety nie opatentował na czas. Wyklucza się oczywiście to, iż Helwig mógł ukraść projekt Northowi, gdyż obaj zegarmistrzowie absolutnie nie mieli prawa się znać, dlatego dzisiaj mówi się równolegle o flying-tourbillonach angielskich, jak i niemieckich.
Z kwestii estetycznych, nowy tourbillon przymocowany był do płyty mechanizmu tylko z jednej strony, dzięki czemu w żaden sposób nie zasłania on widoku pracującego werku. Ta wersja potrzebowała równowagi we wszystkich współpracujących ze sobą osiach, aby cała konstrukcja mogła działać prawidłowo.
Pierwszej firmie, której udało się zaprojektować tourbillon do zegarków naręcznych, była dobrze znana wszystkim Omega. Za projekt odpowiadał Edward Belin, który skorzystał z projektów wykonanych wcześniej przez innego zegarmistrza, pracującego z firmą o naziwsku Leab.
Tourbillon – cena, którą trzeba zapłacić
Zegarki z tourbillonem mają naprawdę ogromny rozstrzał cenowy. Oprócz mechanizmów, posiadających różny stopień skomplikowania należy doliczyć jeszcze firmę, pod którą reklamowana jest dana marka. Mimo to, jak się okazuje nie wszystkie zegarki, wyposażone w ten mechanizm muszą być od razu drogie.
Oczywiście istnieją modele, sięgające cen, które w przemyśle zegarowym nie budzą już zdziwienia. Chociażby zegarek produkowany dzisiaj przez firmę założoną przez Bregeta, Double Tourbillon 5847, która wyróżnia się od innych kompleksowością i ilością zastosowanych części (ponad 600 elementów) zwykle jest do kupienia za 425 tysięcy dolarów.
Jednakże, chociażby w 2016 roku zegarek TAG Heuer Carrea 02T został wystawiony do sprzedaży już za 100 tysięcy dolarów, co w porównaniu z cenami innych konkurencyjnych modeli czyni go jednym z najtańszych ekstrawaganckich szwajcarskich zegarków z tourbillonem na rynku.
Innym przykładem jest także Ulysee Nardin Marine Tourbillon, który został wystawiony już za około 27,5 tysiąca dolarów.
Oczywiście do dzisiaj w branży pojawia się wiele krytyki odnośnie do dalszego użytkowania zegarków z turbillonem na rzecz innych rozwiązań, jednakże nie da się ukryć, iż stworzony przez Bregeta wynalazek jest jednym z największych osiągnięć w dziedzinie mikromechaniki. Patrząc na poczynania światowych producentów, system ten będzie wykorzystywany jeszcze długo, a kolejne usprawnienia bardziej skomplikują jego dotychczasową konstrukcję.
---
Najczęściej czytane teksty ZegarkiCentrum.pl:
Znane reedycje topowych modeli zegarków
Manufacturowe zegarki Maurice Lacroix. Ale co to właściwie oznacza?
Czy zegarki Szwajcarskie nadal są najlepsze?